Black Swan Serves Up a Delicious Black Comedy with Dinner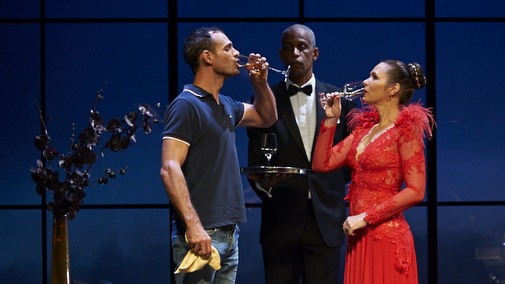 When the curtain rises on Black Swan State Theatre Company's production of 'Dinner' we're greeted with an opulent set.
A massive dining room, backed by a wall of glass, looking out on to a fog filled garden.
Here we find Paige, dressed in a stunning red dress, and a waiter – hired for the night to serve her guests at an outrageous dinner party.
Paige, a socialite housewife has thrown a party in celebration of her husband's Lars latest book, which has had a warm reception both commercially and critically. Joining Paige (Tasma Walton) and Lars (Steve Turner) for their dinner party is one of Lars former lovers Wynn (Alison van Reeken) a free spirited – high maintenance vegetarian.
Next comes odd couple Hal (Greg McNeil) and newsreader girlfriend Sian (Rebecca Davis). The final guest is the expected arrival of Mike (Stuart Halusz) – whose seeks shelter from the harsh weather when his car breaks down.
Sweeping among all the guest carrying plates of food, and refreshing drinks, is the waiter (Kenneth Ranson). Ransom's character only has a few lines of dialogue in the whole play, but the actor has spent months practicing how to handle trays of food and glasses and should be commended just for juggling so many props.
It quickly becomes clear that the hostess is slightly unhinged. As the meal progresses things goes from disturbing to unexpectedly bizarre as the guests work their way through some memorable courses.
Two hours, without an interval soars by and this show is filled with so much laugh out loud hilarity tempered with a measured helping of disturbed psychotic craziness.
British playwright Moira Buffini's black comedy was commissioned by the Royal National Theatre and since it's debut in 2002 it's enjoyed a run in the West End and been performed  by many companies around the world.
The casting of this production is superb. Well known local actors – the best in town – who all deliver killer performances. Leading the cast is television star Tasma Walton who shows that she's got serious comedy skills and a real ability to capture an audience's attention.
This production gets all the elements right. The sets created by Trent Suidgeest  are marvelously ingenious. The lighting creates the perfect mood, the costumes – created by a series of local designers – are fabulous, and composer Ash Gibson Greig supplies a subtle mix of sound and music. This play has so many brilliant props – (so much so, the main course should really get on the poster alongside the actors) – a wonderful achievement by India Mehta.
Kate Cherry, Black Swan's Artistic Director, who has directed this production, has show she really knows how to set the table, get all the right ingredients and create a first rate theatrical experience.
'Dinner' is at the State Theatre Centre until March 29th.
Graeme Watson, image: Gary Marsh