Em Rusciano is an Evil Queen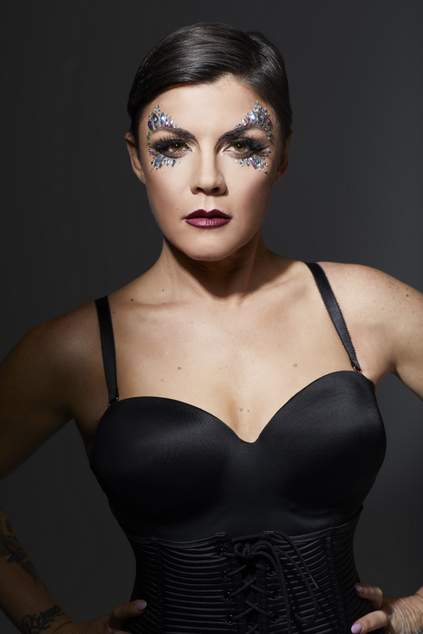 Em Rusciano is heading back to Perth with her brand new comedy show Evil Queen.
The popular comedian will be performing at the Riverside Theatre on 28th April and she's been out buying parts for the stage set, including a giant penis.
"People keep asking me to justify it, and I say 'Do I need to? Isn't is self explanatory?' It's three meters long, it's circumcised, it has no hair, it's self-inflating and the motor's in the balls. It's really become the star of the show – and I'm OK with that." Rusciano said detailing her most recent purchase.   
Rusciano tells us when she asked for a giant penis to be part of her set she didn't anticipate how decisions there would be about the details, telling us there are long email chains about how big it's girth would be and exactly what colour it would be.
The show takes its inspiration for Rusciano's love of 'evil queens' as she was growing up, and she said she's always had an affinity with the bad girls.
"Disney evil queens were my everything growing up, and not just Disney but Miss Hanigan in Annie and Scar in The Lion King. They were always so camp and had the best clothes, and the best make-up, and the best songs. The villains always had the best songs, and I found the princesses were so nauseating." Rusciano said.
"I don't think they were evil, they just knew what they wanted and when they went to get it they just maybe went about it the wrong way."
"I think every woman has an evil queen in her, we can't all be princesses all the time."
Each time Rusciano returns to Perth she's playing bigger and bigger venues, and this time she's playing at the Riverside Theatre at the Convention Centre. The comedian says regardless of the size of the room she's always giving everything she's got.
"I'm always going to come out at 11 out of 10, no matter whether it's a 10 seats to a 3000 seats, I'll still give the same performance, I just love telling stories and singing.
"I always want everyone to feel that it's a show just for them, I want them to feel comfortable, like I'm in their lounge room – which is what my family had to endure for years and years.
"A lot of people buy single tickets to my shows and make friends once they're there, the more fierce independent people we can get in one room the better!"
Rusciano has recently returned to the insane and crazy world of breakfast radio, she previous spent four years as part of the Breakfast team on Perth's 92.9, something that she's made a lot jokes about in her comedy shows.
Last year she joined Sydney's 2DayFM taking on the Breakfast spot. The Em Rusciano Show featuring Harley Breen was the third show to have a go in the high profile time slot since superstars Kyle and Jackie O switched to competitor KIIS FM.
It's a spot which has huge expectations, since the departure of Kyle and Jackie O, duo Dan Debuf and Maz Compton and Rove McManus and Sam Frost had been tried in the coveted spot.
At the beginning of this year Breen returned to stand up comedy and Rusciano was joined by comedian Ed Kavalee and TV presenter Grant Denyer to form the trio of Em, Grant and Ed.
Rusciano said that despite the industry's obsession with each round of radio ratings the team are confident their hitting their marks across of range of measures.
The comedian says the show is getting great results in the new media realm outperforming their competitors on platforms like Instagram and Facebook, and getting great results for its podcasts.
"I feel really good about the show, we have a huge listenership, and within the team it's really positive and I have two great new co-hosts with Ed Kavalee and Grant Denyer and I'm having a great time."
Rusciano says she just focuses on delivering the best she can every day and jokes, "I'm not worried at all, and if it doesn't work they'll put Shapelle Corby in and I'll go off and do my stand-up comedy."
Tickets to Em Rusciano's Evil Queen are available from Ticketek.    
Graeme Watson
---