Equality Tasmania responds to 5-person anti-trans pool protest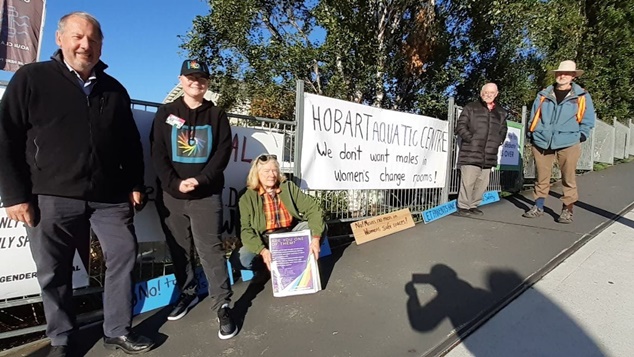 Equality Tasmania has responded to a five-person protest outside the Hobart Aquatic Centre on Friday morning describing it as an attack on the state's anti-discrimination protections.
The protest, organised by the activist Jessica Hoyle and the LGB Alliance, was against transgender inclusive toilet and changing facilities at the Centre.
"To suggest girls and women that they have no choice but to share private spaces with males whether they are trans or not is an insult and a breach of their human rights," Hoyle said.
"In places where girls and women undress they need to feel safe and deserve privacy and dignity." Hoyle said in a statement, arguing that the centre's management had not undertaken sufficient consultation before allowing transgender women access to the bathrooms.
The group posted an image of the five people taking part in the protest to their Facebook group, showing them standing in front of posters calling for a repeal of the state's self ID laws.
Equality Tasmania spokesperson, Rose Boccalatte, said the Aquatic Centre had operated its inclusive policy for several years without any complaints.
"The Aquatic Centre has had inclusive facilities for four years without any complaints."
"The protest wasn't about the Aquatic Centre or about 'protecting women', it was about a concerted attack on the equal discrimination protections of trans and gender diverse Tasmanians." Boccalatte said.
"We urge Tasmanians to support the state's gold-standard anti-discrimination laws because they have helped foster a kinder and more inclusive Tasmania."
Boccalatte said she was disappointed by the participation of former Hobart City Councillor, Jeff Briscoe.
"In Jeff Briscoe's response to our 2022 local government election survey he said he supports gender neutral toilet facilities and opposes LGBTIQA+ discrimination."
City of Hobart CEO Kelly Grigsby told local newspaper The Examiner that the aquatic centre has been in compliance with the state's Anti-Discrimination Act since 2016, and if the centre was to refuse access to a transgender person they would be in breach of the act.
The centre has posters inside the change rooms highlighting that the space is accessible to transgender people, they read "We all need somewhere to go. If we accept each other's differences and respect each other's privacy, then everyone can feel safe here."
Jessica Hoyle's complained against Target rejected
Earlier this week the Tasmanian Civil and Administrative Tribunal rejected a complaint from the group's founder Jessica Hoyle over her ejection from a Target department store in 2021.
Hoyle was asked to leave the store after a non-binary employee overheard her conversation with two customers to the effect that "men who identify as women are not female."
According to her statement Hoyle was wearing an LGB branded hoodie, facemask and cap when she struck a conversation with the other shoppers. Describing the exchange as an unobtrusive private conversation that lasted 5 to 10 minutes, Hoyle said she was interrupted by a staff member wearing a non-binary badge and was asked to leave the store.
Hoyle claimed the staff member told her "You are being discriminatory. You're a TERF." The acronym stands for Trans-Exclusionary Radical Feminist and is considered by some people to be a slur.
In her complaint to the Tribunal Hoyle said she had been discriminated on the basis of her sexuality and an "apparently contentious…political belief".  She claimed the incident had left her humiliated, offended, insulted, intimidated and ridiculed.
The tribunal's Deputy President Alison Clues wrote her decision that Hoyle had not been discriminated on the basis of her sexuality or because of her political beliefs.
"An activity (such as conversing in a department store) is not political merely because it is motivated by a political belief," Clues said. The tribunal said Hoyle's treatment by the Target employee "was as a result of her own discriminatory comments and disruptive behaviour."
They found that the department store would have treated any customer causing a similar disruption in the same way.
Last year Hoyle appealed against a decision from the state's Anti-Discrimination Commissioner who refused to give her permission to run events that overtly discriminated against transgender people. Hoyle has vowed to take that case to the High Court.
OIP Staff: Image: Facebook. 
---

You can support our work by subscribing to our Patreon
or contributing to our GoFundMe campaign.