Eurovision Sheds Six Countries in First Round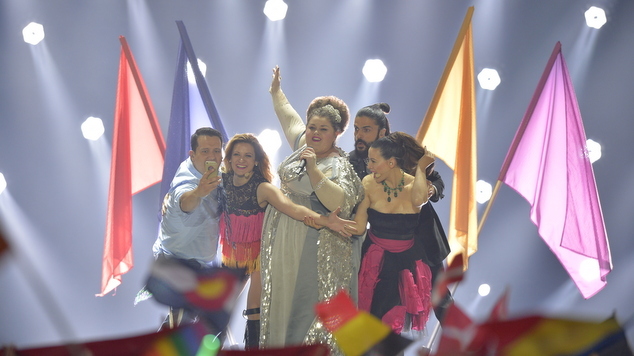 The Eurovision Song contest is underway in Vienna, Austria. Last night the first semi-final saw 16 acts take to the stage but only ten of them will get to go through to the grand final.
Failing to make the grade was The Netherlands, a surprise knockout given that they came second overall in last year's competiton. Trijintje Oosterhius' tune 'Walk Along' was okay but there performance was a bit bland.
Tragically Moldova's super camp entry 'I Want Your Love' didn't make it through. Ok, it's not the greatest song but we love the very attractive Eduard Romanyuta in his chest exposing leather vest – and he had dancing policemen who looked they were borrowed from sa George Michael video.
Another surprise was Denmark being omitted, they hosted the competition last year having won in 2013. Rock band Anti-Social Media certainly had the cheesiest performance of the night.
Belarus have been knocked out. Uzari and Maimuna's tune 'Time' was not too bad, but failed to impress voters.
Sadly PKN (Pertti Kurikan Nimipaivat) the punk band from Finland were also dismissed. Which is disappointing because the band is made up of people with learning disabilities. If there was a 'Dancing Russian Grandma' entry of 2015 this was it.
Macedonia failed to impress with Daniel Kajmakoski's 'Autumn Leaves', a big loud ballad that saw the singer backed by what looked like three bouncers.
Russia, Serbia, Armenia, Belgium, Greece, Estonia, Hungary, Albania, Romania and Georgia have all qualified for the final.
Albania is represented by Elhaida Dani with 'I'm Alive' a big power ballad filled with positive lyrics, it's certainly a catch tune. Genealogy from Armenia has made it through with 'Face the Shadow' which sounds like an outtake from a Andrew Lloyd Webber musical.
Estonia will be represented in the final by Elina Born and Stig Rasta with 'Goodbye to Yesterday', a dramatic duet that echoes those great pairings like Johnny Cash and June Carter or Lee Hazelwood and Nancy Sinatra.
Loic Nottet from Belgium is still in the running with the moody 'Rhythm Inside' which actually a pretty interesting song. He had great backing dancers.
Russia's entry 'A Million Voices' sung by Polina Gagarina is a million times better than there song from last year. This one actually might do okay, which would be controversial given Russia's anti-gay comments in previous years around Eurovision.
Georgia's 'Warrior' performed by Nina Sublatti is pretty forgettable song, but she had a great costume, black feathers springing from her shoulders teamed up with hot pants.
Also quite unmemorable – and hopefully unlikely to win was Greece's mega ballad 'One Last Breath' by Maria Elena Kyriakou. Romania's Voltak performed 'De La Capat' one of the few songs not performed in English (all though they slipped into English a little).
Serbia's Bokjana Stamenov (pictured) delivered 'Beauty Never Lies' completed with masked backing singers waving flags. The plus sized singer's song starts off quite boring and the lyrics are exceptionally cringe-worthy, "Finanly I can say that I'm different and its okay." Then half way through it unexpectedly turns into a rave party – making the campest entry to date.
Hungary's unfortunately named Boggie also made it through to the final with the poignant 'Wars for Nothing' – a song that actually had something to say.
Watch all the performances below. 
Graeme Watson, image Andres Putting (EBU)