Family Voice petition PM calling for 'Safe Schools' to be axed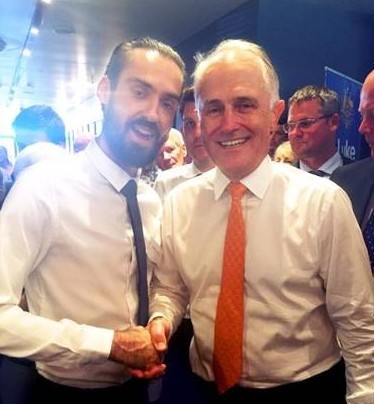 Family Voice Australia have presented Prime Minister Malcolm Turnbull with a petition calling for the Safe School's anti-bullying program to axed.
Nathan Harding, a supporter of Family Voice Australia, presented Mr Turnbull with a pack of information arguing that the program designed to reduce bullying of LGBTIQ+ students was not focused on bullying but rather promoting a political ideology.
The pack contained a petition from 14,100 supporters of the conservative group's position.
The Prime Minister refused to be photographed with the information pack, but agreed to be photographed with Mr Harding.
Mr Harding approached the Prime Minister on Wednesday at a morning tea organised  Liberal MP for Petrie, Luke Howarth.
Family Voice Australia argues that the Safe School's program does not address the most commonly bullied school students. Previously the groups' spokesperson Ros Phillips declared that the program ignored "fatties, skinnies, rangas, dummies, nerds, ethnics and many other groups."
The anti-bullying program which is slowly being made available to all Australian schools has been under sustained criticism from religious and conservative family groups.
Yesterday Labor leader Bill Shorten voiced his support for the program.
"I do not support increasing the chances of teenagers being bullied at school. Being a teenager in Australia is not easy, and certainly no parent of a teenager would think that life's easy – I should know. What I also say is that we've got to make sure our kids go to school in a safe manner." Mr Shorten said at a media conference in Perth.
Today The Australian Christian Lobby (ACL) said they were disappointed that Mr Shorten had defended the program.
The evidence based program has been rolled out to almost 500 schools across Australia, positive testimonials about the program can be read on their website.
Last week Greens' Senator Robert Simms called on the Australian Christian Lobby to stop their campaign against the program, labeling it "fear mongering".
Education website The Conversation has published 'an explainer' outlining the development of it's content and research behind the program.
OIP Staff