FIFA 17 rainbow uniform causes outrage, may break Russian law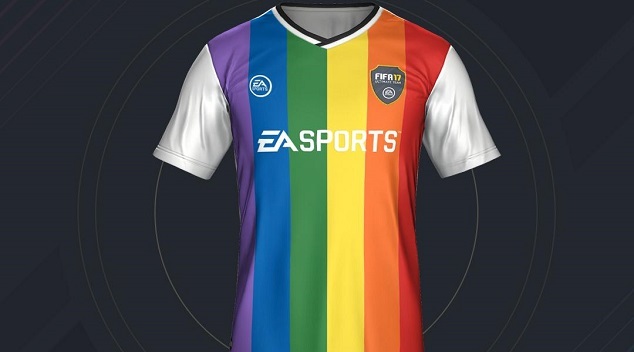 A rainbow striped outfit in the latest FIFA video game has caused outrage online with anti-LGBT gamers and even the Russian government.
The rainbow kit which was available as optional downloadable content in FIFA 17 is part of the UK Premier League's Rainbow Laces campaign, an LGBTIQ+ inclusivity initiative in conjunction with LGBTI rights group Stonewall that focuses on professional sport.
Russian politicians have noted that the game may be in breach of the country's "gay propaganda" laws, which prohibits "propaganda of non-traditional sexual relationships" being presented to minors.
Irina Rodnina, a member of President Putin's United Russia Party, told Russian media that the nation's censorship body should probe the downloadable rainbow kit offered in the game.
"In November this year, it became known that the FIFA video game, developed by EA Canada, allows the users to support the English Premier League's Rainbow Laces campaign campaign in support of the LGBT community," Ms Rodnina said in a statement.
"According to law, [Russia must] protect children from information harmful to their health or development, including propaganda of non-traditional sexual relationships."
Beyond Russia, there have been reports of players announcing they will no longer play the game as a result of the rainbow uniform being offered.

Though the limited rainbow kit promotion has now ended, publishers EA Sports have begun a new campaign which allows players to purchase a red uniform in support of World AIDS Day.
OIP Staff

---
Sources