Fighting Words at Unity Australia Rally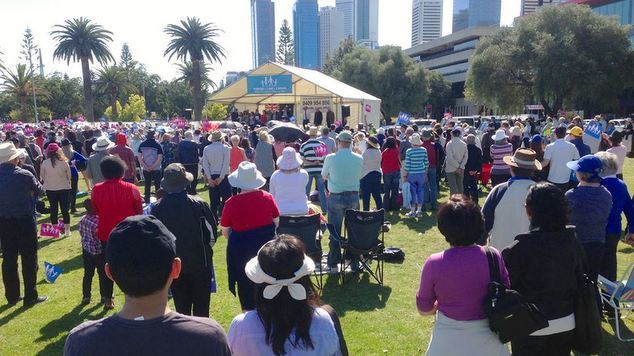 Marriage Equality activist Stan Schirmer attended the Unity Australia marriage rally in Perth on Sunday to hear the arguments against allowing marriage rights to be given to same sex couples. Read his personal account of the claims being made about LGBTIQ+ people and their relationships. 
I attended a Unity Australia rally for traditional marriage at Langley Park on Sunday. Around 350 adults attended. At the entrance I was confronted with a sign that declared "A mum & dad is EVERY human's FIRST right".
Blue and pink flags were being handed out to children. One couple held a sign that said "God loves everyone" in one hand and another that stated "Don't legislate Mum and Dad away from children" in the other.
Over the loudspeaker at this 'Australian' rally the distinct twang of an American Televangelist was getting people settled so they could "take up the offering" and I thought to myself  "Dorothy. I think we've gone back to Kansas."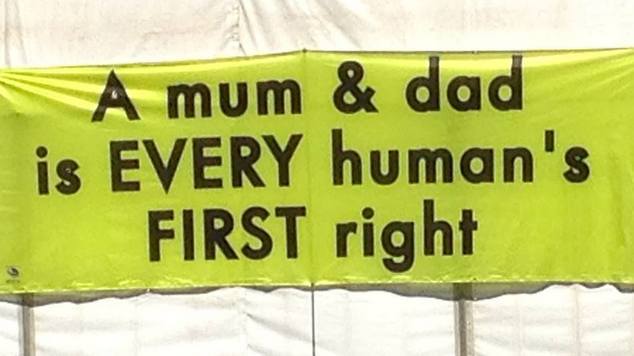 Dwight Randall is a missionary to Australia working with Life Ministries in Wanneroo. I guess they lost out to marriage equality in the US so they decided to bring their influence to Australia. Dwight began. "Radical gays launched an assault on marriage and we have been relentlessly attacked by people promoting same sex marriage. We are dug in for a long hard battle to see a plebiscite held in 2017."
I was surprised that an American should be so concerned about our political process. Then I remembered what Scott Lively had done in Uganda, drafting homophobic laws that threatened LGBT people with death and imprisonment, legitimizing hate crimes across that nation.
References to war were echoed by a number of speakers. Australian Family Associations' John Barich spoke about "winning the same sex battle" bemoaning the "assassination of our champion Tony Abbott". He committed to fight the good fight. "We can stop them." he trumpeted.
Pastor Mike Keating of Australian Christian Churches argued that Christians had "An obligation to set societies norms." comparing restricting marriage equality to enforcing speeding laws. Steve Heathcote, a barrister and Presbyterian, stated that same sex marriage "can't be real marriage" because of the sex.  "How can we love the gays when we let them go about harming themselves and acting dangerously."
Federal parliamentarian, Ian Goodenough claimed "We need to protect the children from complicated relationships that will lead to mental and emotional damage."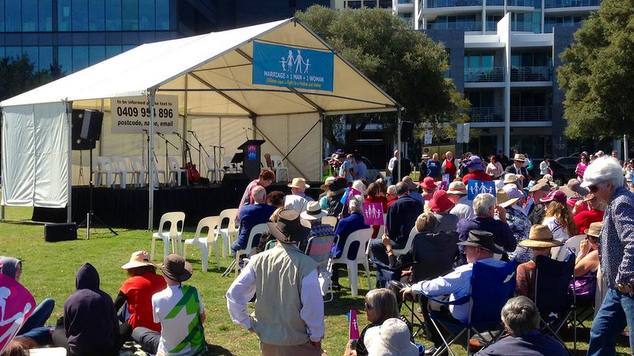 The lies and misrepresentation continued. Gays were "alcoholics, depressed, only capable of transient relationships and suicidal" said Anglican Bishop Anthony Nichols. Uniting Church minister, Mike Fawcett emphasized his was NOT a "Gay church".
Ray Moran (Australian Christians Party) warned that marriage equality would affect education in schools, threaten free speech and see an end to freedom of religion. He implored attendees to send a text to a mobile number with their details so they could be armed with weapons for the war to come "You have been recruited into the pro marriage army".
I want to laugh off the militaristic sloganeering as harmless rhetoric but standing in that crowd listening to them cheer the speakers claiming LGBT people had no right to marriage. Watching the solemn nodding of heads in agreement at every lie and innuendo that came from the lips of these Christian leaders. Thinking about the children present, knowing the struggle some will experience because of the homophobia in their families and churches.
I realised I couldn't just say it doesn't matter. The conservative plan for a plebiscite will give permission and space for the LGBT community to be targeted and victimized. The traditional marriage rally is clear evidence that this is happening right now.
Stan Schirmer