Finalists announced for Black Swan portraiture prize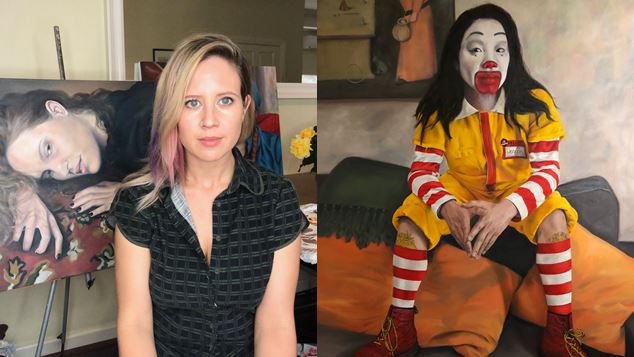 A portrait of local actor John Madd dressed as his character Johnno McDonno is among the finalists for this year's Black Swan portraiture prize.
Local artist Desiree Crossing told OUTinPerth that she was thrilled to be among the finalists revealing it's the first time she's entered any of her work into a competition.
"It's really exciting and a real honor to be selected." Crossing said.  The artist said she chosen to paint the local identity because he's just one of those people that everybody knows.
"He has this character called Johnno McDonno who is actually mute, but will play the ukulele and do little tricks. I just thought he was a really interesting character. John's fascinating, he knows everybody and is really good at networking. He's always got a big smile and is very vibrant but I wanted to take an intimate moment with him, and have people wondering about the man behind the character." Crossing said.
While this work is an oil on canvas, Crossing has worked in lots of different mediums.
"I was always painting in acrylics and water colours, but I've discovered oil paints again, so that – and a decision to focus – together has just been this beautiful magical thing has allowed me to really expand and grow as an artist." Crossing said.
Forty finalists from across Australia have been chosen from over 500 artists who entered this year's prestigious Black Swan Prize for Portraiture.
Among this year's finalists 25% were Western Australian artists, 38% were from VIC, 28% from NSW, with the remaining 9% from SA and TAS.
Many of the finalists' works involve subjects that play a significant part in their lives or they have chosen to look within and present a self-portrait. A number of previous finalists have made this year's list, including Benjamin Aitken, Mark Tweedie and Josh Cocking.
Pre-Selection Panellists Ted Snell, Margaret Moore, Penny Bovell, Anna Richardson and Dunja Rmandić, said the works revealed a real sense of intimacy with their subjects and told powerful stories, whilst the self-portraits offered authentic perspectives and a chance to connect with artists in a personal way.
The Black Swan Prize for Portraiture is celebrating its twelfth anniversary in 2018 and its third year at the Art Gallery of WA. The finalists' artworks will be on display at the Art Gallery of WA (AGWA), in the Centenary Galleries from 27 October to 26 November 2018. The Awards will be announced on 2 November at the 2018 Awards Night. Tickets will be on sale in late September.
AGWA Director Stefano Carboni said he was excited that the 40 paintings would soon be hanging in the gallery.
"I congratulate the 40 artists whose works have been selected for inclusion in the State's premier portraiture prize, the Black Swan Prize for Portraiture. I look forward to welcoming this year's artists and their works to the Art Gallery of WA, and wish them all the best for the announcement of the top prize on 2 November." Carboni said.
Board Chair of Artrinsic Inc John Langoulant said it was always exciting to see which artist would enter and who their subjects would be.
"The Black Swan Prize for Portraiture is highly respected by both professional and emerging artists, and this is reflected in the growing number of entries submitted for the competition. It is always exciting to see who will enter and what their subject will be – this year is no different with some high-profile artists and subjects vying for the main prize. We look forward to sharing these works with the WA public in the Centenary Galleries at AGWA in October 2018." Langoulant said.
Established in 2007 by ARTrinsic Inc, the Black Swan Prize for Portraiture is the third richest prize in Australia after the Archibald and Moran competitions. This year's selected finalists are in the running for $70,000 worth of prizes.
Take a look at all the finalists.
OIP Staff
---