The flamenco guitar master: Paco Pena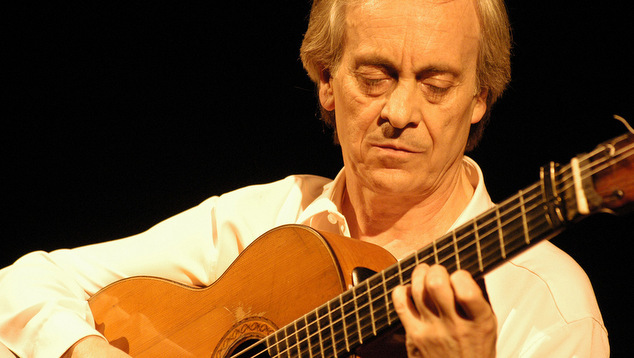 Flamenco guitar virtuoso Paco Pena is heading back to Perth in September.
The performer who recently celebrated his 74th birthday began playing the guitar when he was just six years old and he made his professional debut at 12. Since then he's traveled the globe as one the most acclaimed flamenco guitarists of all time.
Pena's new show sees him performing solo for the first half of the program, and then for the second half he's joined by other musicians and dancers for the full flamenco experience. OUTinPerth spoke to Paco Pena ahead of his Perth show.
You seem to be constantly touring, do you ever get to spend any time at home.
I have two homes, one in Spain and I spend a lot of time in London.  I do all my travelling from London but I also spend a lot of time in Spain in my home town where I have a large family. When I have a new show to prepare I do it Spain because all my artist live around here.
Do you ever think of a time in the future when you might pull back a bit or do you just love being on the road?
I love what I do, but I suppose I'm getting on – that goes without saying. I'm not tired and I do love what I do.  I'm surrounded by younger people than myself, when we're putting the shows together, but I love it, so why retire, I'm enjoying myself.
Sometimes we underrate older performers, last year I saw Nana Mouskouri's show, she's 81, and it was one of the best shows I saw all year.
Yes! I love that lady, I worked with her many years ago. I think it's something about music though, it's not a big physically effort really, although you have to have stamina, you have to be fit. Its something that its very nice to be involved with. I still like doing it.
Is the guitar an easy instrument to learn?
I think so, because its a very natural instrument. Its almost like an extension of your own body. Its a very personal thing that you hold. On the other hand I think all instruments have intrinsic difficulties in different way. If you want to be really good at it you have to work. There's no questions about that, you have to dedicate your time and analyse it. You have to be ready and active.
It's not a hard instrument to learn though because whatever you do on it, it will sound charming. You don't need to be great to just sound good.  Its not easy, and if you want to be good you'll have to practice for many hours, but it is a natural and very kind instrument to play.
How many guitars do you have, do you know?
Oh gosh! I really don't know, I have at least over thirty.
Do you have a favourite?
Yes, inevitably that happens. The guitar is not an instrument that last many years like a violin or those other instruments that its related to. Its a very flat, thin, piece of wood on top – the main part. So weather affects it, and it dries up, but if its well made it may last centuries.
In my case, I like a good strong instrument, a responsive instrument to perform on, but funnily enough I've been lucky because the guitar I usually play is from the '70s. It's still an excellent fantastic guitar.
I have favourites, my absolute favourite is an old fashioned one that has wooden pegs, so there's no problem with tuning. If I'm alone that's no problem because I don't have to be in tune with anybody. When I'm playing with a company I carry one with mechanical pegs, which is the norm, because you can tune it more quickly and securely.
Having a relationship with the same guitar from the '70s is a long time, some marriages don't last that long.
Its funny you say that because that's what it is like, the instrument is almost tempremental and has it's own character, sometime you have to argue, but luckily it doesn't respond like a wife – it's a lot safer.
Tell us about the show you'll be performing in Perth.
I've brought my company of dancers and singers to Perth many times before. In this case it's a little different. I'm not presenting it with all the theatrical devices of entrances and exits and choreography.
It's the same people, doing the same commitment but in a concert style. It's an extra challenge, it's still choreographed and theatrical but we're forcing the performers to be on stage all the time in a concert format. Its very intimate, and I really like the challenge of doing that. Its kind of a novel idea that uses the same elements of dance, song and instruments and hopefully something different.
Paco Pena is playing at His Majesty's Theatre on Friday September 30th, tickets are available from Ticketek.  
Graeme Watson