Flight Attendant Star: Come fly with Pam Ann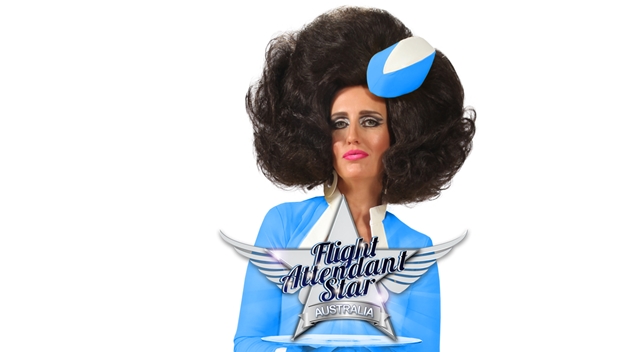 Have you ever dreamed of becoming a flight attendant, traveling the world, seeing the sights, and asking passengers to politely fuck off? Then we have a show for you.
The queen of the skies, Pam Ann, returns to Australia in search of her Flight Attendant Star, selecting air service wannabes and having them run the proverbial gauntlet to test their skills.
We caught up with Caroline Reid, the woman pushing the trolley that is Pam Ann, to find out just what qualities she desires in a future protege.
"I've been missing the Australian accent! The woman who just connected our call could do the PA; 'Hello, welcome aboard QANTAS…'," Reid laughs, speaking from her Miami home.
Seemingly unable to pass up an opportunity to make an air-inspired joke, I remind her that unlike an airport announcement, the aforementioned angel-voiced woman was still on the line. She even chimed in to our call with an "I'm still here!"
"You're amazing!," Reid chuckles, "You should become a flight attendant!"
Reid and Pam Ann's love of air travel runs far deeper than your regular comedy schtick however, explaining that she finds great joy just spending time at the airport.
"I could happily just sit at the airport all day and watch planes come in and take off. I am a real geek," Reid explains."I have a friend who knew almost every aircraft route, tail, style… he put me to shame, but I could sit there all day and do that. I know the A380 times! I call it A380 o'clock. I jump up like a barking dog."
The air hostie supreme is bringing a different kind of show this time around, seeking out someone who could, possibly, follow in her footsteps as a Flight Attendant Star. So what is Pam looking for?
"They've gotta know their airline, they've gotta know what they're talking about, they've gotta know how to sashay through a terminal," Reid says, outlining the basic criteria.
"Old school customer service. They've gotta be able to deliver on style, class and glamour!"
Strap yourself in for one hell of a flight with Pam Ann at the Astor Theatre on Tuesday August 28th. For tickets and more information, head to livenation.com.au

Leigh Andrew Hill