Footage of George Michael recording lost album 'Trojan Souls' surfaces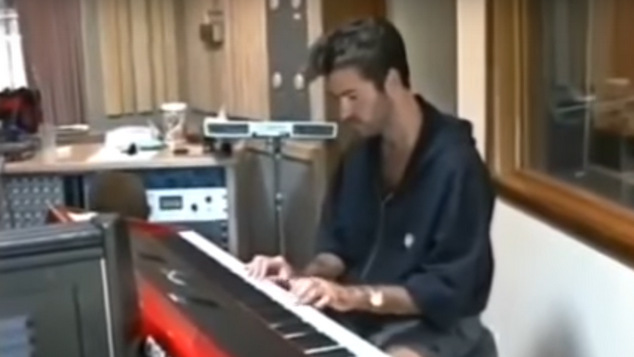 An 80-minute video showing singer George Michael recording his lost album 'Trojan Souls' has been posted to YouTube.
The behind the scenes video shows George Michael hanging out in the studio working with musicians and backing singers.
The start of the film, which was probably filmed in late 1992 or early 1993,  shows Michael arriving at the studio with his partner Anselmo Feleppa.
Feleppa passed away from a brain hemorrhage in 1993, later Michael would speak about how the heartbreaking loss of his partner sent him into a deep depression. The song Jesus to a Child, off Michael's 1996 comeback album Older was inspired by Feleppa.
Michael's plan for the album was to write a series of songs, but mostly have the sung by other artists. Among the talents lined up for the album were good friend Elton John alongside Anita Baker, Seal, Sade and Aretha Franklin.
Recording of Elton John singing the track This Kind of Love have been posted online in the past, and earlier this week George's partner Fadi Fawaz posted a link to George's own recording of the unreleased tune.
While Elton John certainly recorded a vocal for his track, its not known if any of the other singers headed into the studio to record their lead vocals.
Also appearing in the video is longtime collaborator Deon Estus who was bass player on many of George's solo records and Wham! recordings.  Wendy Melvoin, from Prince's band The Revolution,  also appears providing a funky guitar jam.
It's believed the album was abandoned when Michael's legal dispute with Sony Music heated up, reports suggest that only half of the planned album was recorded.
---
01-01-2017   Results of George Michael's post-mortem inconclusive. 
31-12-2016   Will George Michael's unreleased music ever be heard.
26-12-2016   George Michael dies aged 53.
---
Famous Lost Records
Prince: The Black Album in 1987 Price announced the follow up to his highly successful double album Sign 'O the Times, would be an album called The Black Album – it had a completely black cover, the opposite of The Beatles White Album. Preview copies of the album were released, but then unexpectedly they were pulled. A few months later Price released LoveSexy instead. The Black Album did finally get released in 1994 and critics panned it.
Deborah Conway's Dance album: After Conway's band Do-Re-Mi called it quits she signed a solo record deal and spent a year in the late '80s making her first solo album, a Paula Abdul style dance record. The first single was a dance version of the Bad Company tune Feel Like Making Love. The single was only ever released in the UK and record label Virgin decided, much to Conway's relief, not to put out the album. A year later she launched her solo career with the fabulous String of Pearls album.
Ryan Adams: Suicide Handbook alt.country singer Ryan Adams followed up his year 2000 debut solo record Heartbreaker with a raw sounding album called The Suicide Handbook, but it was dropped an the much more polished record Gold came out instead. Adams has indicated the album will eventually get a release but fans are still waiting. Prisoner, Adams 16th solo album will be out next month.
David Bowie: Toy Prior to releasing Heathen in 2002 David Bowie was in the studio working on an album called Toy. Not liking the results Bowie scrapped the record, but a few tracks were re-worked an included on Heathen. The unreleased album leaked online in 2011.
Noel Gallagher's collaboration with Androgynous Anonymous: Oasis singer Noel Gallagher recorded an album with electronic producers Amorphous Androgynous, who also perform under the moniker Future Sound of London. The record was recorded at the same time as the first 'High Flying Birds' album. One of the tracks Shoot a hole into the sun ended up as a b-side, and other tracks were seriously re-worked for a later release. Gallagher said after touring with his first solo record, he "couldn't be arsed" putting out another one, In later interviews he revealed he'd destroyed the master tapes so it could never be released.
OIP Staff