Four female filmmakers head to Flickerfest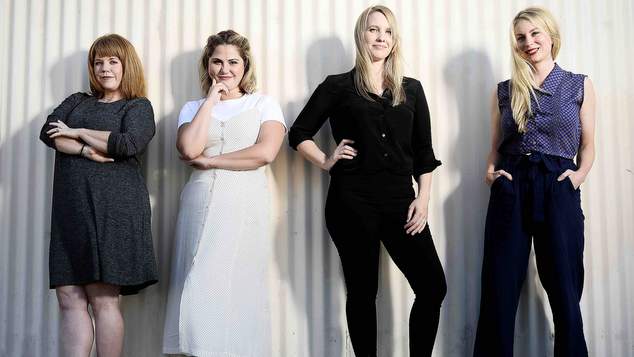 Glenn Close delivered an inspiring speech encouraging women in film to follow their dreams at the Golden Globes earlier this week.  Accepting the best actress award for her role in the movie The Wife, the respected actress urged women in the film industry to fight for their dreams.
"We have to find personal fulfillment. We have to follow our dreams. We have to say, 'I can do that and I should be allowed to do that." a passionate Close declared to a standing ovation.
The gender imbalance in the filmmaking is something the industry has actively been trying to combat at a local, national and international level for many years, but dour local female filmmakers are showing how they've excelled at their craft.
Four Western Australian filmmaking friends will soon compete for the top award at the prestigious Flickerfest Short Film Festival in Bondi.
Their award-winning films Judas Collar and Calling have been recognised by local and international film festivals in the past year and now the two all-female Writer/Director/Producer teams will be going head-to-head for Australia's biggest short film prize.
Written and directed by Alison James and produced by Brooke Silcox, Judas Collar explores the real-life practice of camel culling in Australia. The film recently won Best Narrative Short Film at the Austin Film Festival; a huge coup for the film which now qualifies to enter the 2020 Academy Awards.
Calling, written by Miley Tunnecliffe and produced by Emilia Jolakoska, is a comedy chronicling the dysfunctional relationship between a mother and daughter entirely through their phone calls and won Best International Film at the Austin Short Comedy Festival.
Miley Tunnecliffe said the four women has known each other for many years and watched each other's careers develop.
"Brooke, Ali, Emilia and I came up together in the industry and there's a particularly satisfying comradery when you get a bunch of female filmmakers together," Tunnecliffe said.
"We read each other's scripts and give notes on the films before releasing them. Both our films have done so well at festivals this year and sharing that journey with your mates, being there for each other's screenings and wins all over the world, has been a blast."
Documentary filmmaker Alison James said when one local filmmaker finds success it is of benefit to everyone in the local industry.
"When a filmmaker from WA does well, we all benefit," James said. "It's such a small industry here and directors collaborate, share notes, drafts and war stories. We help each other up. Brooke and I are so excited to be screening at this amazing festival with Miley and Emilia and supporting each other."
Judas Collar producer Brooke Silcox said she found the support of other female filmmakers to be particularly empowering.
"I have found the film industry to be a hugely supportive industry – so it's good that we look out for each other and provide support mechanisms to encourage each other to keep going and do our best work."
One of those support mechanisms is the Women in Film and TV organisation and producer Emilia Jolakoska is the co-president of the WA Chapter, WIFTWA.
"There are prevalent issues such as gender disparity and lack of diversity both on and off the screen, and I'm proud to have produced a female led story with a female team amidst a time of huge cultural shift in awareness," Jolakoska said.
Head to www.flickerfest.com.au to purchase tickets and find out more information. Head to www.perthwritersfestival.com.au for more information about the Writers Week sessions in Perth for Judas Collar. Find out more about WIFTWA at www.wiftwa.org.au.
---