Fox News: Gay people just care about pop music and going to the beach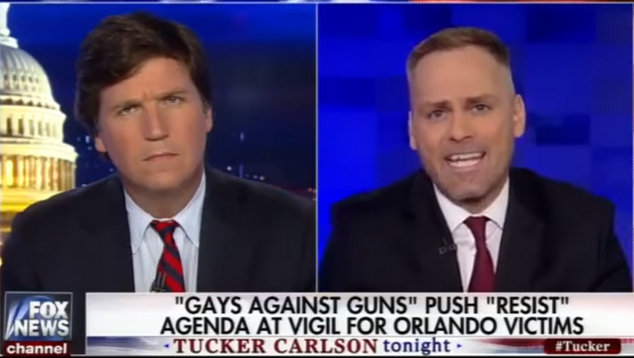 A Fox News commentator reporting on a memorial vigil for the Pulse nightclub massacre has suggested that gay people just care about pop music and going to the beach.
Journalist Chadwick Moore was appearing on the Tucker Carlson program to discuss a vigil that was held at New York City's Stonewall Inn to mark the first anniversary of the massacre at Orlando's Pulse nightclub.
Moore reported that the vigil was taken over by a gun control lobby group and many people attending the event and argued that many people attending were probably not supportive of gun control.
The journalist said the Stonewall in was a "gay holy site".
"It's the equivalent of Mecca for Muslims" Moore said. "Its where everyone goes when there's a large event that has effected the community whether that's tragic or celebratory."
Moore said people would have instinctively shown up at The Stonewall Inn to commemorate the anniversary, and criticised what he described as a "far left anti-gun group" for holding a rally outside the venue.
"People who were coming to mourn, who were coming to be together, to reflect, who want to give politics a break, instead were being subjected to this anti-gun propaganda."
Host Tucker Carlson questioned why the gay community was being critical of gun control and not speaking more about the terror organisation ISIS. Moore said it was a strange phenomenon when large populations of "leftists" get together.
"The small group of loudest, most mentally and emotionally unhinged, push their way to front, seize the microphone and bully everyone else." Moore said, arguing that anti-gun lobbyists were trying to push people into a "radical ideology".
"Most gay people aren't political, most gay people they care about pop music and going to the beach." Moore said.
During the exchange Moore said it made no sense for people to be critical of President Donald Trump during the Pulse Memorial. Moore claimed that the President had visited the Pulse nightclub in the days following the tragedy.
Moore later admitted on Twitter that he had "mis-spoken" and the President had not visited the site of the tragedy.
Chadwick Moore rose to prominence after he wrote an profile piece on right wing provocateur Milo Yiannopoulous for US based OUT magazine.
After the article was published Moore experienced a significant amount of criticism over his coverage an experience which he says made him question his own political beliefs. He later declared that he was saw himself as a gay conservative.
In March this year Moore was criticised for a Twitter post where he argued that the murder of Mathew Shephard was not a hate crime.
Moore said the gay lobby had turned Shepard into a "blonde Jesus" and suggested that they murdered man had been a drug user who was killed over a drug deal gone wrong, not because of his sexuality.
OIP Staff