frag/men/t: Artist Dan Gladden explores the queer posthuman form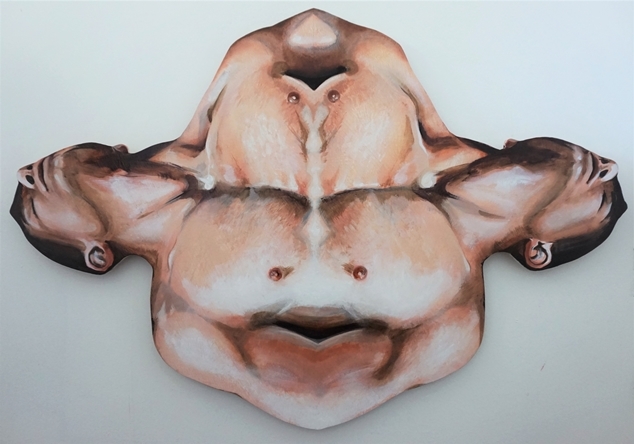 Spectrum Project Space will host an exhibition by artist Dan Gladden this September, featuring works that explore the idea of the 'posthuman' from a romanticised and imagined queer perspective.
Gladden's work primarily focuses on body image and masculine beauty, exploring merging, diving and mirrored forms from the idea of a 'gay clone' – the idealised, muscle-bound visage of a Western male body.
Gladden explores this notion of the 'posthuman' by taking contemporary media representations of masculinity and projecting an imagined future of superhumans based on these ideals of beauty.
We caught up with Gladden to find out more about what motivated the work, the Western image of the ideal man and the notion of the posthuman.
Was there a particular moment or scenario that inspired this series?
There was no particular moment that kick started the works in the exhibition, however I have been addressing similar themes in my practice since uni, where I examined gay male identity and body image as a marketable commodity.
The works in frag/men/t further elaborate on this theme but have merged into a much stranger space where bodies and forms morph, merge and melt into new bodily creations and beings, like some bad cloning experiments gone wrong.
I guess what also influenced me is the insanely increasing technological advances especially in terms of designer genetics.
Why did you choose to represent this idea of the 'posthuman'?
The post-human is a concept of what the next state of being human could or will be. I think we are entering into strange, uncertain and interesting times and I'm often overwhelmed by the idea of an apocalypse, especially considering the state of the world at the moment.
I wanted to explore the idea of a not-too-distant imagined yet romanticised world where humans have become explicitly designed for pleasure. There is a definite Margaret Atwood/Oryx and Crake influence.
I'm conscious that the types of bodies gay men in particular are consistently exposed to in the media are the same, white, muscular perfect symmetrical men so I wanted to develop ideas of this 'gay clone' further into weirdly grotesque yet supposedly beautiful ideals.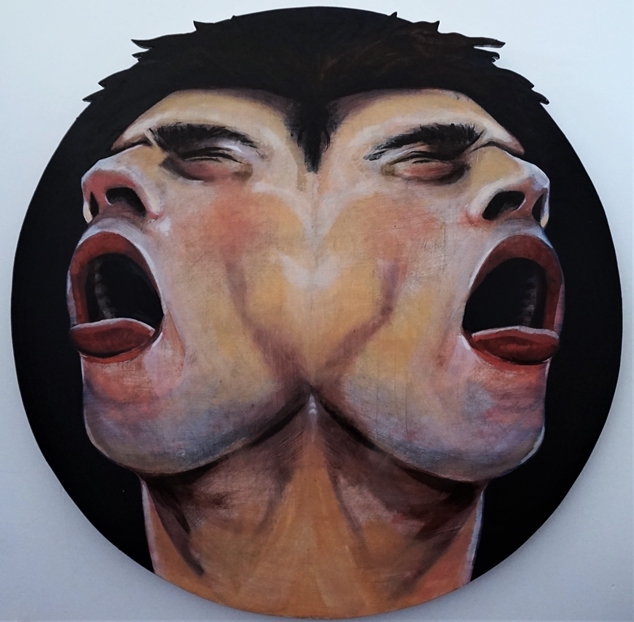 You mention the notion of the 'gay clone' also – the idealised Western male… I've seen this first hand at Mardi Gras. Do you think this is an issue our community doesn't address thoroughly enough?
Absolutely – although I would hope that given the increasing "interconnectedness" of online social spaces it has become a bit easier to find groups you may align yourself with, however I still see the dominant media representation as being a Eurocentric image of ripped muscular clones.
Some people can look like that, but its unrealistic for many, which can lead to feelings of isolation, anguish and insecurity.
What can we do to dispel this idea of the "perfect" Western man?
I don't really have the answer to what we can do but I would hope that we can just further embrace difference as beautiful (by difference I mean different to the media's representation of the male body).
The works I've created have really pushed the boundaries of perfection by exaggerating typical representations and morphing into something grotesque.
Hyper-masculinity is something I've seen discussed more in queer circles, but still too often dismissed. Have you seen real examples of its effects?
Absolutely. Its a tough road being gay already with society telling gay men they are not real men. I think of online profiles and all the cliches of "masc4masc" and the casual (sometimes blatant) racism and internalised homophobia. It's bullshit. It's damaging. It can completely destroy peoples confidence, ability to relate or be themselves.
I say be who you are, embrace it, push it, work it. Just be true to yourself, whether you're masc, femme, large, skinny, green hair, no hair, or anywhere in between. We are a diverse community of so many incredible types of people and this is where our strengths lie.
Dan Gladden's frag/men/t will be at Spectrum Project Space at Edith Cowan University Mount Lawley from Thursday August 31st – Wednesday September 13th.
Leigh Andrew Hill
---
Support OUTinPerth
Thanks for reading OUTinPerth. We can only create LGBTIQA+ focused media with your help.
If you can help support our work, please consider assisting us through a one-off contribution to our GoFundMe campaign, or a regular contribution through our Patreon appeal.