Macron says its homophobic to accuse him of being gay
France's President-elect Emmanuel Macron has responded to accusations that he is secretly gay saying such comments and misogynistic and homophobic.'
Macron is set to become France's youngest President of the modern era. The 39 year old divisively beat right-wing opponent Marine Le Pen is last weekend's election.
In a television discussion Danish politician Søren Krarup, a member of the right-wing Danish People's Party, said he would have voted for Marine Le Pen over Macron.
"I would never vote for that nice little gay boy", Karup said.
The show's host immediately called him out on the remark and Karup responded that he was put on the spot and should have phrased his response differently.
"Ah, that's also wrong. I would have used a slightly nicer expression, but when standing face to face with you here, it can often be difficult to find it.
"I would have said well-behaved little schoolboy." Karup said.
Russian newspaper Komsomolskaya Pravda published an article describing France's new president as a "gay psychopath".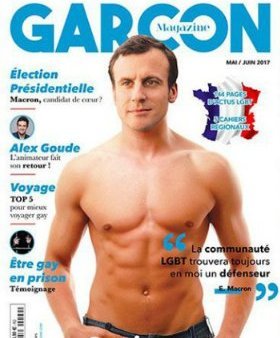 The newspapers correspondent Daria Aslamova wrote that Macron's appearance on the cover of a popular French gay magazine was proof of his coming out, and describing his relationship with his "Mommy Wife" as further proof that his is gay.
Macron is married to his former school teacher who is 24 years his senior. The couple met when he was 15 and they worked together on an adaptation of a play.
They began their relationship when he was 17. Macron, and his wife, Brigitte Trogneux, have been married since 2007.
Macron has responded the accusations. In an interview with Le Parisien the President-elect said if his wife was 20 years younger than him, nobody would ask such questions.
"If I had been 20 years older than my wife, nobody would have thought for a single second that I couldn't be [an intimate partner]," he said.
"It's because she is 20 years older than me that lots of people say, 'This [relationship] can't be tenable, it can't be possible."
In an interview with Tetu he labeled the assertions as misogyny and homophobia.
Two things are vile behind the implication: To say that it is not possible for a man living with an older woman to be anything other than a homosexual or a hidden gigolo is misogynous.
"And it's also homophobia. If I had been a homosexual, I would say it and I would live it." Macron said.
The publishers of Garcon magazine have confirmed that the President-elect is not as buff as the cover suggests, admitting that they photoshopped his head on to the body of a much better looking model.
OIP Staff