Fremantle says YES to marriage equality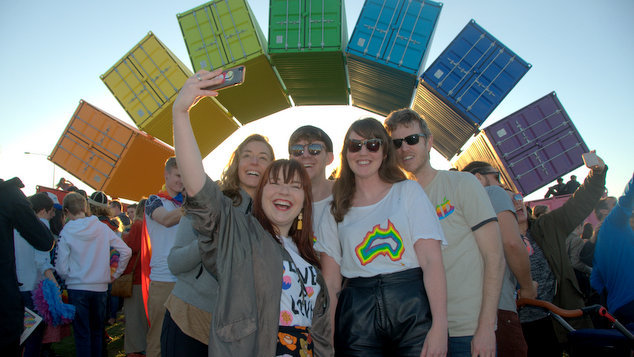 A marriage equality rally in Fremantle has a massive turnout yesterday afternoon, with participants showing support for the YES side of the campaign.
Organised by local Labor MP Josh Wilson, the gathering in front of Fremantle's iconic rainbow container sculpture drew hundreds of supporters.
Senator Louise Pratt welcomed the the crowd and introduced Tiernan Brady from the Equaity campaign.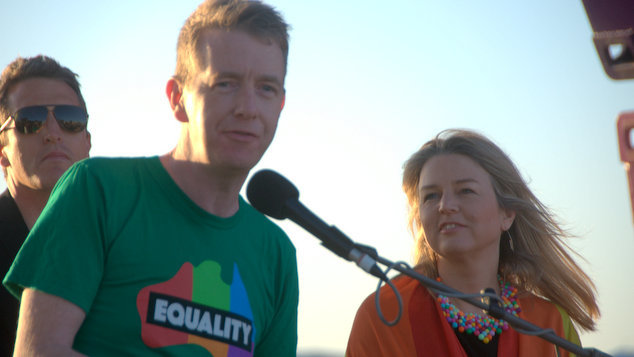 Brady spoke about how the successful campaign in Ireland had utilised stories of real people's lives to bring people unsure of marriage equality onside.
"We need to help people understand that marriage equality is a 'who' and when people understand that they never ever walk away from supporting it. That's the journey, that's the conversations that will lead this."
"We have to realise that sometimes people are a little bit scared to talk about 'gay stuff'. They don't want to get the words wrong. They're worried they might look disrespectful, and as a result, they don't ask.
"We should want them to ask." Brady said, "Because every single conversation stands up to scrutiny.  We have the best answers to all those questions."
"People don't need to be experts in gay, you don't need a PhD in gay to support anyone's equality."
"Marriage equality will make nobody less married." Brady said. "And it will make nobody more gay."
The inspiring speaker said it would take 'everything we've got' to bring about a change to the nation's marriage laws but it was essential that the current generation was the last to experience inequality.
Following the speeches the crowd took mass selfies in front of the rainbow sculpture and formed a giant YES with their bodies. The formation of the positive message was filmed by an overhead drone camera.