Get out the vote! WA rallies for YES vote in Wellington Square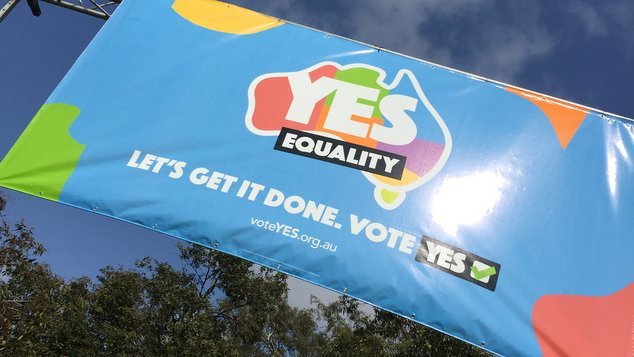 Hundreds of people showed out to say YES to marriage equality in Perth's Wellington Square today as Australia begins to vote on whether or not LGBTI+ people should be allowed to marry.
Organiser Emma Gibbens warmed up the crowd with a magnetic positivity as supporters laid out their blankets, brandished their signs and twirled their rainbow umbrellas in the warm spring sun.
Gibbens was joined by Students For Marriage Equality's Oscar Kaspi-Crutchett, Senators Louise Pratt and Dean Smith, Greens MLC Alison Xamon, PFLAG's Michele Davis, Tiernan Brady and more on stage – all of whom were encouraging the crowd to reach out to friends, family members and colleagues to ensure they understood why a YES outcome was so important to the LGBTI+ community and allies.
Kaspi-Crutchett opened the proceedings with a speech outlining why this vote was so important to him as a gay man who was not yet of voting age.
"I fight for marriage equality for a lot of reasons. The first is equality itself. Equality and fairness are enduring values in my life that I place a lot of value on, but there's another reason that I fight – and I think we all share this reason in some way or another."
"I fight for a version of myself who wasn't as comfortable, or wasn't as free, as the one I am now. Growing up, I was bullied for not wanting to play footy or soccer. I didn't fit in with most of the boys who knew straight away that I was different to them. I hated sport and had no interest in play-fighting. I didn't even fit in with the girls either. I had a few close friends, but primary school lunch times were spent in the library, or on the outskirts of the school oval. I was isolated, and I knew it."
The high school student said he found his place in the world when he started getting involved with LGBTI+ advocacy and promoting the Safe Schools program.
"Now with this marriage equality campaign, I have never felt more motivated. I have never had so much purpose in my life. I know it's hard, and the NO Campaign does its damage, but we are a resilient community. We are made of the bricks of Stonewall Inn. We are made of the thick fabric of our rainbow flags, and we are made of 1,000 lunch times spent in the school library and the defiance that creates. What doesn't kill us makes us stronger."
Labor's Louise Pratt, Liberal Dean Smith and WA Green Alison Xamon took to the stage together to represent those across the political spectrum who support marriage equality, with federal Perth MP Tim Hammond, WA Senator Sue Lines as well as state parliamentarians Stephen Dawson and John Carey.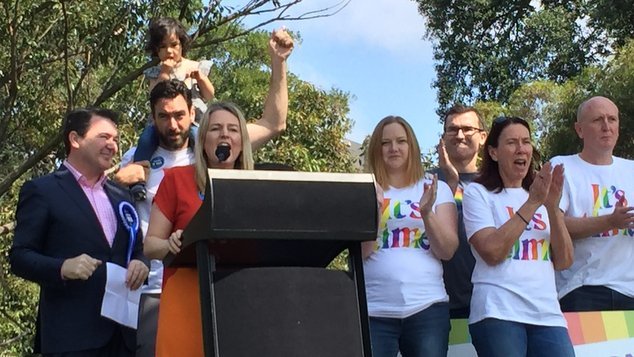 Senator Pratt spoke first, stressing the importance of sharing our own stories in the fight for a successful YES vote.
"I can tell you there is only one way we are going to win this," Senator Pratt said, "And that is by sharing those stories."
"Indeed it is the only way our rights in this nation have ever been won. I have learned this in more than 20 years of LGBTI rights campaigning and work. It's how we've won equal adoption access to reproductive rights, access to the Family Court anti-discrimination law and more. We have successfully showed legislators like us how decades of exclusion has affected our families and our lives…. but sadly on the question of marriage, the parliament has not yet listened!"
"We are out here doing our utmost to support LGBTI Australia. The Labor Party is out there working hard for a massive YES here from WA. So I can tell you from personal experience that having these conversations is rewarding – but it is about our worth and our dignity. It is about our own status as LGBTI Australians and the status of our families."
"We need to make sure that everyone who supports YES gets that postal survey in the letterbox!"
Senator Pratt welcomed her fellow out Senator Dean Smith as he approached the microphone to speak, where he admitted he felt that he was a late-comer to the marriage debate.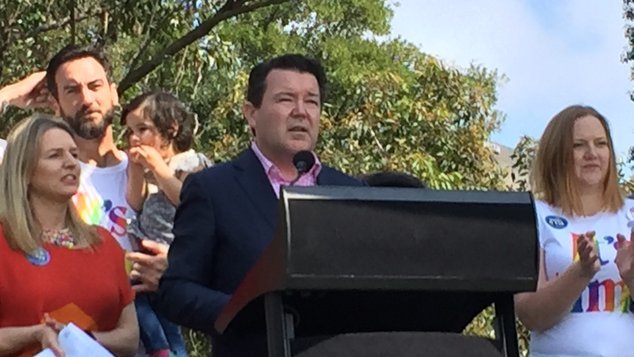 "The first thing I want to say is to pay tribute to those people that started this campaign years ago, those people who have campaigned over many, many years to get us to this point. Right from the outstart, can I just commend the tremendous courage that Louise Pratt continues to show not just on this issue, but on other issues important to LGBTI West Australians."
Senator Smith spoke on his disappointment that our community had to reach such a high hurdle to have their rights recognised under the law.
"But we don't have time for disappointment, we don't have time for anger. The time is now to vote."
"West Australian values are values of fairness, they are values of having a fair go, they are values of putting equality before the law at the heart of this issue… and for Liberals and conservatively minded people in the crowd and in the community you can be sure that a vote for YES is a vote for that cherished Liberal principle of equality before the law."
"This vote must be a triumph of hope over fear, a triumph of fairness over discrimination, and it must put a fair go at the heart of everyone's thinking on this issue. I implore you; don't get distracted by those arguments of fear… they are campaign techniques, they are campaign tactics and they don't come as a surprise to me."
Greens MLC and Mental Health spokesperson Alison Xamon was next to speak, taking time to honour former state Greens MLC Lynn MacLaren for her work fighting for WA's LGBTI+ community in parliament.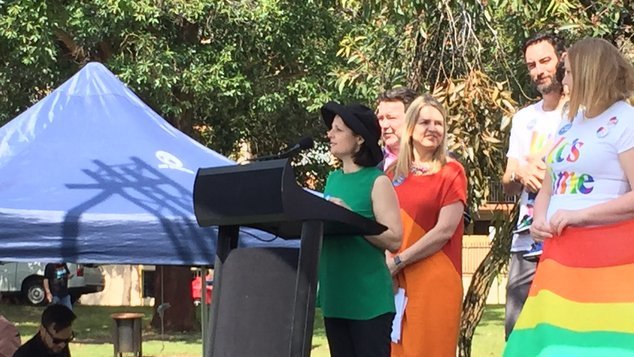 "We owe people like Lynn a great deal of thanks because it is people like her who've kept up the good fight year after year."
Xamon lamented that Australia's LGBTI+ community had to endure this vote in the first place, but that the YES outcome must be won.
"It is not the role of the law to stand in the way of love. This is about saying that all LGBTIQ Australians are equal and that you matter and that your love matters."
"We do know that there are a small number of Australians that are putting in a disproportionate amount of energy into denying equal love and they are perpetuating fear and division. We also know that they're well funded and well organised, but I believe really strongly that they do not represent the majority of Australians who believe in a fair go. So it's up to us to counter that. We need to reach out to those Australians who may not have made up their minds, or just as concerning, that are likely to vote YES but for whatever reason can't be stuffed participating in the ballot."
"We need to make sure that we're talking to people, that we're reaching out, that we're explaining why this is important. We need to phone bank and we need to leaflet and we need to make sure we get the final YES vote reflecting what polls have told us over and over again. And that is that the vast majority of Australians support marriage equality."
YES Campaign spokesperson and Irish marriage equality champion Tiernan Brady wrapped up the day with a jovial speech about the power of personal stories.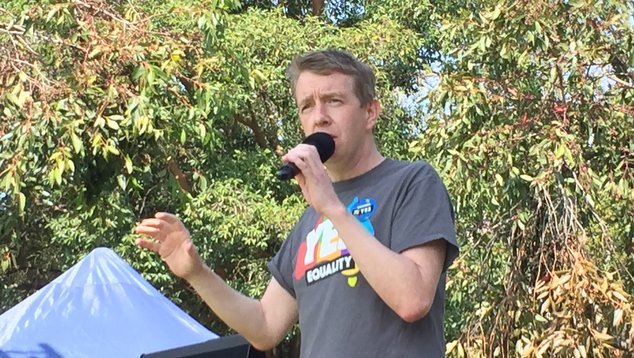 "All Australians are in this together. We're all going to have to wake up the day after marriage equality happens and share the same country. So how we take this journey matters."
"That's why this has to be a campaign, as it is, of respectful conversations. Of talking to the people we know and explaining why marriage equality matters. Of allowing people to understand marriage equality is not a what; marriage equality is a who. Because when people understand that marriage equality is a who, they become supportive forever. They never turn back."
"Give it every single thing you've got. Don't go to bed until Aunty Mary's got the call, and until Granny's been taken to the postbox. Take nothing for granted, because it'll take every one of us."
OIP Staff
---
Support OUTinPerth
Thanks for reading OUTinPerth. We can only create LGBTIQA+ focused media with your help.
If you can help support our work, please consider assisting us through a one-off contribution to our GoFundMe campaign, or a regular contribution through our Patreon appeal.