GLCS Host Mental Health Forum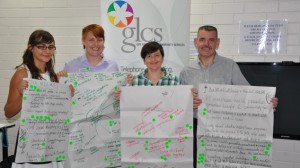 On January 31st, the Gay and Lesbian Community Services (GLCS) hosted a Community Mental Health forum at City West Lotteries House. The public forum was attended by around thirty community members and included presentations from the national MindOUT project and the WA LGBTI Suicide Prevention Community Action Plan Project.
 The first session of the evening saw Barry Taylor, Capacity Development Senior Project Officer  from MindOUT presented results from the first national survey of LGBTI mental health in Australia. 1939 people filled in the survey, with the majority of respondents in the 20 to 50 year old category.
Amongst data presented, Mr Taylor highlighted the high rates of suicide in the under 25 year old age group as well as the less frequently recognised high rate amongst people 40 to 50 and 65 and over. Trans and intersex people over represented in suicide rates, followed by men. Men were also over represented in other mental health indicators such as alcohol and drug use, whereas women recorded higher rates of self harming.
The data from the survey also identified differences in the perception of LGBTI individuals, LGBTI organisations and mainstream organisations of factors influencing mental health including discrimination, levels of service provision and discrimination.
Mr Taylor's outline of ongoing priorities for MindOUT included assisting LGBTI organisations to be more responsive to suicide prevention; assisting mainstream organisations to be more responsive to the needs of the LGBTI community; identifying best practice treatment guidelines for LGBTI mental illness and setting up a network for those interested in discussion or research in LGBTI suicide prevention.
MindOUT have been funded for a second phase of development by the federal government, allowing the recent addition of a policy advisor to the project.
The second session of the evening was presented by LGBTI Suicide Prevention Community Action Plan Project Officer Tamara Bezu, GLCS Chairperson Nadine Toussaint and Freedom Centre Co-ordinator Dani Wright.
From preliminary data from the recent LGBTI Suicide Prevention community survey conducted by GLCS, four key areas for community action that were evident and fitted within the scope of the OneLife guidelines were identified by the project team.
The key areas: reducing discrimination and increasing safety; increasing health and well-being including mental health; awareness and suicide prevention, and LGBTI community connection and social support, were presented at the forum. Participants were then invited to workshop strategies responding to the identified areas for consideration in the development of community based projects in the future.
The project team are compiling data from the survey and the community consultation and will present a full report of their findings to the community in the coming months.