When you get covered in glitter, go for the eco-friendly option
Desiree Crossing is a local Perth business owner specialising in all things glitter and glam. The exciting thing about Project Glitter in today's environmentally conscious climate though is their offer and range of bioglitters which help keep our planet healthy and still flamboyantly sparkly. Consider bioglitter for your next night out or for Perth's upcoming Pride month in November. Kyle Kash caught up with Desiree to talk all things glitter and shine.
How did Project Glitter come about?
I was working as a face painter and noticed that at every children's party I would have adults shyly approaching, asking me if they could have their faces painted too. I realised that adults needed more magic in their lives and so Project Glitter was born to help spread some extra joy!
What kind of events and functions does Project Glitter cater to?
We work mostly at music festivals and clubs, but also do private functions, hens parties, corporate events, anywhere that can use a little extra sparkle.
Can you tell us a bit about the environmental impact plastic glitters have had on our environment and how biodegradable glitter is a great alternative?
There has been a lot of media coverage regarding micro plastics in the past few months. The main issues occur when these get into the water networks and subsequently the marine life, being plastic they don't break down.
The biodegradable glitter that we use is a beautiful alternative. It's super sparkly, soft, cosmetic grade, vegan, marine safe and made from sustainable, plant based materials! We stock it in a large range of vivid colours and divine blends, with the options always growing as the market shifts in that direction.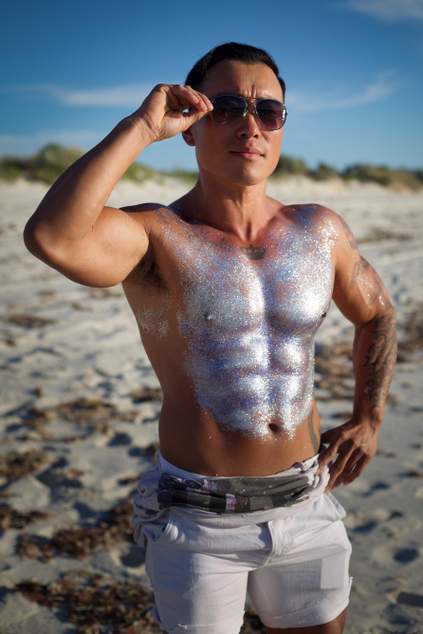 Are you involved with any Pride Month floats or personalities past and present or future?
We have painted up individuals in the past, including the wonderful Sarah Filippi who headed up the parade with LOVE WINS painted in rainbow glitter over her back a couple of years ago. As a company owned by and employing many queer people it's a very meaningful time of year for us and we would love to continue to be involved where we are able.
What are the costing differences between plastic glitters and biodegradable glitters and what are solutions to reducing costs of the environmentally friendly alternative?
There is still a huge price difference between the two, largely due to the demand still being comparatively low for bio glitter and the more involved manufacturing processes. I think as public awareness builds and demand increases this gap should reduce in time.
What is bioglitter made from if not plastic?
The bio glitter we stock is made from a plant based cellulose.
Do you stock bioglitters that can be used cosmetically and for craft projects? What is the range of alternative glitters stocked by Project Glitter?
Absolutely! All of our glitters are cosmetic grade, meaning that they are safe for use on your skin and around your eyes. You can certainly use them for craft projects too. We are always adding to our range of colours as they become available.
What's the country of origin and history behind bioglitters?
There are only a couple of bio glitter manufacturers in the world at present and our beautiful glitters are imported from the UK.
Jacinda Ardern recently banned micro-beads in New Zealand, do you think this is the way of old style glitters in the near future and something Australia should adopt?
I think that the answer is awareness. As people are becoming more educated about the effects of plastics on the environment, the more aware they become of their personal usage and reduce accordingly. Markets always follow demand. Many people are only just learning about these stunning alternatives on offer, too! They are a gorgeous product and not a compromise at all, so why wouldn't you choose the eco friendlier option?
Where can people find out more about Project Glitter and their environmentally alternatives?
If you're keen to know more about our bio glitters check out www.projectglitter.com.au or follow us on Instagram @projectglitterAU
Kyle J Kash, Image:- Jacob Palmer Photography
---