Go behind the scenes on the new live action version of 'Cats'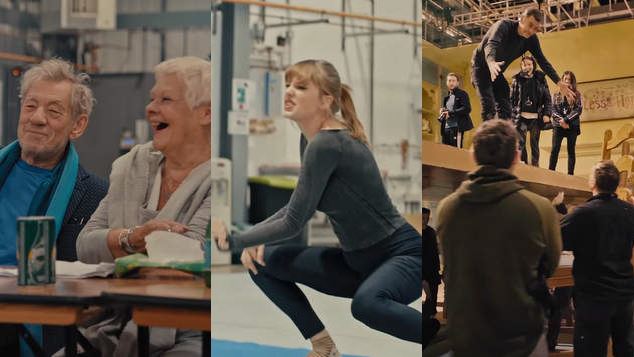 The trailer for the new live action version of Cats will be released on Friday, but you can get a look behind the scenes of the film thanks to a special clip that has been released today.
Dame Judi Dench, Taylor Swift, Idris Elba, Jennifer Hudson, Rebel Wilson, Jason Derulo, James Corden and ballet star Francesca Hayward share their excitement in being cast in the film adaptation of Sir Andrew Lloyd Webber's musical.
Taylor Swift joined the production straight after her stadium world tour wrapped and she was thrown into the rehearsal process alongside a cavalcade of stars.
"My first memories with performance go back to when I was in Pennsylvania growing up," Swift, recalled in the video. "My favorite thing was getting to be theatrical — to tell a story. And I've always brought that sort of narrative element to my live shows."
While the clips shows the giant sets that have been built for the film, how they've transformed the stars into the feline characters is still being kept under wraps. The movie's first trailer is out on Friday.
Andrew Lloyd Webber's musical first opened in London in 1981 and ran for 21 years, while a Broadway production played for 18 years.
The show's highpoint is the song Memory which sung by ageing and ostracised cat Grizabella. The role has been played by Elaine Paige, Betty Buckley, Debra Byrne, Delta Goodrem, Beverley Knight, Nicole Scherzinger and Leona Lewis. In the film version the part will be played by Jennifer Hudson.
Dame Judi Dench will play the role of the oldest cat Old Deuteronomy, a part that has previously been played by male actors. Dench was cast in the original stage production of the show almost 40 years ago but had to pull oput because of an injury.
OIP Staff
---