Go on a boundary pushing musical adventure with Zubin Kanga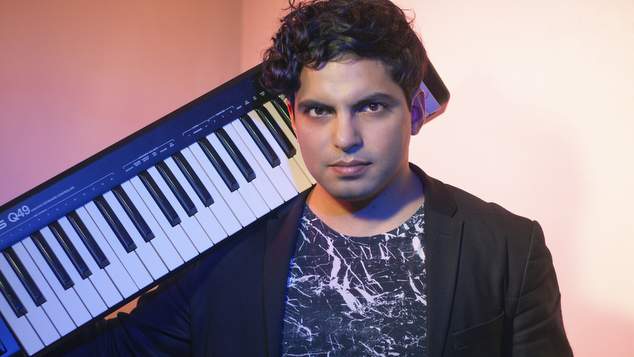 Composer and musician Zubin Kanga is presenting an intriguing performance at the State Theatre Centre on Wednesday night.
The internationally acclaimed Australian pianist and contemporary music specialist will perform his latest program of works entitled Piano Ex Machina  in Perth as part of an Australian premiere tour including Melbourne, Sydney and Brisbane.
Following 2015's acclaimed Dark Twin and 2016's Cyborg Pianist tour, award-winning London-based Australian pianist and contemporary music specialist Zubin Kanga returns with a self-curated and commissioned program of ground-breaking works for piano and multimedia by some of the hottest composers from around the world.
The performance explores video games, internet culture, 80s action cinema, sci-fi, 3D motion sensors, interactive visuals, analogue synths, stop-motion animation and artificial intelligence.
In a recent interview with Limelight Kanga noted that queer bodies were a big inspiration for his latest work.
"I've been writing works using delays, loops and sampling with the piano in the past couple of years, and I thought it would be really interesting to combine these manipulated piano sounds, with the sounds from an analogue synth. All these sounds have deep connotations and memories of other music embedded in them, and finding ways of melding these sounds was a really fascinating journey.
"More broadly, I've been interested in the idea of queer bodies for some time, and the tension between the desire for radical transformation and the desire for acceptance as one is. Having several close relationships with trans individuals has made me particularly aware of the challenges they face around these issues of the body, self-image and transformations, and they have been a major inspiration for this work." Kanga said.
Speaking to RTRFM's Artbeat program recently Kanga said he liked to push to boundaries of what could be performed.
"There's a lot happening in this concert, a lot of tech. I've been developing this sort of work for a few years and as you get more experienced you can push the boat out further and further." Kanga told host Jeff Bullen.
In an Australian premiere, leading German composer, Alexander Schubert's new work, WIKI-PIANO.NET, will be performed. The work is created via a website that allows the public to compose and edit the score, just like a Wikipedia article, creating a constantly evolving work that explores internet culture. No two performances are the same.
The performances feature new works by some of today's most pioneering composers for music and multimedia, including five Australian composers including Jon Rose, Kate Neal, Tristan Coelho and Ben Carey.
Alexander Schubert (Germany) WIKI-PIANO.NET – explores the nature of internet culture, using a website (WIKI-PIANO.NET) to allow the audience to co-compose the work especially for each performance
Jon Rose (Australia) – Ballast – Legendary composer and improviser, Jon Rose creates a wild virtuosic whirlwind of sound with a 3D hand sensor.
Kate Neal (Australia) – Novel Piano – Kate Neil collaborates with stop-motion animator Sal Cooper to create a whimsical exploration of the kinship between cars and pianos.
Tristan Coelho (Australia) Rhythm City – combines film of rhythmic scenes from around the city in a funky, video game-inspired work.
Ben Carey (Australia) Taking the Auspices – Ben uses AI and 3D scans of objects to create a sophisticated live sound and video interaction with the piano, inspired by the flocking of starlings.
Adam de la Cour (UK) Transplant the Movie 2!: Operation 'Re-Rise' Dark Return. Adam
continues his wacky series of B-movie style works, this time recreating scenes from 1980s spy and action movies, with the secret agent going undercover as a cocktail pianist to infiltrate the sinister Steinway Clan.
Zubin Kanga (Australia) Transformations – creates a series of elusive multimedia portraits of friends and musical colleagues, with sound and image in counterpoint.
Catch the performance at 7.30pm Wednesday 24 April 2019 at the Studio Underground, State Theatre Centre of WA. Tickets: www.ptt.wa.gov.au
Image: Raphael Neal
---