Got Milk? An interview with Cleve Jones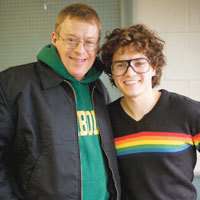 If you are gay or lesbian, then the much anticipated movie release of this summer surely has to be Milk. This Gus Van Sant (My Own Private Idaho, Good Will Hunting, Psycho, Elephant) historical epic delves deep into the last year of Harvey Milk, the first openly gay man to be elected to public office in America. Milk was a humble yet gutsy gay rights activist hailing from San Francisco's burgeoning gay mecca, The Castro. In 1978, with a campaign budget of a mere $30 000 US, Milk and his associates managed to block Proposition 6 which aimed to ban gay teachers from working. Harvey Milk was assassinated on November 27, 1978.
Milk, starring Sean Penn in the titular role, is a celluloid triumph. It's emotive and thought provoking, highlighting to entirely new generations just exactly what went before in our community's ongoing quest for equality. Emile Hirsch plays Milk's protégé Cleve Jones, a young man who went on to create the NAMES Project AIDS Memorial Quilt and who worked as the historical consultant for the movie Milk. Jones is now 54. He recently spoke to OUTinPerth over the phone from his East Coast home telling us that as far as he was concerned, the movie captured the image and spirit of the times and the people involved.
'It's very accurate,' confirmed Jones. 'There are minor details that are not true. There are a few things that are out of sequence. Otherwise it's very true. The look especially still astonishes me. The art designer Bill Groom, art director Charley Beal and costume designer Danny Glicker all did an incredible look and feel of Castro Street in the '70s.
The cast was extraordinary, but Sean Penn's portrayal of Harvey is just nothing short of miraculous. I'm still astonished by it every time I see the film again. And this is not just my opinion – it's the opinion of everyone who sees the film and knew Harvey Milk, they say that Sean Penn becomes Harvey.'
The genesis for the film started 17 years ago when Jones met with Gus Van Sant in an attempt to tell the story. 'The attempt failed,' Jones added, 'although Van Sant and Jones remained friends. Four years ago I met Dustin Lance Black, the writer. In February 2007 he showed me what he had written. I thought it was brilliant and I took him to meet with Gus Van Sant and 17 months later we had a film.'
Milk was released on November 26, 2008, a day before the 30th anniversary of Milk's assassination. What gave the film even greater significance, however, was the fact that its release occurred after the highly controversial Proposition 8 had just passed. Prop 8, as it was known, was a voter ballot that defined marriage as an act between a man and a woman, so that when it was passed, the state of California no longer legally realised gay marriage. Prop 8 reflects in part the discrimination of Proposition 6, the crux of the movie which Milk was instrumental in blocking. So what happened this time around?
'The thing about Prop 8 was that our campaign didn't heed Harvey Milk's lessons,' Jones explained. 'We ran a campaign which had straight surrogates speaking for us and it didn't work. I think it was an unnecessary defeat for us. But in the long run I think it's going to propel us in a new direction. I and many others are now saying that we are going to need a new strategy that will focus on our federal government as opposed to waging these city by city, county by county, state by state battles.
'Harvey's message was loud, clear and simple: come out, come out, come out! People do not vote against us when they know who we are. During the campaign against Prop 6, Harvey Milk and the other leaders at the time inspired tens of thousands of ordinary gay, lesbian, bisexual and transgender people to literally go door to door in their own neighbourhoods and introduce themselves to their neighbours and say 'I am a gay man' or 'I am a lesbian woman. Please do not vote for this, it will hurt me. Do not, please, do not.' We won. Everybody said we were going to lose but we won that election. We won it decisively 30 years ago against a campaign that was the same rhetoric, the same old tired crap that we've heard the second time around. I don't want people, especially in other countries to think there's been some dramatic step backwards in California. We ran a very poor campaign. That's the truth of it.'
Jones believes the new direction the gay and lesbian community should be taking – in America at least – is one which sets them up as bridge builders. He explains that as a minority group they are unique in that they appear in every minority group, regardless of race, gender or ability. As a result, such a unique position means that they have the opportunity to bridge the gaps which appear such community groups as African Americans, Hispanic Americans and Asian Americans, as well as the larger community too. 'The racial divides run so deep and are so poisonous in this country that I really hope gay people can play a role in not only strengthening our own movement and be more inclusive and respectful of each other, but to maybe also set an example for the larger world.'
So now, 30 years after the savage death of one of our community's greatest leaders, what message does Jones have for the global gay and lesbian community?
'Come out, reveal yourselves,' he said matter-of-factly. 'That was Harvey Milk's call and I don't think things have changed enough for me to come up with a new one. We need to all come out and be honest about who we are and to not accept compromise. If we truly believe we are equal then act like it. Don't settle for compromises. Don't settle for fractions of equality. If you really believe your relationships are of equal value, if you really believe you are equal in your ability to contribute to good neighbourhoods and strong communities, if you really think that we are equal in our ability to serve in the armed forces, if you really believe we are all equal in our ability to be parents and foster parents, then stop compromising. We want full equality everywhere, in all areas covered by civil law in all parts of the world.'
Milk, directed by Gus Van Sant and starring Sean Penn as Harvey Milk, opens at Luna Cinemas in Leederville on January 29. It will also appear at Innaloo, Carousel and Fremantle SX.
Scott-Patrick Mitchell