GRAI's June Lowe joins The Proud Awards Hall of Fame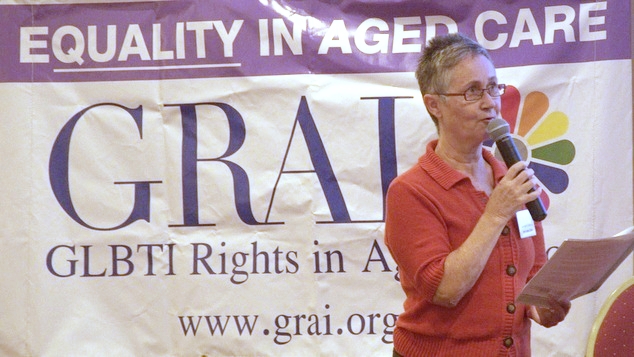 GRAI Chair and veteran local LGBTIQ+ advocate June Lowe will join The Proud Awards Hall of Fame at this year's ceremony.
The award celebrates those who have had a tangible impact on Perth's LGBTIQ+ community over the years, and June undeniably fits the bill.
Currently serving as the Chair of GRAI (GLBTI Rights in Ageing) here in Perth, through the organisation and as an individual, June has been tirelessly fighting for equality for – and within – the LGBTIQ+ community.
As WA approaches 30 years since homosexuality was decriminalised here in our state, June reflects on the decades-old debate and where this journey has taken her.
"Yes I was there, being a bit of a political beast. I was sort of involved on the periphery but got more involved in the late 1990s with GALE (Gay and Lesbian Equality), and getting the law reform to equalise the age of consent."
"There was a bunch of reform around that time that was all tangled up, but the marvelous thing about all that was meeting other activists in the area and those friendships and working relationships are still key in my life."
June now heads GRAI, an organisation standing up for LGBTIQ+ elders in aged care and within the local community since 2005.
"I didn't come on the scene until 2009, when I was invited to join the board," June says.
"It took me by surprise! I got quite hooked, not just by the people and the opportunity to extend my friendship networks."
"These issues are so interesting and the opportunity to work with communities is what drives me."
"We don't exist as separate individuals, we only exist as part of a greater group and making that real in practice, I think, is an exciting thing."
As well as providing support for LGBTIQ+ elders through advice, social events and educational workshops, GRAI have been a stalwart voice in the fight for LGBTIQ+ equality here in WA and at a national level.
Since becoming Chair in 2013, June says she has taken every opportunity to make sure parliament hears an LGBTIQ+ elder perspective.
"Most recently, we were involved in the WA Health Department's LGBTI Health Strategy. We also put in contributions for the elder abuse inquiry."
"Basically anything that's going on with elders, we'll put in an LGBTI perspective, and if there's anything going on that's LGBTI, we'll put in an elder's perspective!" June laughs.
When asked how people can support the work of GRAI, June encourages the community to join as a member and come along to their regular events – particularly LGBTIQ+ youth.
GRAI's Talking Generations events bring together older LGBTIQ+ folks with young people for casual conversations and an opportunity to connect and share unique perspectives with one another.
"In terms of our LGBTIQ+ community taking care of itself and being stronger, it has to be both peer-to-peer and also intergenerational," June says.
"Relationships are absolutely critical and the more we can do to develop that the better. There's far too much ageism, particularly in the gay community, but in the wider community as well."
"Events and attention tend to not be age inclusive and that's a real shame."
June Lowe joins STYLEAID founder Mark Reid, veteran DJ Seb Sharp and drag performer & BAFTA-award winning artist Stryker Meyer in the Hall of Fame at The Proud Awards on Saturday 5th October at Connections Nightclub.
For tickets and more information head to Facebook.
For more about GRAI, head to GRAI.org.au
Leigh Andrew Hill
---