Greeness Envy – Dublin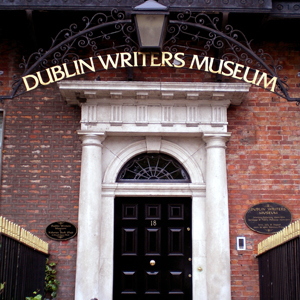 Life is an art in Ireland, where creative expression assumes many forms.
It is undoubtedly Oscar Wilde who best embodies the cleverness, wit, and charm of the Irish people.  Oscar is the perfect personification of gay Ireland. Wilde's wit is abundantly matched and appreciated by his countrymen whose love dare not speak its name.  Monuments honour him around the country, this fact alone tells us Ireland is a great destination for a holiday.
The Irish are the kindest, most considerate people you will ever meet, and the gay scene is far more welcoming than those better known in Europe's bigger cities.  So is the arts scene, huge and diverse; the Irish are among the world's most avid readers, theatregoers, and museum patrons.  Not that all the artistry is appreciated in a passive sense; many locals participate in the arts, and though not everyone is as famous as Irishmen Francis Bacon, Michael Flatley, or Jonathan Rhys-Meyers, there are painters, dancers, and actors seemingly around every corner.
Ireland is most famous for its pints of Guinness, cloudy weather, and strapping rugby players, but there exists a far more artistic side to the country that provides an astonishingly diverse calendar of events and activities throughout the year, including gay-specific arts festivals that offer unique experiences to please even jaded LGBT travellers who have been everywhere and seen it all before.  If you time your visit for northern spring, you will be able to attend the International Dublin Gay Theatre Festival taking place this year 7-20 May.  This is the only gay theatre festival in the world; it offers a wide range of plays, musicals, and other performances during this two-week period when the city's Temple Bar district is busy with locals and visitors sporting lorgnettes and opera glasses in the latest styles.  Temple Bar is Dublin's cultural precinct and is the location for the Gaiety Acting School, where actors in training have the city's theatre district right out the door.  More creative energy flows through the doors of Dublin's National College Of Art And Design on Thomas Street and other design schools around the city, some of which have gift shops to find unique souvenirs of Irish creativity.
The bookish amongst us will love Dublin's Writers Museum as well as the many author-related exhibits and special events that take place with regularity around town.  In a country that has produced four winners of the Nobel Prize for Literature—William Butler Yeats, George Bernard Shaw, Samuel Beckett, and Séamus Heaney—the written word holds a special place in Ireland, a country whose native language was suppressed for 700 years during the British occupation that ended in 1923.  Watch Irish Liam Neeson in Michael Collins to catch up on Irish history through the cinematic arts, the latest effort of which has produced the brilliant film The Guard, the most successful film in Irish history.
Dublin's most famous attraction is, in fact, a book.  The Book Of Kells is kept in the Long Library at Trinity College, which saw Oscar Wilde and almost anyone who was anybody in Irish history pass through its gates as students.  Trinity College is the physical and spiritual centre of the city.  Just outside the College gates on Dame Street is Books Upstairs, a bookshop with an entire gay literature section along with the local periodicals for the LGBT community.
Only a few doors down from the Writers Museum is Dublin City Gallery The Hugh Lane, one of the city's most exciting art museums.  Among the fine works is the original studio of eccentric gay painter Francis Bacon, whose brilliance is as much in evidence as the raw energy with which he exerted it amid his fabulous disarray.  Bacon's studio was relocated here from South Kensington in London piece by piece with painstaking documentation to assure it would be reassembled exactly as it was found after the artist's death in 1992.  Admission to Dublin City Gallery The Hugh Lane is free.
Even coffee is an art in Dublin if you know where to go.  The Bald Barista is the place for artistically topped milk froth, the handiwork of Kiwi expatriate owner Buzz Fendall.  Located on the appealingly rough Aungier Street and attached to a youth hostel, The Bald Barista makes the perfect place to chat with friends and meet new ones, whether in person, in the virtual world, or in your dreams.
Happily for Western Australians, it has never been easier to fly from Perth to Ireland.  Emirates introduced flights from Dubai to Dublin this past January, making the greenery of Ireland just one stop away via Dubai, one of the shopping capitals of the world.  If other destinations in Europe also figure on your itinerary, Ireland's Aer Lingus offers flights to Dublin from a surprisingly high number of locations around Europe as well as from New York, Boston, and Chicago, routes that offers a fine Business Class product at prices far lower than we see in Australia.
Robert La Bua
MORE INFORMATION
www.discoverireland.com
www.emirates.com
www.aerlingus.com
www.gaytheatre.ie
www.hughlane.ie
www.writersmuseum.com
www.thebaldbarista.com