Handsome shares the joy of embracing your identity on 'No Cowards'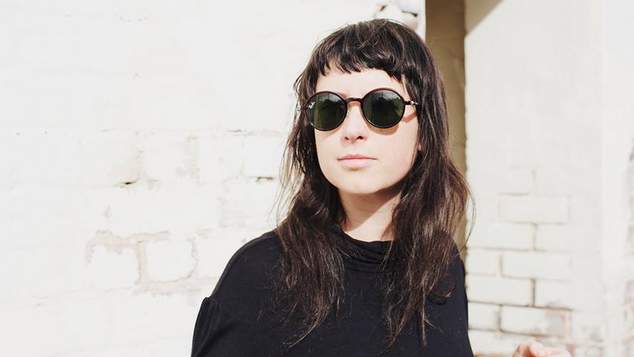 Australian musician Handsome is about to release No Hat, No Play an EP filled with songs about coming out, embracing your own identity and looking after the people you love.
Handsome chatted to OUTinPerth's Graeme Watson while he was guest-hosting RTRFM's Breakfast program earlier this week. Handsome is the performing moniker of Sydney based musician Caitlin Park.
Tell me what made you made the decision to call yourself Handsome?
Good question, I've just always really been drawn to that description of myself or women in general, and it's a bit of a nod to my queer identity, I guess.
It's just something I've always identified with, there's something gallant and sweet about it all at the same time, and I wanted to use it sort of as a way to challenge gender norms.
It is a very masculine word, but when someone says your handsome, it's like a rank down. Your not a super hunk- your handsome. 
I think that's where the sweetness come in. Handsome – the word, kind of reminds me of a character in a film, a Western or something, like the sweet character that doesn't really speak much, but is relatively good looking. Maybe someone who sits in the corner but has a charm about them, that's kind of the way I imagine it.
How did you first get in to making music, what was your journey into becoming a musician?
I studied music at university, and I learned to saxophone, of all things, from a really young age, but pop music and popular music in general came from my parents having a love of music.
Neither of them were musical really, but just sitting around the dinner table and talking about music, listening to records like Neil Young's Harvest or Veedon Fleece by Van Morrison or Carole King and Joni Mitchell and stuff like that. Being able to talk about music I think that's the thing that really sparked my interest in the way that music works and the effect it can have, or the impact it can have on people.
Your parents sound much cooler than mine, mine were playing the Alexander Brothers and other Scottish classics, so I'm a little jealous of that.
The tracks you've put out so far, there's been a bit of a theme through your writing. Save Some Love was about self care and it came out just after the marriage equality debate last year, tell me about writing that song?
I actually wrote that song before the whole marriage equality debacle happened, or even was announced. It was more just about the idea of having self love. Being surrounded by so many people in my life who carry such empathy, that I often see that they don't save enough for themselves. It can a really dangerous place to be in, if you don't have any left.
I think the interesting things is that Late Night Ball Game which is the first song that I put out as Handsome was all about coming out. That came out just before the plebiscite happened, and then Save Some Love came after it happened, it was really a coincidence that those things happened, but I think maybe from a queer perspective I think it was on all of our minds.
These feelings, the way that we are, and the things we have to do in society, are just a general thing, I don't think the plebiscite changed that either way, before it was announced or after it passed. They're just constant concerns I think, and they just landed around that time so people were impacted by the songs in those ways.
I sometimes think it would be good if just everybody had to come out, if we adopted that as a norm in society.
Absolutely, it's a strange and funny thing. There's an element of it that is so traumatising and horrible for many young people, but there is also a part which is having to express, and really confidently say who you are.
I think there is quite a difference when you're forced to that, because you have to really turn around and look at yourself and confidently say 'This is who I am'. For people who have had to go through that they really do become quite different people.
Coming out for everybody who be a moment for everybody, it really makes you stand, look in the mirror and be proud of who you are.
Your new song No Cowards is about embracing your identity, it's got a pretty cool video, what was it like going out to shoot that clip?
It was pretty fun! I just always wanted the clip to just be really joyous. The themes around the video and the song, it was loosely based on a relationship that I had which broke down, and the idea that we can be really horrible to each other. When you've broken up with a partner and you're questioning why that is. It's about how you don't need to be a coward and pretend that you don;t care about the other person.
But then it changed dramatically in the past year, the idea of what No Cowards is about, I ended up taking the song from the master, and rewriting the chorus because I felt like I identified with this chorus more and that's what I wanted to song to say.
The clip I just wanted it to be like – it's okay when you let things go, and to really visualise that elation you feel when that happens. The idea of letting something go and you're like 'Oh my God, that's such a weight off my shoulders'. It takes so long to get there, but when you do get there, and you move on, it's really an indescribable feeling.
I really wanted to portray that in the video so there's heaps of smiles and people dancing. Joyride, who I co-produced the song with is in the clip with his partner which is really great and also Stereogamous – which involves Johnny Seymour and Paul Mac are in the clip. It's a group of friends really dancing around and having a great time, which is in a way the way that I embody that feeling of joy.
What can we expect from your new EP?
A lot of the songs are different to each other, it's all electronic music, it's brooding, some of its a bit darker. There's a lot of vocal manipulation that I'm really into right now.
The main story is about identity, it's starts off with the Save Some Love which was the last single and then there's two tracks that haven't been released yet, TV Set and WILDS. 
No Hat No Play will be released Friday 21 September via Dot Dash Recordings, listen to the audio of this interview at RTRFM 92.1
---