Hannah Gadsby tells Jimmy Fallon she's rethinking her retirement from comedy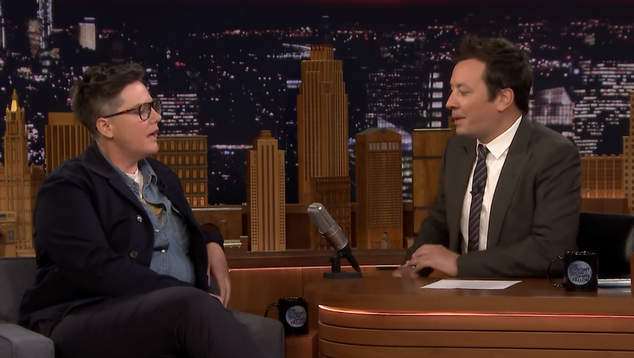 Australian comedian Hannah Gadsby has made an appearance on The Tonight Show telling host Jimmy Fallon she's rethinking her decision to quit comedy.
Gadsby had announced she'd be moving on to new ventures after delivering her show Nanette. The show has earned raved reviews as Gadsby has performed live and since a Netflix recording of the show debuted she's garnered international acclaim.
"It's a quitting show, I'm quitting. I thought I'd drop a bomb and leave. I really thought it would divide audiences, and it just hasn't." Gadsby said.

The comedian said she never expected the show to find the success it has, and a Netflix special was not what she was anticipated.
"I thought I'd get twelve shows out of it and then probably be asked to leave." Gadsby said. "The plan's backfired."
Gadsby said she was scheduled to perform Nanette just one more time at tonight's Montreal Comedy Festival and then she'd be leaving the emotionally charged show behind.
The comedian said despite her earlier declaration of quitting she will be doing more in the future.
"I said I was quitting, and then if I quit, I'm an idiot – now." Gadsby said. "If the show had gone as badly as I planned it would have worked, now I'm left with a choice, I can either be an idiot or a hypocrite"
Gadsby opened the door for a return to comedy saying "I'll be a hypocrite."
Watch the exchange below. 
---