Head back to the wild west with the return of 'Deadwood'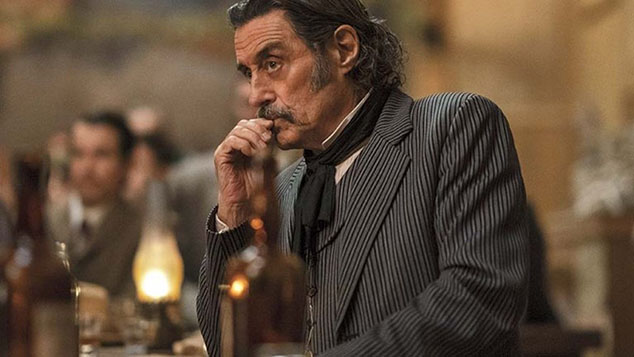 For three season's TV show Deadwood was a fan favourite featuring some of the wild west's most revered characters including Wild Bill Hickok and Calamity Jane. Now fans of the series can rejoice because the story is continuing on with a movie set ten years after the last episode.
In Deadwood: The Movie, the year is 1889 and friends and foes are reunited after ten years to celebrate South Dakota's statehood. Former rivalries are reignited, alliances are tested and old wounds are reopened, as all are left to navigate the inevitable changes that modernity and time have wrought on Deadwood and on their lives.
Continuing the story begun in David Milch's ground-breaking, Emmy Award-winning HBO series, Deadwood: The Movie premieres nearly 13 years after the series' acclaimed three-season arc ended. Once again written by David Milch (also an executive producer), the film also features key original cast members from the series, including Ian McShane as Al Swearengen and Timothy Olyphant as Seth Bullock.
Also reprising their roles are Molly Parker as Alma Ellsworth, Paula Malcomson as Trixie, John Hawkes as Sol Star, Anna Gunn as Martha Bullock, Dayton Callie as Charlie Utter, Brad Dourif as Doc Cochran, Robin Weigert as "Calamity" Jane Canary, William Sanderson as E.B. Farnum, Kim Dickens as Joanie Stubbs, and Gerald McRaney as George Hearst.
Deadwood: The Movie is set ten years after a bloody altercation in which the ruthless industrialist George Hearst was wounded by Al Swearengen's favourite prostitute, Trixie – and Hearst, now a California senator, returns to Deadwood to celebrate South Dakota's emergent statehood.
While Hearst's unwelcome presence rankles Swearengen, the strongman's grip has been loosened by declining health, years of drinking, and general apathy. Largely cooped up in the Gem Saloon's upper floors on Doc Cochran's orders, Swearengen occasionally talks town strategy with Seth Bullock, Deadwood's longtime Marshall. Today, Bullock, who's now the father of three and still husband to Martha, hates Hearst even more than Swearengen.
During its three-season, 36-episode run from 2004 to 2006, the Deadwood series was nominated for 28 Primetime Emmy Awards, winning eight, including Outstanding Directing for a Drama Series. It also received a Golden Globe Award for Best Performance by an Actor in a Television Series – Drama (Ian McShane).
Tune in on Monday, June 3, the Emmy Award-winning HBO drama Deadwood returns as a feature-length film, streaming on Foxtel Now and screening on FOX SHOWCASE at 6.30pm AWST.
Source: Media Release.
---