Head Scratch: The things people say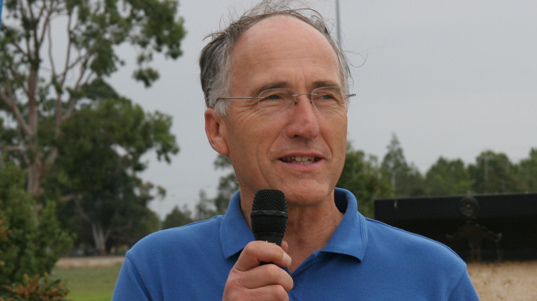 Peter Abetz: marriage equality will lead to a generation of children who don't know their parents
Southern River MLA Peter Abetz has taken to Facebook citing the case of a girl searching for her birth father is an example of why same sex couples should not be allowed to marry.
Victorian woman Luci Mayer is trying to track down her biological father. Her mother, who is a lesbian, had a one night stand with a man in order to become pregnant.
The conservative politician posted a link to his Facebook page saying Mayer's story should serve as a reminder to why same sex marriage should be allowed. Abetz said if society endorses same sex marriage gay couples will be allowed access to surrogacy and this will lead to more children not knowing who their parents are.
The conservative politician doesn't seem to realise that even if same sex couples were given the right to wed, it would not have any effect on single people have one night stands, or that if Luci's mother was looking at her options today she would be able to access IVF technology and donor sperm – and that's not an anonymous process. Never mind the fact that most rainbow families are completely aware of who their biological parents are.

Joe Miller: The Transgender community are going to destroy people's belief in God with magnets
Scientists at the University of York have published some intriguing research. They looked into how the brain resolves abstract ideological problems.
Using a technique called transcranial magnetic stimulation (TMS), researchers safely shut down certain groups of neurones in the brains of volunteers.
TMS has been used to treat depression, It involves putting a large electro-magnetic coil against the scalp, this in turn affects how receptors in the brain react.
The scientists discovered that the process could also radically affect people's belief in God, and their opinion of immigrants.
Conservative radio host Joe Miller invited William Briggs, a statistician and adjunct professor at Cornell University on  to his who and the two discussed the research.
Miller shared his fear that transgender people may use the research to their advantage.
"The whole transgender crowd, they see their main opponent as being those of faith and so obviously they're going to use any aggressive tactics they can to move forward that agenda," Miller said. "This is still minority opinion though, right? In psychology and elsewhere?"
Professor Briggs gave the host a blunt "no" in response to his proposition.

Bill Muehlenberg: I'm  a milkshake
Super-conservative writer Bill Muehlenberg is outraged that Caitlyn Jenner has been named woman of the year.
The author fires off over not one, but two blogs posts dedicated to the topic. Muhehlenberg claims that if we recognise that men can become women then blue is now pink, carrots can be tomatoes, airplanes can be boats and squares can be circles.
In one of the pieces the author claims that he is now a milkshake…. (seriously we're not making it up). Muehlenberg also declared himself milkshake of the year. The author doesn't say what flavour of milkshake he is, and as far as we know there's no evidence of him being able to bring any boys to the backyard.
Muehlenberg then argues that trans people still have a high suicide rate after transitioning and argues that this is evidence that people shouldn't transition in the the first place.
The right-wing author visited WA a few years back as a guest of the Victory Life Church and recently declared the contempt of court charge against Kim Davis in the USA was a declaration of war on Christianity.
Please note, image is of a Milkshake, not Bill Muehlenberg. We chose a picture of one that is slightly bananas.
OIP Staff
If you are struggling with anxiety or depression, support and counselling are available;
Lifeline: 13 11 14
beyondblue:
1300 22 4636 / beyondblue.org.au
QLife:
1800 184 527 FREE (Free) / qlife.org.au 
(QLife are a counselling and referral service for LGBTI people)