Hepatitis NSW say plans for mandatory testing are futile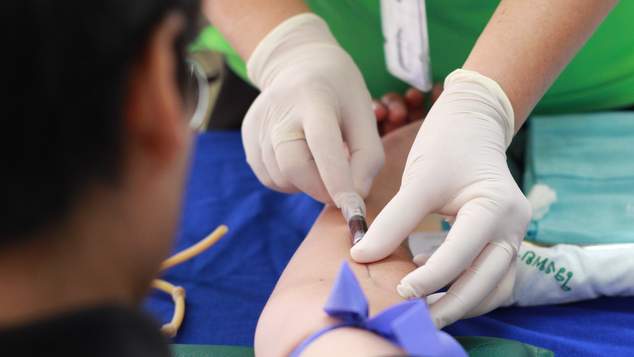 Hepatitis NSW has joined the chorus of health organisations calling out the New South Wales government's plans to introduce mandatory blood testing.
The Berejiklian has announced it will support a proposal from the Labor opposition to introduce mandatory blood tests for people whose bodily fluids come into contact with emergency services workers.
The move would see people tested for HIV, Hepatitis, and other blood-borne viruses. The forced testing would need to be signed off by the state's Chief Health Officer.

Hepatitus NSW say they firmly reject the premise behind the proposed laws outlined in the government's proposal.
Hepatitis NSW CEO Steven Drew said while he was supportive of the needs of emergency services personal, the proposal was deeply flawed.
"Hepatitis NSW strongly supports the wellbeing and safety of emergency services personnel. We agree they must be protected as much as possible in a high-level occupational risk environment."
"This proposed Bill will not responsibly address the fundamental issue of risk to frontline workers." Drew said.
Hepatitis NSW says any decision on mandatory testing should be based on medical and scientific evidence, arguing that the risk and likelihood of transmitting blood borne viruses (BBVs) – hepatitis C, hepatitis B, and HIV – through contact with saliva or spitting is effectively zero.
The health organisation says testing people who have not genuinely placed other people at risk is futile. The emergency worker may, in fact, miss out on health protections due to such a misinformed approach.
"NSW has, until now, had a long and proud history of leadership in bipartisan, evidence-based, considered public policy responses that balance public health and individuals' human rights. This proposed approach does a disservice to NSW as a national leader." Drew said.
Hepatitis NSW say they are extremely disappointed that this "futile policy" has been committed to by the government without consulting community organisations with history, knowledge, and experience in BBV responses.
"The policy will stigmatise communities and people affected by blood borne viruses, and potentially any frontline worker subject to the flawed response. There are no gains to be made for public health nor Work Health and Safety." the organisation said in a statement.
"This is irresponsible and is not conducive to the development of evidence-based, reasoned policy responses," Drew said. " Frontline workers' work health and safety are best protected by a well-informed risk management approach; this includes vaccination for hepatitis B and, where any blood to blood exposure risk occurs, a rapid assessment and response by medical staff."
The proposed law has been criticised by multiple health organisations working in the area of blood-borne viruses.
When similar laws were introduced in Western Australia politicians said they would be rarely used, but a recent report discovered via Freedom of Information requests that tests are demanded by WA Police around 100 times a year.
Researchers also found that there has not been a case of HIV being passed on in a workplace setting for almost two decades.
Graeme Watson
---