Jodie Harsh, Queen of London's Drag Scene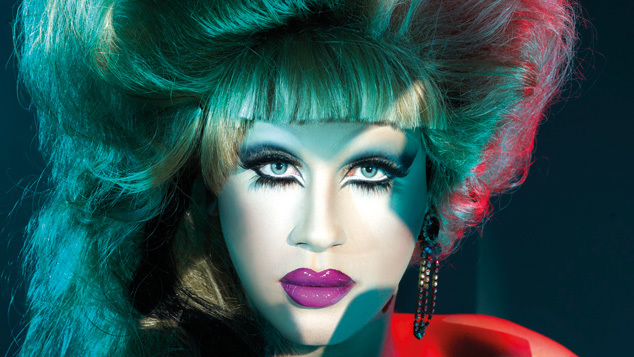 Jodie Harsh has been making her mark on London's club scene, slowly moving from being on the door to behind the decks and now is putting out banging tunes with former Spice Girl Melanie C. OUTinPerth caught up with Jodie as she returned home from Lovebox one of the UK's biggest dance festivals.
When did you first start going out in drag?
It was all an accident really. I moved to London to start a fashion course at university and got totally distracted by the club scene. I dressed up every night (there are a few hideous photos in existence) and worked the door at some of the more famous clubs in London. Gradually I started my own parties, which led to DJ'ing, which lead to producing. It's all been rather organic.
How would you describe your style?
I would describe my style as colourful and eclectic… I like my labels but I'll wear vintage and high street finds too. I wear Jeremy Scott for Adidas when I DJ – it's totally bonkers but it's essentially embellished sportswear so I stay comfortable when I'm being the decks for two hours.
Tell us about the different club nights you promote in London.
I have a big monthly party called This Is… Circus which is massive, colourful, dramatic. Lots of dressed up people and drag queens and celebrities. Then there's Room Service which is every Thursday and inspired by New York's underground club scene. It's full of hot gay boys partying, and we play the best in house music – no cheesy pop here! We have begun touring the Room Service party so you may even see it pop up in Australia some time.
What's gay club life in London like at the moment?
It's very cool. I think the recession has breathed an exciting air into the party scene. There are loads of new ideas, nothing is quite as generic as when there were 3000 people dancing to boring music in massive venues before the financial crisis. There's a new wave of young promoters and loads of new music styles. London is a very interesting place to live, culturally, and the clubs are part of that rich tapestry. I wouldn't live anywhere else.
How was Lovebox?
It was incredible. It's such an amazing festival with a very cool lineup every year, and it's been a pleasure to be involved with the last few. Felix Da Housecat brought the house down with his headline DJ set and Mika played his new tracks live for the first time in England in a couple of years. It's a very nice feeling witnessing a sea of people dancing at your own stage with visuals and a lineup you've worked hard on for 6 months. Best of all, it didn't rain…which is rather unusual for the UK!
How did you get into making music?
I've worked on my own music for a while but didn't feel ready to put anything out for quite a while. I get commissioned remixes quite a lot so they've all been filtering out and now the original stuff is gradually being released. To be a good DJ you have to have a love and an acute understanding of how music works and what people want to hear, so it makes total sense for me to make my own beats and put them out for people to buy.
Tell about your current EP with Melanie C – what was it like working with Mel?
We worked on The Night around a year ago, writing and recording. Then I went back into the studio and gave the tracks a makeover before they came out. Set You Free goes down really well in the clubs and when I play it out the crowds sing the words back to me- that's a pretty nice thing to experience. Mel is amazing and lovely, and so talented. The whole project was a pleasure to produce and we had a lot of fun.
What makes a great night out? 
Friends, music, meeting new people, fabulous venues, and maybe Rihanna or Kate Moss partying in the corner so there's something to talk about the day after!
Follow Jodie Harsh on twitter @jodieharsh and find her on Facebook at Facebook.com/jodieharsh Jodie's EP with Melanie C is available now on iTunes.
UPDATE: Jodie Harsh DJ's at Connections Nightclub on Saturday Feb 23, 2013