Indie Book Awards win for Holden Sheppard and 'The Brink'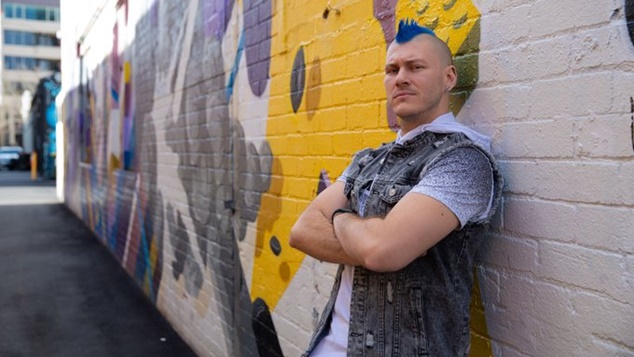 Western Australian author Holden Sheppard has picked up one of the category awards at the 2023 Indie Book Awards. Sheppard's second novel The Brink is the winner in the Young Adult category of the awards.
Craig Silvey, best known for his books Jasper Jones and Honeybee, was named the overall winner for his most recent work RUNT. It's the second time Silvey has taken out the top spot in the awards having previously won with Jasper Jones thirteen years ago.
The Awards recognise and celebrate indie booksellers as the number one supporters of Australian authors. Accepting the award Silvey said independent booksellers were essential to author's successes, and they'd helped many people through the recent pandemic.
"In the midst of our pandemic isolation, as we contended with uncertainty and adversity and anxiety, it was no surprise that we collectively sought out literature for comfort and guidance and, perhaps above all, a means to feel less confined and alone.
"Thank goodness for our Independent Booksellers, who found inventive ways to keep us connected to stories, who confirmed our industry to be truly essential, who invited us to convene through virtual events, who delivered books via bicycle in the rain, who continued to passionately advocate for Australian stories, who kept us all together." Silvey said.
"Thirteen years after Jasper Jones was awarded Book Of The Year, it bears reiterating that I owe my career to the support of Australia's independent bookstores. It means the world to have earned the endorsement of so many insightful and dedicated booksellers, and I will always be grateful for their willingness to share their enthusiasm for my writing with Australian readers.
"My appreciation has never been more pronounced than now. I am profoundly honoured and deeply proud that RUNT has won the 2023 Indie Book Awards Book Of The Year." Silvey said.
The award winning book tells the story of a farm-girl and her adopted stray dog named Runt.
"I began writing RUNT in a time when I needed my own dose of comfort and guidance, and I found it in the admirable determination and relentless optimism of Annie Shearer and her best friend, Runt." the author said.
"RUNT is a book that is defiant in its assertion of hope. We see it in Annie's valiant effort to fix things. We see it in her kindness, her generosity, her resilience and her compassion. We see it in the way that she inspires her family and the good people of Upson Downs to live their true and better selves. And I've seen it in the way that readers of all ages have been uplifted and moved by her journey.
"Many of us are still facing uncertainty and adversity and anxiety, and searching for a beacon. Annie and Runt were the heroes who pulled me through, and I'm proud to see their light shining bright for so many others.
"My sincerest thanks again to Australia's Independent Booksellers for this extraordinary honour, I'm thrilled beyond measure, and deeply grateful." Silvey said.
The judges had high praise for Holden Sheppard's youth focused novel The Brink. 
"This book has such a great first line for an immediate hook! Sheppard deftly handled the multiple POV's to craft a novel that had great pacing and character development. I really appreciated seeing almost the same event through the lens of three quite disparate characters, and how their experience was influenced by both the group dynamic and the breakdown of it.
"The tension was maintained well throughout the novel and served to highlight the precarious feeling the characters are experiencing when leaving the security of the networks that have supported them at school." the judge's statement said of the work.
"Holden Sheppard has done it again. This is a compelling, realistic, and thoughtful story about growing up in Australia today and the challenges of peer pressure and friendships. It's not a rose coloured view of young adulthood. By focusing the story through the eyes of four main characters we get a powerful portrayal of love, life and relationships for young Australians. A compelling and gripping plot that keeps you engaged to the very end."
"A book for young adults trying to resolve the upswell of emotions, issues of gender and identity so much in the ether at present. Packaged in a mystery intrigue plot The Brink would make an engaging and relevant Year 12 text. Real drama, real characters, real conflicts and credible resolutions." they concluded.
Holden Sheppard responded saying he was truly chuffed to be the award recipient.
"I'm absolutely stoked to hear The Brink has won YA Book of the Year at the 2023 Indie Book Awards. This book is about a bunch of misfits trying to find themselves, and I'm a bit of a misfit author myself, so this award feels like a vote of confidence to all the misfits out there – that it's okay to be yourself, to not fit in the box, to read what you love, to write what you love – and eventually, you will find your place in the world.
"It means the world to get this recognition from Australia's independent booksellers, because they know which books are resonating among booklovers across the country. I'm so chuffed The Brink caught their attention.
"I'm deeply grateful to everyone who made this book possible, especially Jane Pearson and the crew at Text Publishing, my agent Gaby Naher and my husband and first reader, Raphael Farmer. This is a massive honour – thank you heaps
Invisible Boys, the debut novel from Holden Sheppard was also released to high praise and is now being developed as a television series.  
Horse by Geraldine Brooks was named the best work in the Fiction category, while The Book Of Roads And Kingdoms by Richard Fidler was the winner in the non-fiction section.
All That's Left Unsaid by Tracey Lien was the winner for best debut fiction, and First Nations Food Companion by Damien Coulthard and Rebecca Sullivan was the best illustrated non-fiction book. Runt by Craig Silvey also won in the children's category.
OIP Staff
---

You can support our work by subscribing to our Patreon
or contributing to our GoFundMe campaign.