Huge turnout for Yes! Festival in Perth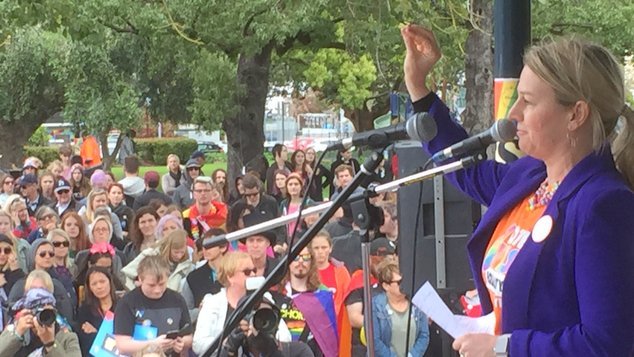 Thousands of people met in Russell Square in Northbridge on Saturday to show their support for changing the marriage laws.
Equal Love WA's Yes! Festival saw presentations from community groups, performances from local artists and passionate speeches from marriage equality advocates.
Labor Senator Louise Pratt told the crowd that it was essential that people encouraged supporters to send back their survey forms.
"We are closer than ever to marriage equality in our nation," Senator Pratt said, "We have more support for marriage equality in Australia, than most countries with marriage equality."
"We a strong and resounding Yes vote, it absolutely critical to the outcomes in the Australian parliament in the weeks to come." Senator Pratt said.
Senator Pratt said the 'No' campaign had filled the debate with "a whole range of furphies" that had nothing to do with the right of two people who love each other to get married.
"It is deeply hurtful to me that the 'No' campaign have targeted some of the most vulnerable in our community. Our children, people who are transgender, in order to campaign their hateful views." Senator Pratt said.
Senator Pratt predicted that the politicians supporting the 'No' campaign will push for a winding back of anti-discrimination laws.
"They want to wind back those anti-discrimination protections in the face of this debate," Senator Pratt said, "That is why we need more than 51%, we need a much, much, stronger vote."
The long standing gay rights campaigner said the debate over marriage equality had been testing, and the campaign had exposed members of LGBTI community to hate and bigotry.
Senator Pratt said it was essential that the community looked after each other during this time, noting the anxiety and stress it was causing for many people.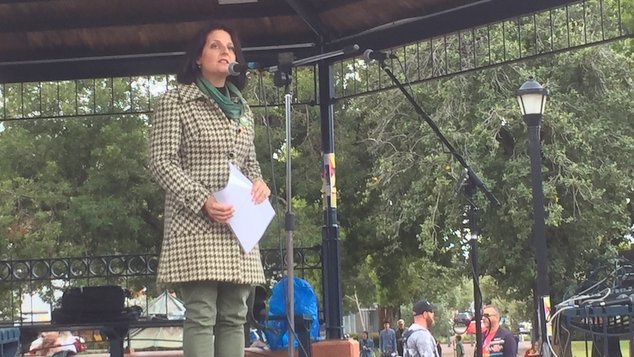 State MLC Alison Xamon from The Greens said it was not the role of parliament to stand in the way of love, and condemned the federal government for rolling out the marriage postal survey, describing it as a waste of tax payer dollars.
"I've condemned, along with everybody else, the disgraceful waste of very valuable taxpayer dollars, that this terrible, divisive, horrible, unnecessary poll is. I have condemned the cowardice, the gutlessness, of those politicians who have refused to do their jobs," Xamon said.
The MP said rather than doing their jobs, federal politicians had subjected the entire Australian population to their "pathetic, internal, factional games."
Xamon said the campaign had unleashed a horrible debate, where people were being hurt, where children are being used a pawns, and transgender people were being attacked.
The Greens' MP said the 'No' campaign was telling a lie when it claimed that there was no legal discrimination against LGBTI people.
"I want to highlight the lie, the absolute lie that is being circulated by idiots like John Howard, and complete tools like Andrew Bolt, who are saying that legal marriage under the law is the same as the sorts of rights that we are afforded to all de facto couples," Xamon said. "It simply isn't true."
Xamon listed a range of areas where the law treated de facto relationships differently to those who are married, highlighting that it was usually in the most tragic of circumstances that this becomes apparent.
"We have to change the law, and it should have been changed a long time ago, and it has to be changed now," Xamon said to cheers from the crows.
Before leaving the stage Xamon told the crowd that the parliament should not be swayed by the views of extreme religious groups of the far right of politics.
Xamon said she had no interest in such groups opinions, and recognising the separation of church and state was essential.
"What they don't get to do is to reinforce, unfair, unjust, Australian laws, they don't get to do that. We have got a separation of church and state in this country, and a separation for a very very good reason," Xamon said.
"All Australians need to vote 'Yes', this is meant to be the country of the fair-go, this what we do in this country, this about recognising all Australians deserve to be treated equally."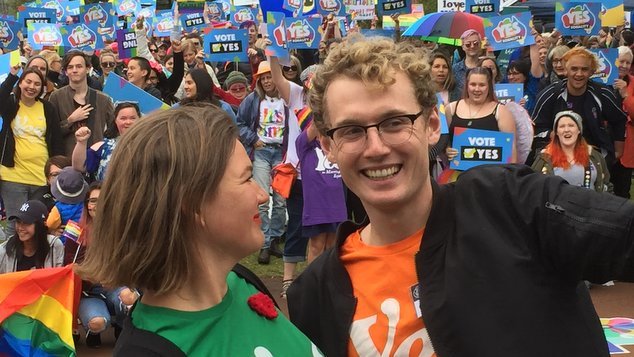 Organiser Miranda Wood said over the last thirteen years, since the Howard government amended Australia's marriage laws, the campaign for marriage equality had gone from strength to strength.
"It really is here that we are seeing the strength of the arguments that people have been making for years now, since 2004 when the Howard government brought the ban on marriage equality into place," Wood said.
"Now in 2017 with thousands rallying across the country, thousands joining phone banks, thousands having those conversations and getting involved in activism  to actually secure marriage equality, and now for the first time it is realistic within our reach."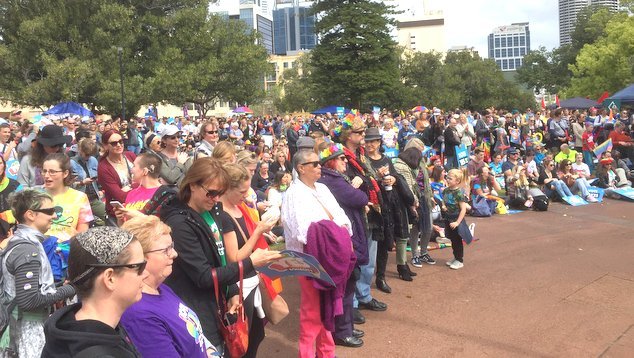 Transgender rights activist JJ Blackburn said the campaign for marriage equality had been one of the most vibrant she'd ever come across, and while the decade long campaign had been a lot of hard work, it had also seen support for marriage equality increase to record levels.
"I think it's important that we recognise that this is not some happy accident." Blackburn said. "Unfortunately we can't put this down to some natural timely advancement of progressive values. Like all victories this has been won out by a consistent, large political campaign."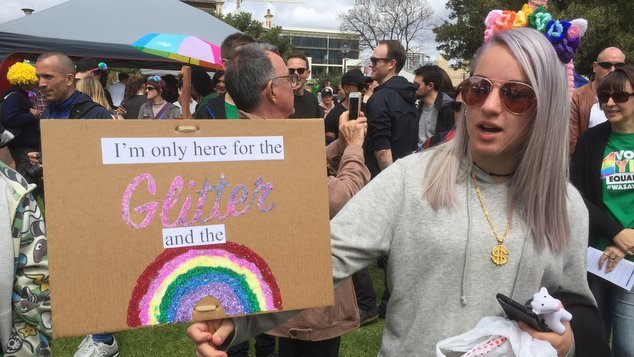 Also speaking at the rally were Equal Love Co-convener Sam Cavallaro, Paul Benson from Marriage Equality Australia and Tracy Lilly from the organisation Parents and Friends of Lesbians and Gays (PFLAG WA)
The Gay and Lesbian Singers of WA opened the proceedings, and rock singer Abbe May entertained the crowd at the end of the speeches by performing K.D. Lang's Constant Craving.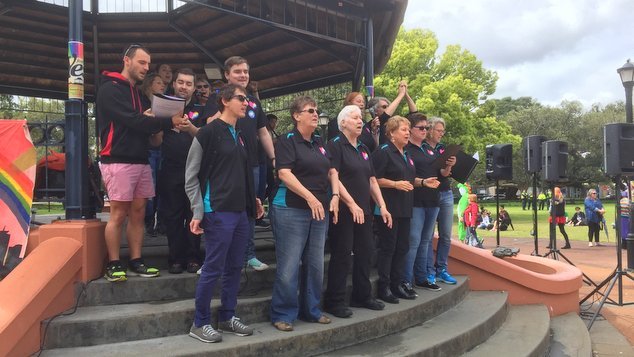 One speaker who drew a counter protester was Anglican minister Father Chris Bedding. As the outspoken minister took to the stage a lone counter-protester appeared in front of the crowd of thousands, holding up a sign with a biblical message.
While many in the crowd thought the woman was supporting Father Bedding's message of inclusion, she confirmed that she was attending to voice her opposition to marriage equality and homosexuality.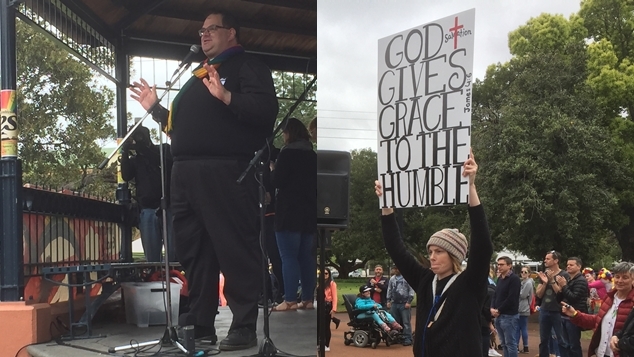 Father Bedding spoke about his involvement in Australian Christians for Marriage Equality, noting that many people in the church are afraid to speak out in favour of marriage equality.
Fr Chris said since the campaign was launched six weeks ago, there has been a massive show of support from people of faith.
"It's going gangbusters!" Fr Chris declared. Tens of thousands of Australians have gone online to show their support, they've been to church services, they've been praying, there's been Grannies making scones! There have been people fed with the power of egg sandwiches, lobbying their churches and saying 'Vote Yes, out of love, and justice and compassion."
The religious leader said polls had shown consistently that the majority of Christian Australians were supportive of marriage equality.
"The group who will be voting 'yes' in the greatest number, you know who they are? Catholics." Fr Chris said. "So if you've got a Catholic friend, chances are they are voting yes. Tell them, that Jesus told them to and you heard it from me."
Graeme Watson
---
Support OUTinPerth
Thanks for reading OUTinPerth. We can only create LGBTIQA+ focused media with your help.
If you can help support our work, please consider assisting us through a one-off contribution to our GoFundMe campaign, or a regular contribution through our Patreon appeal.