Hundreds march on the streets of Perth for marriage equality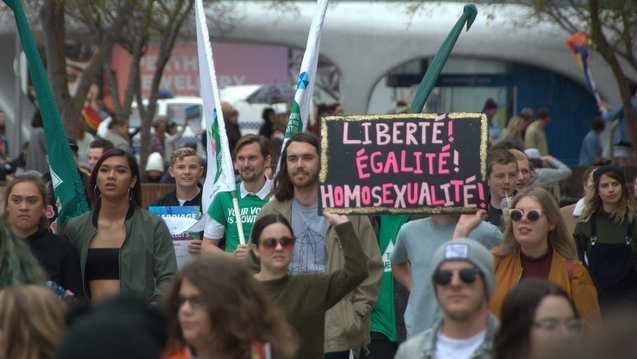 Hundreds of people took to the streets on Perth on Saturday to voice their support for marriage equality. The 'winter vows' rally saw a large crowd voicing their commitment to continue to fighting for the right for members of the LGBTIQ community to be able to wed.
The public rally came as the issue of marriage dominated political discussion over the last week and sent the Turnbull government into crisis mode.
Prime Minister Malcolm Turnbull has called an emergency meeting of Liberal MPs to thrash out the party's policy after backbench MPs pushed for a parliamentary vote over the government's current plebiscite policy.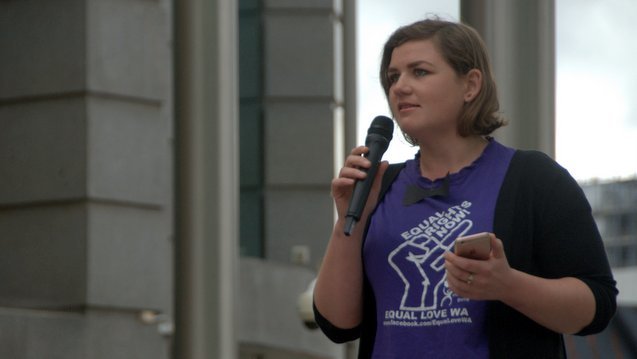 Rally convener Miranda Wood greeted the crowd and said she hoped the time of rallies for marriage equality would soon come to an end.
Wood praised the LGBTIQ community's "fighting spirit" and said the marriage equality was in reach for the many couples who have been attending rallies for over a decade.
"For the first time in Australian history marriage equality is realistically within reach." Wood said, describing the private member's bill for Liberal Senator Dean Smith as a "welcome development".
"We have a handful of Liberal politicians who have suddenly realised how embarrassing it is to be a dinosaur on the subject of marriage equality and are now pushing a private members bill on the topic."
"This is a welcome development, it looks like we are finally getting somewhere and we're on the cusp of marriage equality." Wood said.
The Equal Love convener said the only reason major parties were now addressing the issue was because of a decade of political action.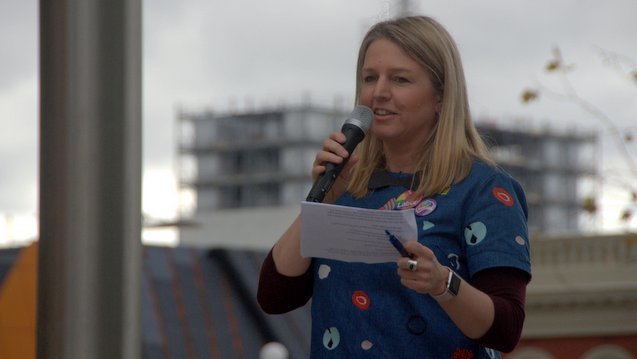 Labor senator Louse Pratt said people were tired of waiting for action from the federal parliament and it was time for politicians to "do the right thing" and join the call to put to bed the controversial plebiscite policy.
Describing the plebiscite as "divisive and unnecessary" Senator Pratt dismissed the idea of a postal plebiscite saying it would be "non-binding, expensive and illegitimate".
"LGBTI Australians should not have to face an extra hurdle to access basic fundamental human rights" Senator Pratt said, "We know that a no campaign would target our families and our young people to throw ever last effort at upholding their bigoted views."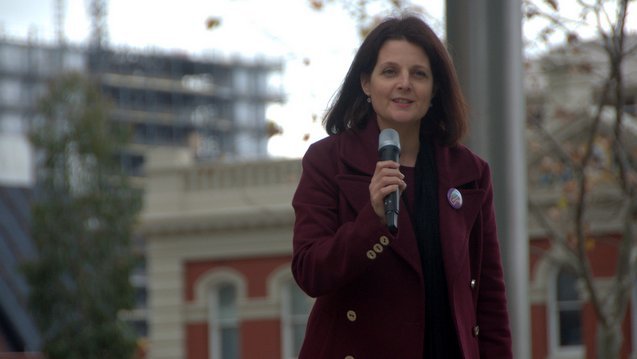 Alison Xamon, The WA Greens spokesperson for sexuality, spoke to the crowd and it finally looked like marriage equality might happen and said from her party's perspective it was time to "Bring it on!"
"We want to see it finally happen, so bring it on, because now is the time for this parliamentary debate. Now is the time to change our laws and ensure that we finally have equality under the law for all Australians. Now is the time to finally make this happen."
Xamon said people did not want to see a harmful plebiscite, and proposals for a postal plebiscite were "nonsense".
"We want all members of parliament to step up, to do the right thing, to do their jobs, and finally bring on this debate. Lets have it, lets have it this week,"
"We are now calling on Malcolm Turnbull, our Prime Minister, to finally do the right thing, He needs to ensure that he enables his Liberal party members to have a free vote on this issue. It's not okay to keep hiding, it's not okay to keep binding our elected representatives." Xamon said.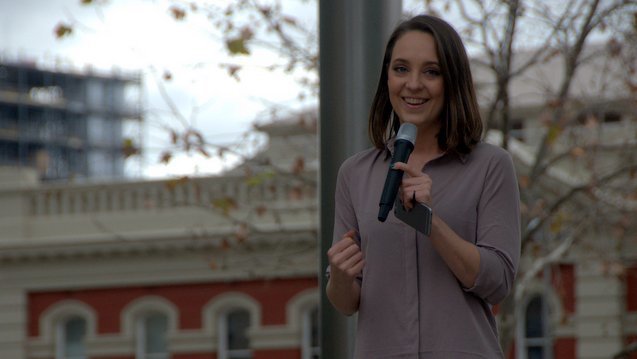 Sally Rugg from advocacy group Get Up! took to the stage introducing herself as "a prolific homosexual" and spoke about her love of weddings.
Rugg said weddings were one of society's great rituals that brought family members and communities together and showed the power of love.
"I actually really struggle at weddings because before to long you know your going to have to hear that line from the federal act, that line that defines the federal marriage act.
"'One man and one woman to the exclusion of all others', and as a queer person you don't hear that line and think of some potential extra martial affair down the track. You hear that line and it says to you 'to the exclusion of everyone who is not one man and one woman'.
"It's the exclusion of me, its the exclusion of us, and its like getting cold water splashed into your face, and suddenly the wedding room that was full of love and celebration is splinted and you feel embarrassed, and different and alone, and if you me – you begin to cry."
"That's what we're here today to do, to change those five words that define us as a nation."
Rugg said thirteen years after the Howard government changed the marriage act, it was time for the laws to embrace love and inclusion.
Equal Love campaigner Sam Cavallaro said spoke to the crowd and said the campaign for marriage equality had been a success to the point where it was potentially threatening the leadership of Prime Minister Malcolm Turnbull and the stability of his government.
Cavallaro said the LGBTIQ community had to remain vigilant about protecting hard fought for rights, and only had to look to the USA to see how a government can wind back advancements.
Reflecting back on the campaign that was initiated in 2004, when the marriage act was changed, Cavallaro said there had been a massive shift in support for marriage equality, noting that only 30% of the population supported the issue thirteen years ago.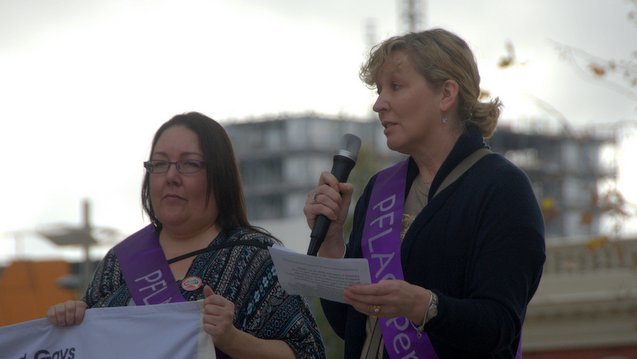 Michele and Denise from the Parents and Friends of Lesbians and Gays (PFLAG) spoke about how parents wanted their children to be recognised equally under the law.
"We just the same rights for our children to be married and not be discriminated against." Michele said. The PFLAG representatives encouraged all attendees at the rally to contact their local MP and voice their support for marriage equality.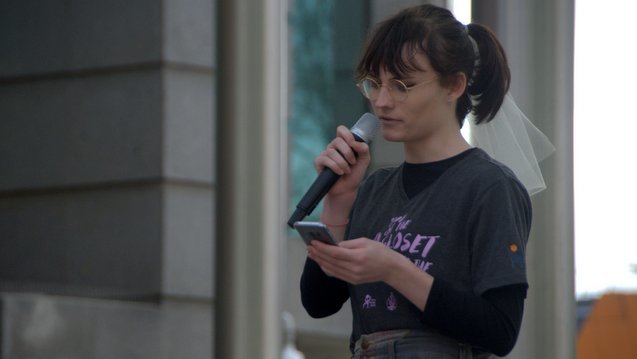 Transgender rights activist JJ Blackburn said it was time for the LGBTIQ+ community to stop asking and simply demand their rights be respected.
"Now is definitely the time, more than ever, to come out into the streets as we've done today, to put the pressure on and say 'we aren't asking, we are demanding respect, we are demanding our civil rights and we demand marriage equality now."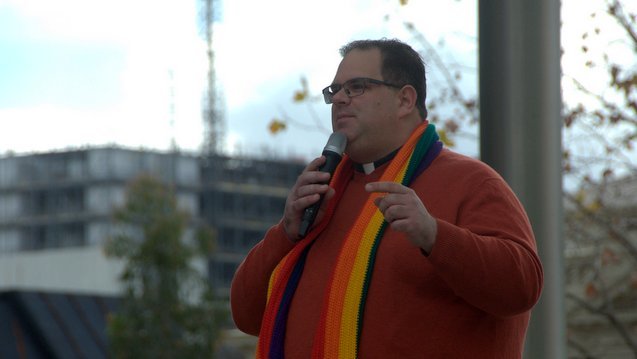 Anglican minister Father Chris Bedding said the voices of the majority of Christians in Australia had been misrepresented by the Australian Christian Lobby.
"As so far as I'm able to, I'd like to apologise for those Christians who are supposed to be bearers of good news, who are supposed to be practitioners of love and acceptance, but instead exercise hatred and fear – I'd like to say sorry."
Labeling the tactics of the lobby group as having "disgusting" tactics and messages, Bedding said church leaders had failed to speak out against their "abominable" behaviour.
Citing polls which show the majority of Christians in Australia support marriage equality Bedding said the ACL had misrepresented the views of many Australians.
The minister said good people had too often stood by while LGBTIQ people were rejected, exploited, or told that they were 'impure, broken, wrong or disgusting' by churches.
Bedding said queer Christians were part of almost every church in Australia, and when they were allowed to be open about their sexuality they were able to be great contributors to their churches.
Photos from the Winter Vows Marriage Equality Rally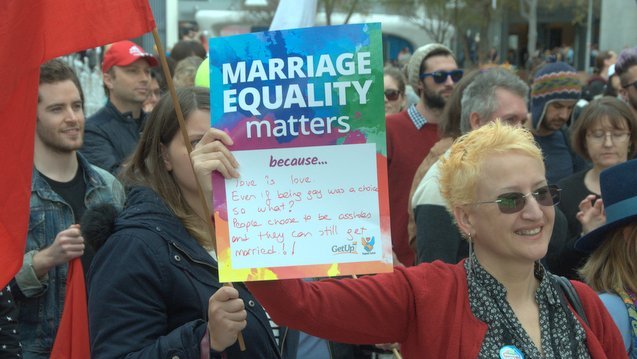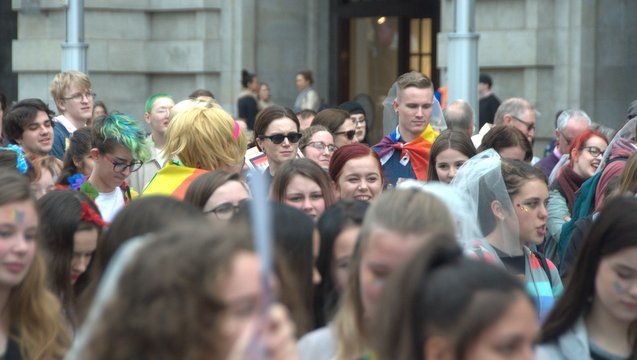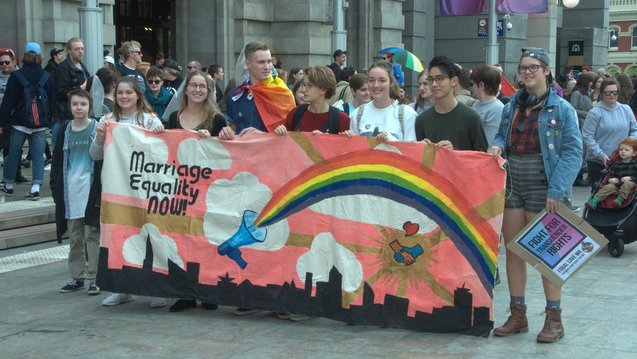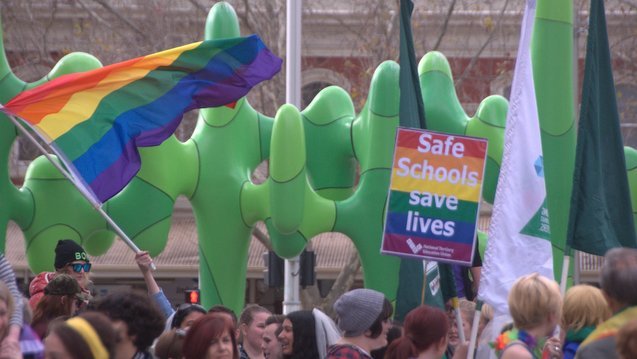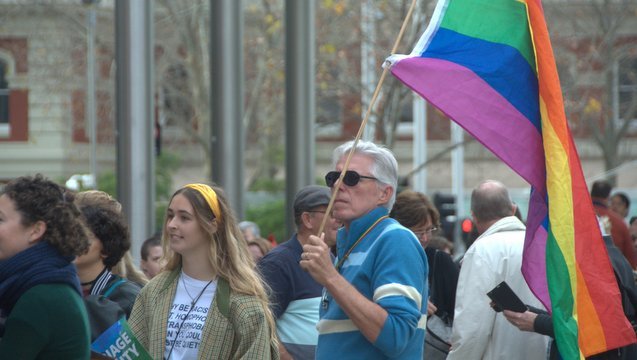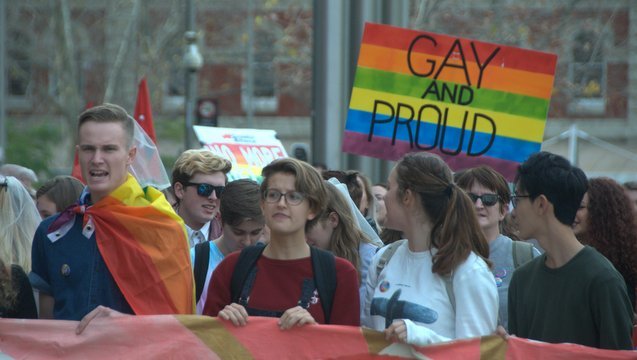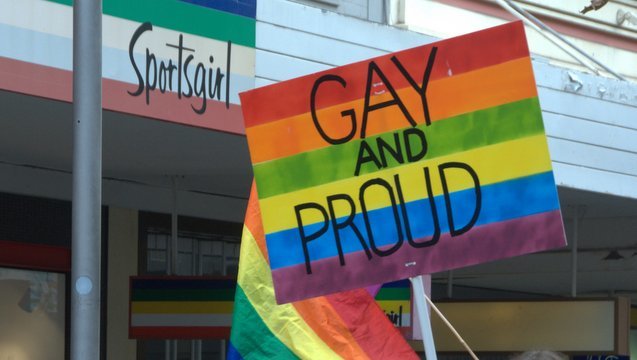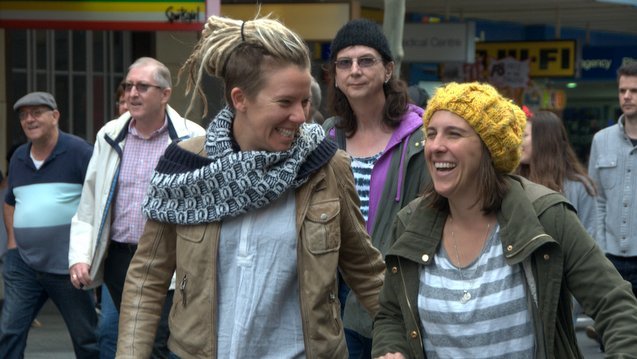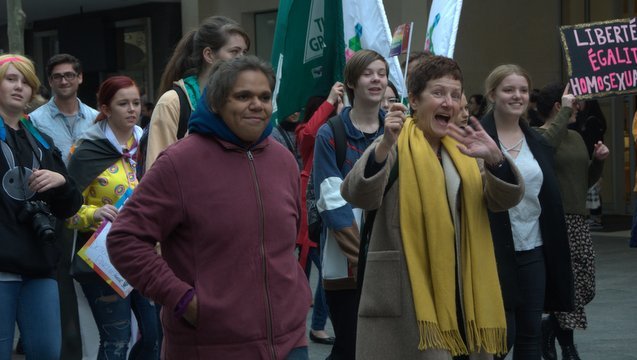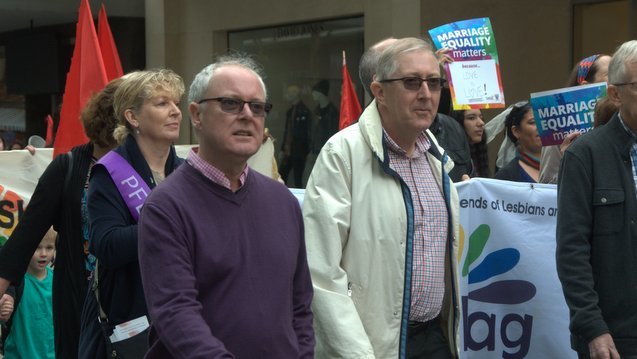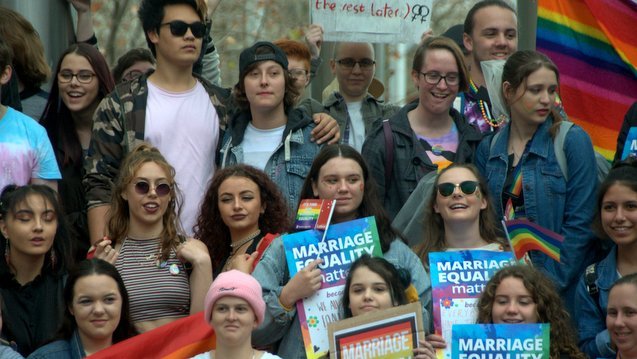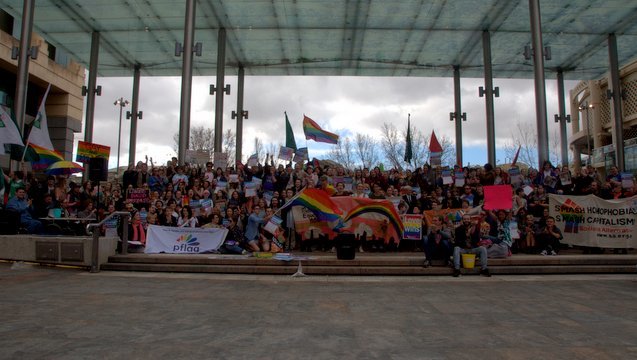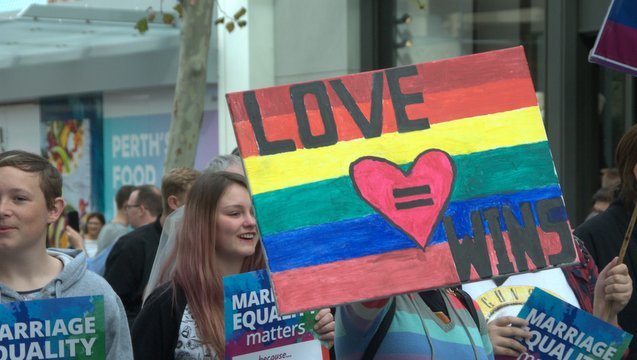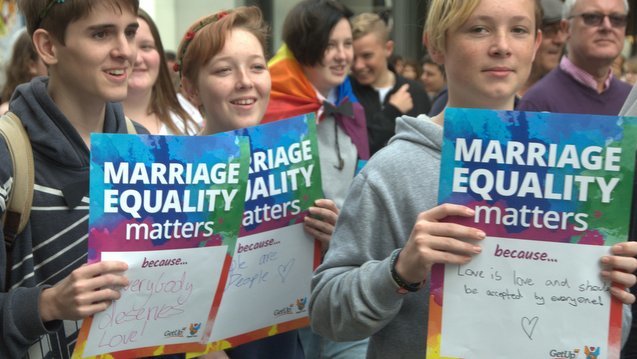 Graeme Watson, images: Leigh Andrew Hill
---
Support OUTinPerth
Thanks for reading OUTinPerth. We can only create LGBTIQA+ focused media with your help.
If you can help support our work, please consider assisting us through a one-off contribution to our GoFundMe campaign, or a regular contribution through our Patreon appeal.