'I Am My Own Wife' allows us to meet a transgender pioneer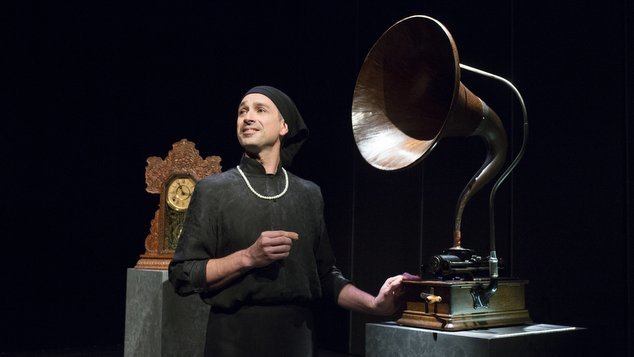 I Am My Own Wife | Studio Underground, State Theatre | Until 29 October | ★ ★ ★ ½ 
Shortly after the fall of the Berlin wall, playwright Doug Wright met Charlotte von Mahsldorf. Living in East Germany the eccentric woman was the curator of a Museum of Everyday Objects.
Born Lothar Berfelde, she had surprisingly lived as a woman through the Nazi and the communist regimes. Intrigued by her unusual story, Wright asked to create a play about her life, and she agreed.
Brendan Hanson appears on stage as von Mahsldorf, dressed in black, hair hidden under a black head scarf, clunky orthopedic boots and a face free of makeup. The only flourish of femininity the antiquarian added to her somber attire was a string of white pearls.
In a heavy German accent, von Mahsldorf begins to tell the story of her life and her bizarre museum of odd furniture, clocks and gramophones that she has collected.
Suddenly Hanson has stopped being a transgender German woman, and switched to being a loud-mouthed American newsman, then he's the newsman's friend, the author of the play – Doug Wright. Over the next 90 minutes Hanson performs an astonishing 36 different characters.
As Wright interviews his subject we find out more about her unusual life, her relationship with her Nazi officer father, her realisation that she is happier living her life as another gender, and her journey to find her place in society.
But as more information about how von Mahsldorf survived decades under oppressive regimes comes to light, Wright is challenged to discover who the real Charlotte von Mahlsdorf was, and maybe she herself is not entirely up to remembering it accurately either.
Brendan Hanson delivers a stunning performance, he flips between many different characters, switching accents, speaking in different languages. It's not just his voice that changes, his body language and posture go back and forth with each transition.
Maybe that's the great success of this play, it's most subtle message. Why is it we can happily watch an actor transition from male to female hundreds of times in 90 minutes, but some of us will have concerns with a real life transition that occurs once in someone's lifetime?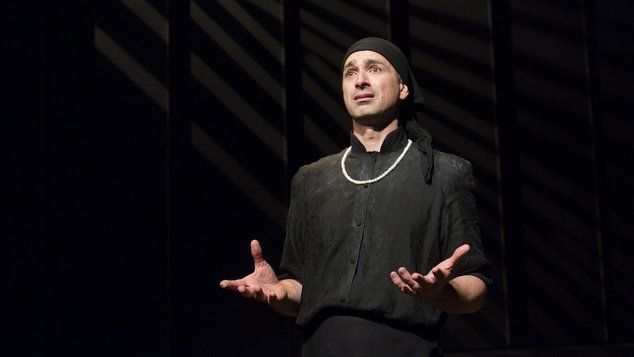 LGBTI characters are often written out of history, or they were so hidden from public view during their lifetime we never knew they existed in the first place, so it is refreshing to see a play that shows a transgender character making history decades ago.
Wright's play first debuted in Chicago in 2002 and made the move to Broadway in 2004, picking up the Tony award for Best Play and Best Actor. While the play has been performed in Australia in the past, this the first Western Australian production.
In the midst of debates over marriage equality and the Safe Schools program transgender rights are at the forefront of political discussion. Our political discourse has shown us that we still don't understand the challenges people who are transgender face and all too often they are the targets of religious and conservative campaigners.
In some ways, you could say Black Swan State Theatre Company has had profound insight by programming this work at this time. After all, when the play opened on Saturday night one of the major news stories of the day was several conservative politicians calling for the Australian Defence Forces to stop funding gender reassignment surgery for personnel.
But is this story one that is going to give an audience a greater appreciation of transgender people? Aside from acknowledging the history of von Mahsldorf's life, we don't get an opportunity to appreciate her lived experience.
She is presented as an oddity. The combination of accents, mannerisms and comedic moments is entertaining, but the script does not give us genuine moment to appreciate her humanity.
Charlotte von Mahseldorf comes across as a character in isolation to the rest of the world, not just separated from the west by the Berlin Wall, but separate from other people. The script does not adequately communicate how integrated and accepted she was with the people around her.
The play also uses language of the time, the central character is repetitively described as a transsexual, which would have likely been the way she described herself and was the was the language used during her life, but it grates in a more politically correct world of 2017.
While the play is only 90 minutes long, there is a section in the latter half which drags on, leading to the audience fidgeting and shifting in their seats.
Director Joe Hooligan Lui has been the creative force behind some of the most provocative and cerebral theatre presented in Perth in recent years.
Here he presents a far more traditional theatrical experience, for a more mainstream audience. It's a great development in his career trajectory, he manages to retain the avant-garde sensibility of his earlier work, while making an accessible and engaging theatrical experience.
I Am My Own Wife is on now, tickets available from Black Swan State Theatre Company.
Graeme Watson, images Daniel J Grant.
---
Support OUTinPerth
Thanks for reading OUTinPerth. We can only create LGBTIQA+ focused media with your help.
If you can help support our work, please consider assisting us through a one-off contribution to our GoFundMe campaign, or a regular contribution through our Patreon appeal.