IDAHOBIT: Beyond Marriage Equality – Towards Freedom
May 17th each year marks International Day Against Homophobia, Biphobia, Intersexism and Transphobia: IDAHOBIT (Encompassing all LGBTIQ+ bodies, genders, relationships, sexualities, attractions, identities and experiences).
Originally known as the International Day Against Homophobia, IDAHOBIT was established to commemorate the decision to remove homosexuality from the International Classification of Diseases of the World Health Organisation in 1990. Nowadays IDAHOBIT serves to a create a platform for raising awareness of LGBTIQ+ rights across the globe, whist acknowledging the diversity of social, religious, cultural, and political contexts in which human rights violations against LGBTIQ+ people occur.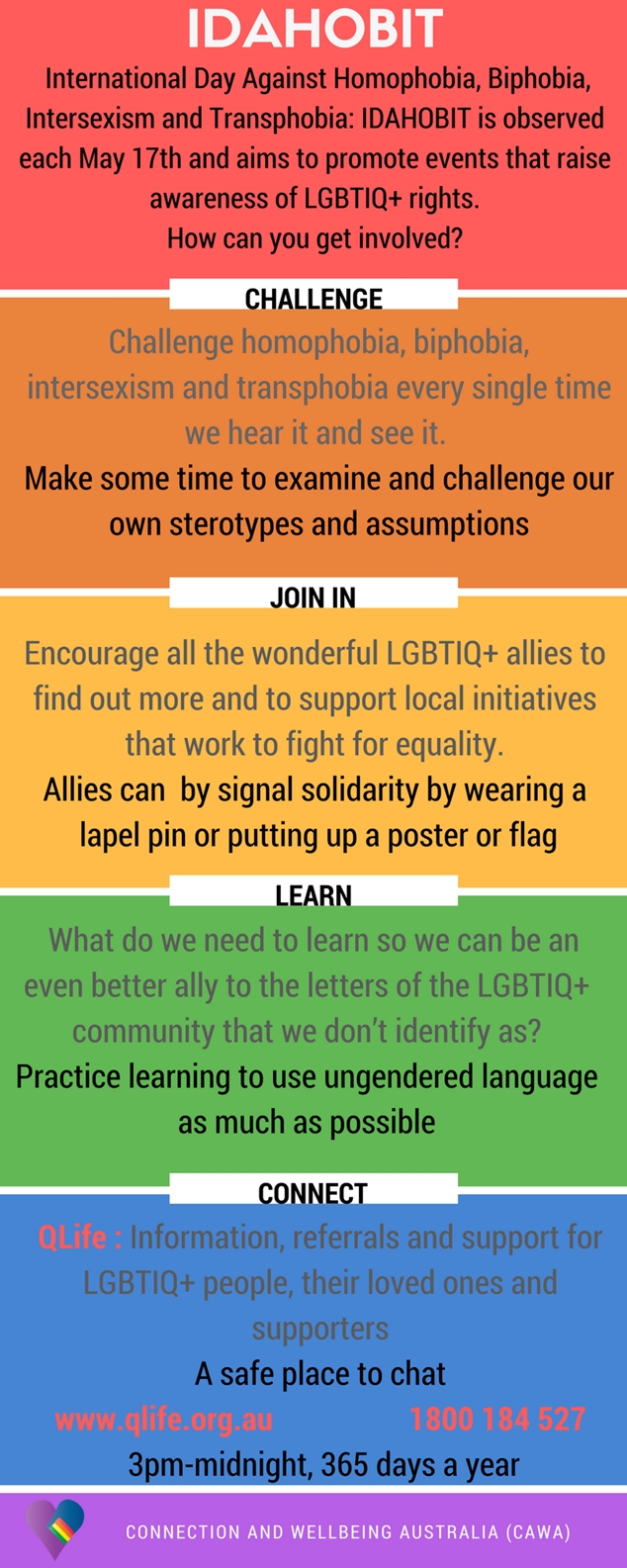 As we mark the first IDAHOBIT after achieving marriage equality in Australia, we need to turn our attention towards shining light on the multitudes of other forms of systemic discrimination that continue to exist in our country and draw on the momentum of change to encourage our allies to be part of the continual movement towards true equality.
So where to next? These are but few examples of the work that is to be done and the groups and individuals whose activism and voices are driving us forward each day.
Intersexism
People with Intersex bodies and/or lived experiences of Intersex Variation face discrimination in healthcare, education, employment and general society. The lack of understanding about Intersex Variations (and indeed the diversity of Biological Sex found in humans), coupled with the ongoing practice of subjecting infants with Intersex variation to surgical or hormonal interventions to "fix" their sex to appear male or female, means there is much work to do in this area to ensure the needs of the  "I" of our acronym are a central part of our march towards human rights. Intersex Human Rights Australia (IHRA) have some amazing resources to help us learn more about how to be a better ally and to support the aims as defined by the Darlington Statement. 
Transphobia
The pathologisation of Transgender identities, bodies and experiences sees people forced to navigate a medical and legal system that adds barriers to access and, in some cases, even prohibits people from determining their gender identity and expression. Institutional discrimination such as having to be unmarried when seeking legal gender affirmation and lack of understanding of non-binary identities (both legally and within the wider community) are some of topics that should be near the top of our agenda. Transgender and Gender Diverse People were affected deeply by a marriage equality debate that at times, didn't even include them. In a post- marriage equality space, the responsibility we have to spotlight Transgender rights should not go unnoticed. TransFolk of WA and Freedom Centre have been vital in supporting Western Australian Transgender and Gender Diverse folks throughout the marriage equality debate and will continue to be an important resource as we move forward in Transgender Rights.
Religious Exemption and Conversion Therapy
A topical issue at the moment and one that should not just be on the radar of LGBTIQ+ folks who observe spiritual or religious practice. LGBTIQ+ rights are HUMAN RIGHTS. The idea that "freedom of speech" or "freedom of religion" can trump human rights is audacious to say the least.
Many people may not be aware that use of conversion therapies to "cure" a person's attraction/s or gender identity still exist and are believed to be more prevalent in Australia than ever before. Legal protections for LGBTIQ+ people to live in a way that celebrates all parts of their identity (sexuality, spirituality and gender included) are a vital part of our ability to live our lives freely. Rainbow Rights are one of the local groups working towards this aim, along with many others. 
Aged Care
Older LBGBTIQ+ Australians are forced to navigate care systems that can be incredibly discriminatory, with many people being forced "back into the closet" in order to maintain their safety, or to even be able to access services in the first place. While wonderful oganisations such as GRAI are fierce advocates in this area, there is much to be done before all LGBTIQ+ Australians can receive services that are inclusive and meet the diversity of our needs.
Creating Families
Australian law also has a long way to go before it catches up with reality of modern families. The ever-evolving structures of family, especially those in the LGBTIQ+ community, find the law severely limited when it comes to accessing surrogacy and IVF, adoption and legal recognitions that reflect their definition of family. Playgroups with Pride are amazing local resource for LGBTIQ+ families and for people looking to seek peer-based advice in creating a family. 
We also need to have a long hard look within the LGBTIQ+ Community and search for any gaps and blind spots we may have. We need to find ways that we can be more supportive of one another as we work together to ensure the rights of all LGBTIQ+ people are protected. Lateral Hostility, Intersectional Identities (especially for Aboriginal and Torres Strait Islander People, People with Disability and people from Culturally and Linguistically Diverse backgrounds) and rampant Bi/Pan phobia see us make assumptions and perpetuate myths and stereotypes that mean may people do not feel they are welcome or understood within the broader LGBTIQ+ community. We need to start listening to each other and remembering we are all working towards the same goal: an end to all forms of discrimination against LGBTIQ+ people.
IDAHOBIT should also be an opportunity to acknowledge any privilege we may possess by having the fortune to live in a place that provides us with many more freedoms and rights than some of our LGBTIQ+ family across the globe. There is much work to be done here, but we are fortunate in the way that many are not.
Using our voices to educate ourselves and others can be the most powerful tool we have. And each time another right is won, and another discrimination is obliterated, cultural change shifts, even if only ever so slightly.
For me, the best part IDAHOBIT and of standing up for your rights, is that others will see you standing and want to stand up as well.
Bella Broadway