Indonesia arrests over 140 men at a 'gay party'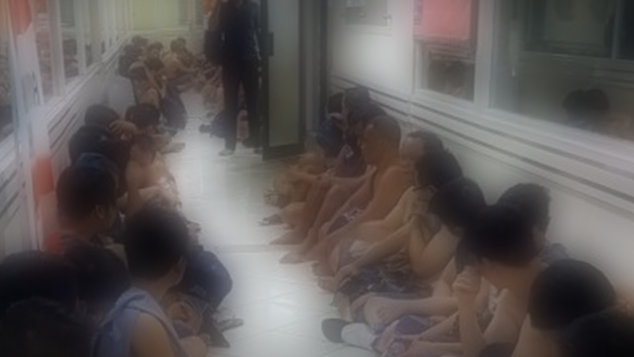 Indonesian police have raided a gay sauna in the capital of Jakarta and detained 141 men for questioning.
The arrests over the weekend come the day before two gay men in the Aceh province are scheduled to be caned for having gay sex. Human rights groups have been campaigning for Indonesia President Joko Widodo to intervene.
Police say they raised a party called 'The Wild One' which was being held at a Gym and Sauna facility in Jakarta's north.

Police spokesperson Agus Yuwono confirmed that 141 men, including the owner and several performers, had been detained for questioning and could be charged under Indonesia's pornography laws.
Homosexuality is not illegal in Indonesia but recent crackdowns have cited the country's strict laws about pornography.
Images of the men being detained were posted to social media earlier today.
Earlier this month fourteen men were arrested by police and forced to take HIV tests after police raided a part in a hotel room in Surabaya.
Among those arrested in the Jakarta raids were a British and Singaporean citizen. Police say those attending the party had paid around AUD$14 to attend.
"There were gay people who were caught strip-teasing and masturbating in the scene," the police spokesman told BBC Indonesia.
Under Indonesia's ambiguously worded pornography laws, performing a strip tease could potentially be classed as pornography.
The latest raid is a growing number of incidents in Indonesia that shows a growing level of intolerance towards the nation's LGBTI community.
In 2016 two men were arrested after a photo of the embracing while being shirtless appeared on Facebook. Like the cases in Jakarta and Surabaya the men were charged with creating pornography.
It has also been highlighted that there is substantial bias against LGBT people in the country's media.