International Women's Day celebrated with nude photoshoot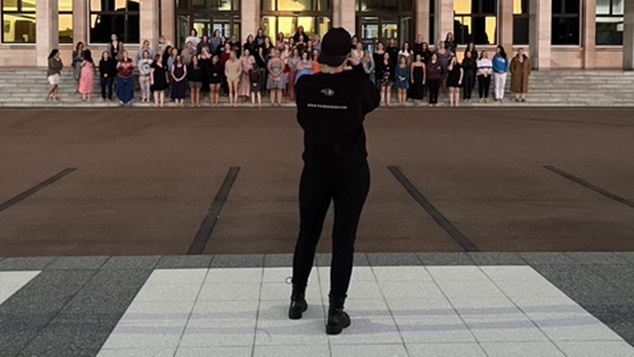 Photographer Lauren Crooke was up early this morning to mark International Women's Day (IWD) creating one of her famous nude photo shoots on the steps of parliament house.
As dawn broke upwards of 80 women participated in the project. Crooke (director of Crooked Images) who will be speaking at TEDX Perth in April, has been creating nudescape artworks since 2018 but this morning made history with her annual group 'nood' shoot for IWD 2023.
As a women's rights activist and crusader against gendered discrimination, violence, and assault, Crooke uses her art and trademark medium of photographing the female nude form through the female lens as her vehicle to promote societal change.
A record number of participants were in attendance for the photoshoot this morning before with the highest number of those joining for the first time. Participants are gathered through multiple callouts on the Crooked Images social media platforms and further promoted by the existing 'noodie community' returning participants.
Those involved have reported the transformative, healing, and life changing experience Crooked Images group 'nood shoots' give them; "standing shoulder-to-shoulder with other women, without being sexualised, being seen as we deserve", while creating a beautiful piece of art that amplifies their stories and the stories of others.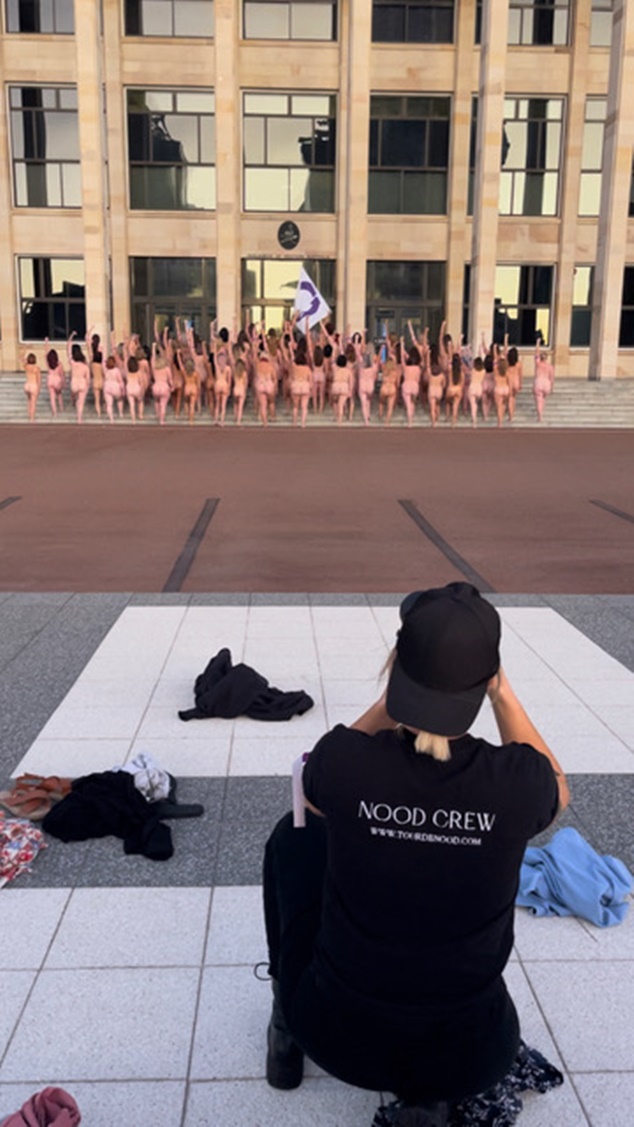 On the location choice of Parliament House, said it worth going through all the red tape of getting permits.
"We receive a mixture of responses when obtaining permits to conduct these shoots from different locations and venues. Most are excited, inspired, supportive of the cause and appreciative of my art, however some people and organisations struggle to separate the concept of the nude female form from pornography, which is a natural and conditioned response for those who are sexualising the bodies, which is not what my art is about. But despite the constant red tape, I persist, as the positive impact is undeniable".
Crooke's IWD photoshoot comes off the back of her second solo exhibition, titled, Permission, which ran through January 2023 at Gallery Central, Perth and featured previous nudescape art works captured across Australia.
Many of the exhibited nudescape prints were created as part of a documentary Crooke currently has in production.  Tour De Nood will follows her group nood shoots around Australia showcasing the celebration of women and non-binary bodies and the positive changes her art creates and presents a realistic view on the widespread and pervasive nature of gendered discrimination and violence and the constant fight for freedom of bodily autonomy women endure.
Source: Media Release
---

You can support our work by subscribing to our Patreon
or contributing to our GoFundMe campaign.