Invisible Boys: Holden Sheppard explores growing up gay in Geraldton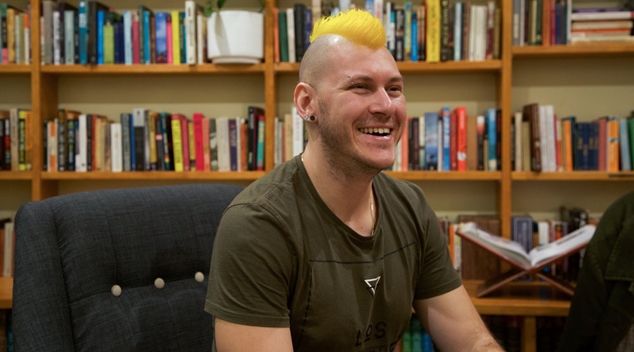 Western Australian author Holden Sheppard is one of six writers nominated for the prestigious Hungerford Award for his latest work exploring the experience of growing up gay in regional WA.
Invisible Boys follows four gay teenagers living in present day Geraldton, alternating between their different viewpoints as they struggle with the issues that surround coming out in a small town.
The Perth-based author has already made great strides in his career, winning an ArtStart grant after completing the ECU Writing Program, winning a writing residency at Varuna, the National Writers' House and has been published in publications including Indigo Journal, Page Seventeen and the Huffington Post.

"I think it's something I've always wanted to talk about on some level but I didn't think I could," Sheppard told OUTinPerth.
"Trying to become a writer I thought I had to write a really cool novel that has nothing to do with sexuality… but after my first novel didn't get any attention from agents or publishers (it was fantasy) I thought 'stuff this!' and I decided to write something from the heart."
Sheppard said he forced himself to delve into what life was like for him as a teenager in Geraldton.
"It was a really traumatic time… and suddenly it all came pouring out. I wrote the whole draft in about two months."
Sheppard says looking back on the past was cathartic, and helped energise him in writing the novel.
"There was a lot of isolation and there were mental health issues so I wanted to tackle that," Sheppard said.
"The other part of it was thinking how good it would have been to have this kind of book where you can see yourself actually represented."
"To be able to see characters like you who feel invisible or that they need to be invisible to survive."
Sheppard joins Yuot Alaak, Zoe Deleuil, Alan Fyfe, Julie Sprigg and Trish Versteegen in the running for a $12,000 prize from the City of Fremantle, and a publishing contract with Fremantle Press.
Sheppard will also be appearing at the Australian Short Story Festival this month alongside young LGBTI+ writers Josie Boland and Damien Palermo to discuss self-expression and growing up queer in regional WA for the Centre For Stories' Bright Lights, No City project.
Get down to Bright Lights, No City at the Centre For Stories on Saturday 20th October. Be sure to RSVP to the free event at australianshortstoryfestival.oztix.com.au
The T.A.G. Hungerford Award will be announced on Thursday 15th November at Fremantle Arts Centre.
Leigh Andrew Hill

Tags: Author, book, bright lights no city, Centre for Stories, Geraldton, holden shepard, hungerford, invisible boys, novel