iOTA rises and falls in The Average Joe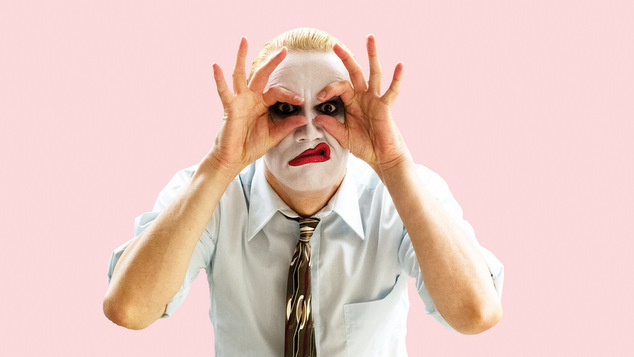 iOTA: The Average Joe | State Theatre Centre | Until Jan 28 | ★ ★ ★ ★  
Born and raised in Perth, iOTA has made a name for himself on the east coast as an actor and avant-garde performance artist.
iOTA is a multi-skilled singer, actor, dancer and provocateur. The Helpmann Award winning performer has previously appeared in productions of Hedwig and the Angry Inch and The Rocky Horror Show, as well as the films The Great Gatsby and Mad Max: Fury Road.
Expectations ahead of his show were high as arty types whispered about the artists' brilliance. His appearance late last year at the David Bowie Nothing Has Changed tribute with the West Australian Symphony Orchestra received rave reviews.
The show starts slowly with the artist waking from a deep sleep, a big night out perhaps? He gradually comes to life, dragging his tall elongated frame across the stage.
After a shot of adrenaline he returns to the stage dressed in tight leather shorts, a mesh top and an elaborate feather collar. Black tape covers his nipples.
He's energetic and sexy, flirtatiously launching into a tune about him just being the average Joe, but in his outrageous get up he's anything but. He's furiously fabulous and on fire.
The manic energy can't last though, and soon things get darker and more introspective as the show explores themes of depression, identity and self worth.
There's a lot of deeper thinking behind this work, it's a piece that will make you think and ponder. It's a beautiful representation of the heights of mania and the almost catatonic depths of darker times.
While the show is thoughtful, its also frustrating. The outrageous moments of performance were so captivating, I wanted 60 minutes of camp foolery, but I suspect that message of the show is that you can't always be a beautiful moth buzzing around the brightest light.
The performance is also the first work from Melissa Cantwell's new company The Kabuki Drop. The former Artistic Director of the Perth Theatre Company has returned to the independent sector and The Average Joe gives the new venture a notable debut.
In a festival filled with jugglers, contortionists, comedians and cabaret singers, this show is one of the more intellectual offerings, a thought provoking, dramatic and elegant.
iOTA: The Average Joe is on at Fringe World.
Graeme Watson