Irish police confirm Stephen Fry is being investigated for blasphemy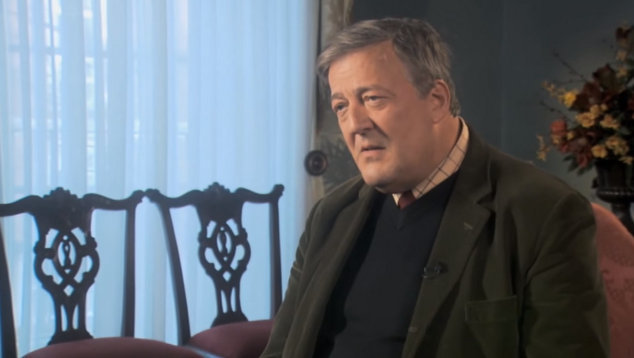 Irish police have confirmed that television personality Stephen Fry is the subject of a blasphemy investigation.
The complaint was lodged by a member of the public after 1 2015 television interview where Fry, an atheist,  described what he'd say God if they met at the pearly gates.
Fry told interviewer Gay Byrne's show The Meaning of Life that he'd question God about some of the injustices in the world.
"I'll say: bone cancer in children, what's that about?" he said.
"How dare you. How dare you create a world in which there is such misery that's not our fault? It's not right. It's utterly, utterly evil.
"Why should I respect a capricious, mean-minded, stupid God who creates a world which is so full of injustice and pain?"
Watch the full answer below.
Gardaí (Irish Police) have confirmed a member of the public lodged the complaint after the interview was broadcast and an investigation is taking place. The news has been reported in Irish newspaper The Independent.
A spokesperson for Stephen Fry told the media there is nothing to be said while the investigation is underway.
Immediately after the interview aired Fry responded to criticism of his comments saying his comments were of a philosophical nature and not intended to cause offence.
"I don't think I mentioned once any certain religion, and I certainly didn't intend, and I know I didn't, to say anything offensive towards any particular religion," he said.
"I said quite a few things that were angry at this supposed God. I was merely saying things that Bertrand Russell and many finer heads of the mind have said for many thousands of years, going all the way back to the Greeks."
Under Ireland's Defamation Act 2009 a person who publishes or utters blasphemous material "shall be guilty of an offence".
Fry potentially could face a fine of up to €25,000, but legal commentators say complaints of this nature are difficult to prove and rarely make it to court.  Ireland is the only country to introduce a blasphemy law this century.
Atheist Ireland, who oppose the law, welcome the investigation against Stephen Fry saying highlights the case highlights a law that is silly, silencing, and dangerous.
The man who made the initial complaint to police has said that he was not personally offended by Fry's comments, but felt it was his civic duty to report the crime.
OIP Staff