Is it worth queuing for an hour for ramen?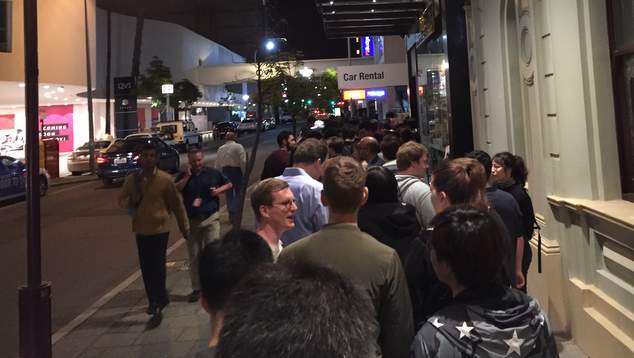 Sometimes you go through phases of being obsessed with a particular food. This can lead you to a quest to find the perfect Caesar's Salad or see you visit every Mexican restaurant in town. Currently my partner is quite obsessed with ramen.
So we headed off to check out Perth's latest ramen offering Keisuke Tonkotsu King at the newly renovated Melbourne Hotel.  The ramen restaurant is well known throughout Asia and this is their first store in Australia.
Despite being more than a week since the store opened when we headed down there was a long queue outside, lots of people wanted to see if the ramen created by chef Keisuke Takeda was as good as all the hype around the opening.

The restaurant is quite small, sitting around 25 people at a time,but the staff were working hard to make sure the service was as fast as possible. Our journey from the corner of Milligan and Hay street took just under an hour as the queue slowly moved forward.
Once we approached the front of the queue the friendly staff gave us menus and took our orders just before we were seated. In the queue a punter asked "Do you do gyoza?"
The staff member replied "No we just do ramen." – and that's it the menu is very simple they do three types of ramen. You can have standard ramen, black spicy tonkatsu ramen, or even spicier red tonakstsu ramen. You can order extra egg, seaweed and pork chasyu. You can also indicate how you'd like you noodles cooked on a spectrum from hard to soft.
We took a seat along the bar overlooking the kitchen. There is complimentary sesame bean sprouts and a bowl of hard boiled eggs. Like an Italian establishment might have a basket full of bread, here it's a basket of eggs.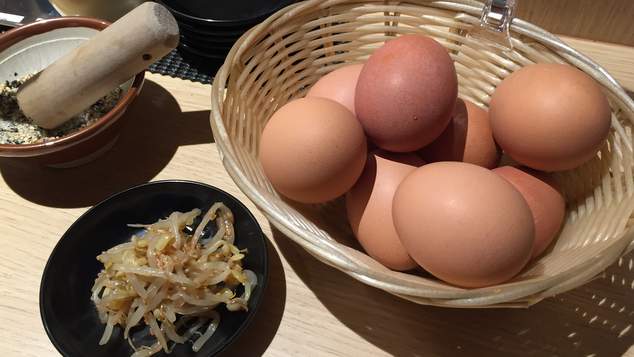 The ramen came quickly and it was hands down the best ramen we'd ever eaten. The combination of flavoured soft boiled egg, a giant sheet of seaweed, a robust broth and some outstanding noodles put this ramen ahead of all the others we've tried.  Capped off with a generous sprinkling of sesame seeds and pepper, it was delicious.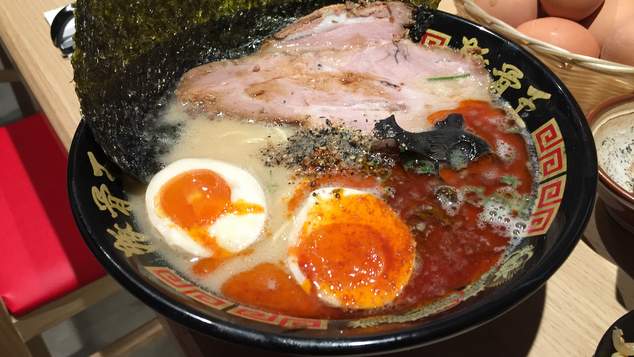 Yes, it was worth the queue. This is the best ramen in town.
Graeme Watson
---