Love Letters: Joey and Jude just want their geeky themed wedding
The opponents of marriage equality have claimed that the survey on marriage equality is about everything from education programs, to freedom of speech, to fighting political correctness.
We know that the call for equality is simply just recognising the love between two people, and their desire the formalise that commitment before their friends and families.
As we fight for the right to be able to get married to our loved ones, we're sharing stories of LGBTI couples, and we want you to send us your story, like many couples have already done.
Meet Joey and Jude.
---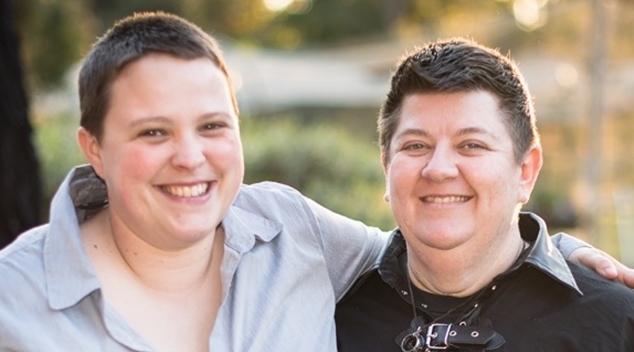 Who are you?
I am Joey, I am 30, and my partner is Jude, she is 50… lol I hope she doesn't mind me writing that.
I would consider myself of a bit of an international wanderer who has settled down in Perth (for now) with Jude and our daughters.
I grew up in the UK & France but have travelled a lot. Jude grew up in NSW, she is a Manly girl. We have two daughters, Arya and River, named after characters from our two favourite TV shows…
How did you meet?
We met online, on Gaydar Girls actually. Neither of us were really looking for relationships. Jude chose the site because it was UK based and thought she would just like to chat to some other girls. I was living in Holland, supposed to be studying but it turned out life had other things in store.
We hit it off straight away and after that first conversation, I knew she was the one. Problem was she actually had no idea I was only 22 at the time and she freaked out about the age difference, but I am stubborn and won her over!
How long have you been a couple?
We have been together 8 years and 6 months.
What's your favourite thing about each other?
How geeky we are together! Most of all though, I love that we make each other better people and stronger. We push each other to pursue the things that make us happy.
We talk things through and communicate rather then letting things get out of perspective. She is the best mum to our girls, and I love watching them interact, they bring out her inner princess ha ha!
What has been a big moment in your relationship?
Two really I guess. First was actually meeting. We talked online for 7.5 months before actually meeting. I mean we had Skyped, talked on the phone, on MSN, I had even written her letters but the day we finally met was the best.
She had told me not to make a big scene at the airport, so I stood at the back, and watched everyone come through arrivals.
I saw her come through and her scanning the crowd and the look of panic on her face as she couldn't see me, then causally strolled up to her and the look of relief on her face was priceless (she has been in the US and flown to Geneva, Switzerland to meet me, oh and she had lent me some money to hire a camper van for the trip we went on… so she had a lot to be nervous about!)
The second big moment was when we decided that we were going to have kids and be a family. It was pretty big for her as she had never really thought about having children and I had always wanted children. Actually I think I brought up the prospect of having children on the second conversation we had!
Why do you want to see marriage equality in Australia?
We could go and marry at the British consulate, or even go and get married in France but Australia is my home. I want to marry in the country that has become my country. I want everyone to have the same opportunities, and for no one to be second class citizens. Being de facto is one thing but at the end of the day it means nothing.
How do you foresee your wedding day?
I have always wanted to get married, and despite the fact I thought I only wanted a small wedding, there are so many beautiful people that I want to be apart of it. We recently set a wedding date in the hopes that by then Marriage Equality will have happened and so like any good bride to be I have started Pinteresting!
I really wanted a Doctor Who themed wedding, so there is lots of blue and white involved in everything I have looked at so far. Jude wants a Game of Thrones themed wedding. So it looks like we are having a roast pig on a spit!
If you want to send us your Love Letter, click here and get writing, and read other stories in this series.
---
Support OUTinPerth
Thanks for reading OUTinPerth. We can only create LGBTIQA+ focused media with your help.
If you can help support our work, please consider assisting us through a one-off contribution to our GoFundMe campaign, or a regular contribution through our Patreon appeal.