John Oliver publishes children's book about Mike Pence's gay bunny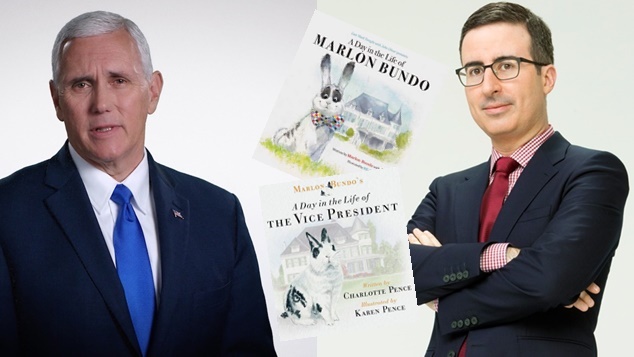 Comedian John Oliver has trolled US Vice President Mike Pence in spectacular fashion.
The Vice President, who is famous for his anti-LGBTI views, has just promoted a book about his pet rabbit Marlon Bundo.
The book is written by his daughter Charlotte Pence, and is illustrated by his wife, Karen Pence. The book explains what its like to be Vice President on the United States from the perspective of the rabbit.
Comedian John Oliver and the team from Last Week Tonight have released their own book featuring Pence's pet rabbit Marlon Bundo, except in their story Marlon is a gay rabbit who falls in love with another boy rabbit named Wesley.
Oliver's book has shot to the top of the best seller lists, outselling the Vice President's book.
It's also outselling the VP on Kindle. Not leaving any platform unmanned, they've also released a popular audio version of the book which features Jim Parsons, Jesse Tyler Ferguson, Jeff Garlin, Ellie Kemper, John Lithgow, Jack McBrayer, and RuPaul, which has shot to the top of Audible's charts.
Both books are raising money for charities, the Pence family's proceeds are going to A21, which works to end human trafficking, and Tracy's Kids, an art-therapy program for children with cancer.
The team from Last Week Tonight are sending funds to The Trevor Project, which is an LGBTI focused suicide prevention project, and AIDS United.
The publisher of Pence's book has called the action by Last Week Tonight
"It's unfortunate that ​anyone would feel the need to ​ridicule an educational children's book and turn it into something controversial and partisan.
"Our and Mrs. and Charlotte Pence's goal is — and will continue to be — to educate young readers about the important role of the vice president, as well as to highlight the charities to which portions of the book proceeds will be donated," a spokesperson for publisher Regnery Kids said in a statement to the media.
The Vice President's record on LGBTI rights has been highlighted n the media several times in the last week.
As governor of Indiana, Pence once recommended that funding for HIV/AIDS projects would be better spent on conversion therapy.
In the past the Vice President has supported conversion therapy for minors and endorsed an amendment to ban same-sex marriage in Indiana. As Governor he signed the Religious Freedom Restoration Act into law, allowing businesses to discriminate against LGBT people.
Last week the Vice President visited Savannah, Georgia for their annual St Patrick's Day Parade, but his visit was met by protesters waving rainbow flags and placards that read 'The Devil Went Down to Georgia'.
Pence also met with Leo Varadkar, the Taoiseach of Ireland for a St Patrick's Day breakfast. Last year Pence met Varadkar's predecessor Enda Kenny the media were invited to the event, but this time they were banned from documenting the meeting, leaving many to wonder if Pence didn't want to be photographed with one of the few world leaders who is gay.
OIP Staff
---