Jordan Bruno reaches out to LGBTIQ youth with fundraising cookbook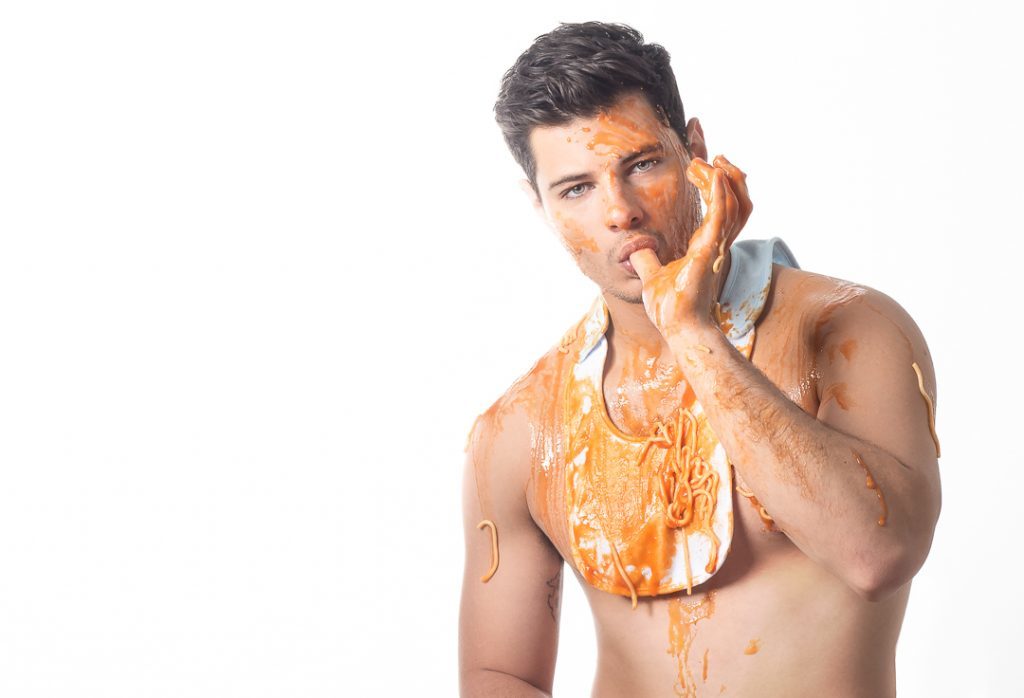 Jordan Bruno and his mother Anna won hungry hearts around the nation on the seventh series of Seven's reality series, My Kitchen Rules. Though the Bruno's didn't take out the major prize, Jordan has become one of the program's most successful graduates. The openly gay cook has used the platform to grow his social media presence and get to know Australia's LGBTI+ community. Bruno has just launched in initiative to raise awareness for mental health issues that affect LGBTI+ youth in the form of a cookbook, filled with family recipes and stories from the community about coming out and learning to love yourself. We caught up with Bruno to find out why he wanted to serve up some love in The Gay Chef.
What drove you to put this book together?
"Since My Kitchen Rules in May I've grown a bit of a social media profile and I've had an outpouring of messages from LGBT youth across Australia, about 1 to 3 kids a week tell me they're contemplating suicide or they're depressed or anxious because of their sexuality. I've been talking with these people constantly and I found myself overwhelmed trying to help all of these people. I feel the need to respond, I feel guilty if I don't answer because I know what it's like to be so scared and frightened. I initially wanted to make rainbow pasta and sell it with the proceeds going to raise awareness for LGBT youth issues but I decided on the cookbook so I could reach a broader audience."

Did you draw upon your own experience of coming out?
"I struggled with my sexuality and I've had friends struggle but I'm past that point in my life now. It's more about a broad range of people who were reaching out to me and I really wanted them to know they weren't alone. When you are in the process of coming out, you do feel scared. There may be out people around you that you don't identify with, or you don't see in your day to day life which can make you feel so isolated and this is my way of taking that feeling away."
Have you chosen these particular recipes for a reason?
"All of the recipes we cook in my household are family based, so I said to Mum that I wanted to fill the book with recipes and an awareness component because food is what brings people together. It's how my family shows love and affection. If you want to tell someone you love them, you serve them a big bowl of homemade pasta. I wanted to send that message of love in my cookbook."
The book has only just been released and you've already had a massive out-pour of support.
"The LGBT community in Western Australia is powerful. Like, fierce. I wouldn't want to mess with our community because it is tight knit. I just put one post on Facebook and I had four law firms, four graphic designers, around five photographers… the hardest part was trying to decide who to use for their craft."
What do you think about the lack of LGBTI+ people represented on Australian TV?
"Don't even get me started! Whoever did the editing on my season of My Kitchen Rules needs a slap in the face. I talked about my sexuality on camera, I had a boyfriend in my backstory and a boyfriend during my entire run on the show. Every other contestant's relationships were mentioned except for mine. My sexuality was cut out completely. While you're filming you have no idea how production works, so I thought a light would be shone upon my sexuality. After the show, I did a six to eight hour interview for a bunch of publications where I talked about my career, what I want to do, where I'm going in life and about 20 mins about my sexuality. The only thing to get published from that was my sexuality. I think that just shows how far the media has to go: it's either all you are, or not at all. There's no happy medium."
How can people support the project?
"Enter your email and you will be sent an e-book and given the option to donate to either Headspace or Minus18 and the book itself promotes awareness of mental health issues as well. The cookbook is filled with people sharing their personal experiences with mental illness and a collection of support networks for those who are suffering such as who to call, where to go and how you can help your friends."
The Gay Chef is available for download at jordanbruno.org
Leigh Hill
Image:- Daniel Enright