JumpClimb closure leaves unpaid Fringe World artists worried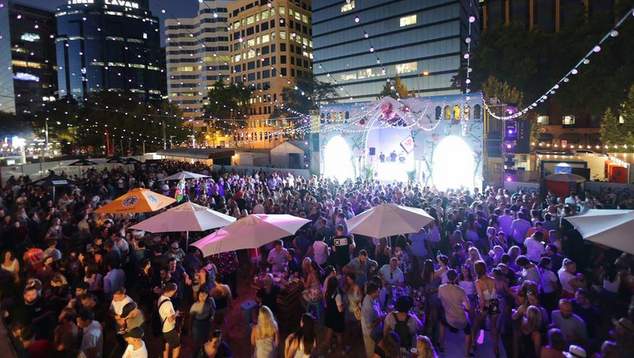 The Fringe World festival team have confirmed today that one of their largest affiliated events management companies may be preparing for voluntary administration.
JumpClimb, an independent presenter of Fringe World events, were behind a number of venues and events at the 2018 festival – including the ever-changing Noodle Palace venue.
The company posted a message to their website and social media channels announcing they would be closing.
A number of artists have raised concerns over the announcement, with many losing out on their investment and earnings from the festival's 2018 run.
"Fringe World has been informed that a range of artists are owed monies by JumpClimb for their Fringe World seasons," a spokesperson for Fringe World said.
"The Festival is in the process of finding out exactly who is owed what and is in communication with affected artists about the situation. The understanding at this time is that close to $200,000 is owed to artists for their JumpClimb seasons."
Speaking to OUTinPerth a Fringe World spokesperson said that JumpClimb were responsible for over 90 events in this year's program, but it was not a significant increase from their previous years commitment.
"In 2018, JumpClimb had 94 registered events. In 2017, JumpClimb had 90 registered events,"
The spokesperson confirmed that no government funding given to the festival, was in turn given to JumpClimb.
The events management company has operated for the last seven years and have been behind some of Perth's most popular events including the management of the Beaufort Street Festival and Beauvine Food and Wine Festival.
The company posted a statement to their website announcing on their imminent closure.
"Unfortunately, a combination of factors including a downturn in ticket sales on recent projects, debtors going into receivership and the general economic slow-down, has led to a financial predicament wherein it is no longer viable or responsible we continue to operate." the statement said.
While the company confirmed they has sold off the BeauVine Food and Wine Festival to another event management company, and were hopeful that they would be able to raise additional fund by selling off other flagship events.
"We will be reaching out and communicating to all artists and suppliers affected by our situation in the coming days with the intent of finding solutions. Thank you to all of our staff and the hundreds of thousands of people of Perth who came to our events and helped make our city a better place to play." Jumpclimb said on their website.
The collapse of the company leaves many Fringe World artists and suppliers concerned that they will not be paid for their work at this year's event.
Performer Zuleika Khan who had sold out sessions of her show Triage said she was looking at losing half of her annual income.
The news of the company's collapse means she has been forced to cancel her season at this year's Edinburgh Fringe.
"This is the event that sets me up for whole year."
"It's very disappointing and upsetting", Khan said, "We know there was a downturn in audiences at this year's Fringe World but this news has left us in shock and despair. The money we work for months for has been stolen."
Khan said she had begun speaking to other artists affected by the closure of the company and people were only just beginning to get a clear picture of how much money was owed.
Magician Matt Tarrant shared his concerns on ABC Perth this morning sharing that he was owed $30,000 for his 2018 Fringe World shows.
"Unfortunately all those ticket sales that the good people of Perth purchased for my shows has unfortunately not reached me," Tarrant said. "It's a really devastating and disappointing position to be in."
Tarrant said the money was basically represented his living expenses for the coming months, having spent around $15,000 developing the show and bring it to Perth he was seeing no return. The magician said the loss of income also cast a shadow over his wedding which was coming up in the next few months.
Michael Algeri, who provided lighting and power to the Noodle Palace venue said his company would be $25,000 out of pocket.
"It hurts, I'm only a small business, I only employ one person full-time, we're not a huge company it's a lot of money to lose." Algeri said.
Fringe World founder Marcus Canning also appeared on the program and highlighted that JumpClimb was a independent producer of events separate to the organisers of the festival.
"Fringe is an open access and open market model of festival, which means that there is a wide array of people who participate in the festival including independent producers."
Canning said that around half of the festival was created by independent producers and artists. Canning said that Fringe World was devastated to find out that JumpClimb were closing and there had been no indications that they were in financial difficulty.
"This has come as a shock to everyone involved." Canning said.
Tiffany Venning, the Media Arts and Entertainment Alliance's Regional Director for Western Australia said the union was very concerned about the impact the closure of Jumpclimb would have particularly on artists.
"Some of them are owned substantial amounts of money, one I've seen is around $30,000, which is a lot of money in the vicarious life of a performer."
Venning said the MEAA would work with members to provide assistance in recouping unpaid fees, but was would also be providing mental health support.
"I've approach the four members of our wellness committee who are in here in Western Australia about holding a session not just for MEAA members, but for all artists who are finding this financial impact quite traumatic."
Venning said that there continued to be concern in the local arts communities about the model Fringe World uses and how it can leave artists vulnerable.
"There is some concern that it is a behemoth, and it seems to be getting ever bigger." Venning said.
OUTinPerth contacted JumpClimb for additional comment. 
Graeme Watson
---