Justin Burford is set to launch recreation of Nirvana's unplugged show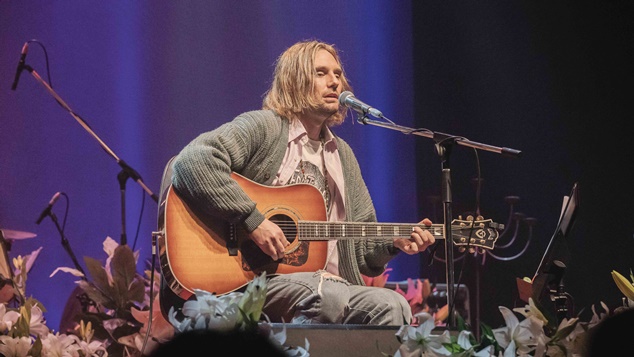 Nirvana's 1994 album for MTV Unplugged is one of the grunge band's most memorable moments. Recorded the previous year, it was the band's first release following the death of front man Kurt Cobain.
Rather than playing a collection of their hits the band opted for renditions of some of their lesser-known material alongside covers from a diverse range of artists including The Vaselines, David Bowie, Lead Belly and Meat Puppets.
The album will be the focus of a new exploration of Cobain's life from acclaimed local musician Justin Burford who is set to deliver a series of shows this April and May.
Justin Burford Sings Nirvana Unplugged is both a follow-up and a companion piece to ComeAs You Are, a theatrical production which debuted at the Astor Theatre in September 2022.
"While Come As You Are is the full-blown, detailed theatrical recreation of Nirvana's iconic MTV Unplugged show , this is me using that performance almost as a launching pad to detail my personal relationship with the phenomenon of Nirvana and my relationship with Kurt Cobain," Burford explains.
"As a young man growing up in the '90s he had an impact on me and the hope from that is when you tell your story, the more specific you are the more universal the story becomes."
As such, this new show features Justin Burford front and centre, performing mostly solo with the occasional guest musician adding colour and complement.
From the feelings of an impressionable 16-year-old kid, to being an established 42-year-old artist looking back upon an icon who never reached 30, Burford will ponder the impact Kurt Cobain has had on his life and music in general.
"Before it's been me trying to personify Kurt," Burford explains, "whereas this time I'm up the front. I'm the forefront and Kurt kind of becomes the backdrop."
A personal reflection that will also chart the trials and tribulations of creating a show like Come As You Are, plus the challenges of deep-diving into Cobain's life and emulating his scarred, passionate voice, Justin Burford Sings Nirvana Unplugged will also feature insights into Cobain's favourite songs and other Nirvana rarities.
"How can you have a relationship with someone you've never met?" Burford posits. "How can an artist, or anyone, can become important to somebody even though they have never physically crossed any kinds of paths? I think that word 'relationship' is appropriate. I have a relationship with Kurt and that's what's set this whole thing in motion. It's a close and personal look at what that relationship is and how it's changed over the years."
Dates and tickets
Saturday, April 28 – Lyric's Underground
Friday 12 May – The River, Margaret River
Saturday 13 May – Albies, Busselton
Friday 19 May – Stirling Arms, Guildford
Saturday 27 May – Mojos, Fremantle  
Tickets available via oztix.com.au 
OIP Staff
---
Do you need some support?
If you are struggling with anxiety or depression, support and counselling are available from:
QLife: 1800 184 527 / qlife.org.au (Webchat 3pm – midnight)
QLife are a counselling and referral service for LGBTQIA+ people.
DISCHARGED: [email protected] / discharged.org.au
Discharged is a trans-led support service with peer support groups for trans and gender diverse folks.
Lifeline: 13 11 14 / lifeline.org.au
Beyondblue: 1300 22 4636 / www.beyondblue.org.au