k.d. lang delivers sensational performance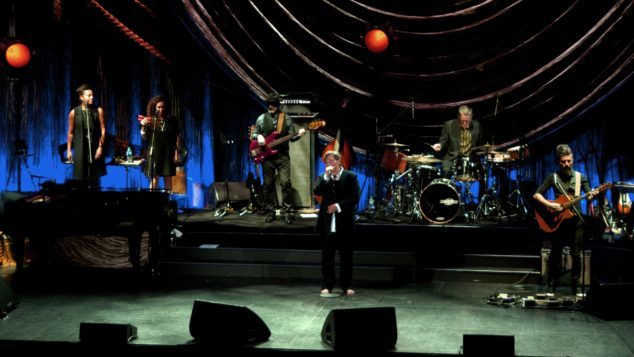 k.d. lang | Ingenue Redux Tour | Riverside Theatre | 24 July | ★ ★ ★ ★ ★
k.d. lang is marking the 25th anniversary of the release of her genre breaking album Ingenue. The record has been re-issued with a selection of bonus tracks from her MTV Unplugged appearance, and Lang is touring the world perform the album in its entirety.
The album was Lang's second solo release, following a successful career as a country musician with backing band The Reclines. Her solo debut Shadowland got music lovers attention, the album was a collaboration with veteran producer Owen Bradley. The Canadian singer's powerful voice also got global attention when she teamed up with Roy Orbison for a duet on his classic tune Crying. 

But it was her 1992 release Ingenue that put Lang on the map as a superstar singer, and as she took to the stage in Perth last night singing the the album track by track, you were instantly reminded what a genre defying record it is.
Taking in elements of the country music of Lang's previous releases, the songs also have strong elements of jazz, cabaret styled delivery, and Latin influences shine through. It's also the 25th anniversary of Lang being open about her sexuality, her groundbreaking interview with gay magazine The Advocate was published in June 1992.
The curtains opened to present Lang already on stage in front of her seven piece band and she launched straight into the mellow and beguiling Save Me. Dressed in a black suit and white shirt, sans shoes, her greying hair falling over her face, Lang closed her eyes and began to sing.    
There was no banter between songs, Lang and her fellow musicians just worked their way through the tunes, the musicians switching instruments on regular basis as different songs required slide guitar, mandolins, banjos, accordions, a double bass or multiple guitars.
The third song of the album Miss Chatelaine  saw Lang show off her dance moves as the band drummed out the song's samba beat.
Lang's flawless vocals and the first rate musicianship of her colleagues created a sublime and mesmerising sound, which allowed the audience to be enveloped in her music.
Outside Myself, a slow but powerful son from the album, saw Lang display great variety in vocal delivery, filling the song with delicate inflections, moments of great power balanced with quieter moments.
Finally the album's closing track, and biggest hit arrived. Constant Craving remains Lang's most successful self-penned tune. It was a moment that you wanted to go forever, wishing that the song wouldn't come to an end. The track's vague lyrics, inspired by Buddhist concepts, provoking thoughts about what it might be that we all constantly crave.
After working her way through the entire album of material Lang broke her silence and spoke to the audience, introducing the band and sharing stories about their adventures on the road.
Audience members shouted out their love for the singer, praise which she gladly accepted. As one female voice yelled out "I love you KD!", another quickly followed with "I love you more than her!" promoting the singer to jokingly call for a fight to sort of the claims.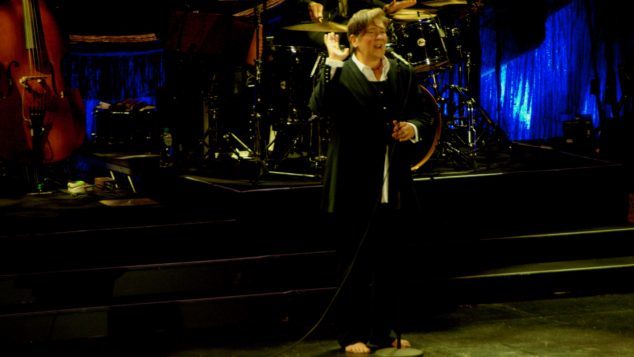 After the completion of the tunes from Ingenue, Lang chatted freely between songs, playing a selection from her more recent albums.
The show continued with Honey and Smoke from last year's collaboration with Laura Viers and Neko Case, I Dream of Spring from 2008's Watershed and the title track form her 2011 album Sing it Loud.
Introducing the song Lang said it was time for the audience to fly their "freak flags" this was after all a KD Lang show, and as she picked up an acoustic guitar to play joked "it's always good to strap something on!"    
Next Lang moved on to two tunes from Canadian artists, both feature on her covers album Songs of the 49th Parallel. First there was Crosby, Stills, Nash and Young's Helpless and she closed the show with Jane Siberry's Love is Everything.
Lang shared that she now lives full-time in her Canadian homeland saying the life under Justin Trudeau was better than what people face south of the Canadian border.
The crowd were quick to their feet to reward the singer and her team with a standing ovation. Lang quickly returned for an encore, singing the song fans are always hoping she'll include in a performance.
k.d. lang singing Leonard Cohen's Hallelujah is simply brilliant, the audience hung off every note. A second standing ovation came at the end of the song.
The full band returned to the stage for a rendition of I Confess before ending the show with Sleeping Alone,  a song the singer often performs in concert, but has yet to record. For the third time during the show, the audience were on their feet showing their appreciation for the talented musicians.
k.d. lang plays a second show at the Riverside Theatre on Monday night, limited tickets are available from Ticketek. 
Graeme Watson 
---
Support OUTinPerth
Thanks for reading OUTinPerth. We can only create LGBTIQA+ focused media with your help.
If you can help support our work, please consider assisting us through a one-off contribution to our GoFundMe campaign, or a regular contribution through our Patreon appeal.