Keavy Lynch from B*witched talks about life after being in a pop band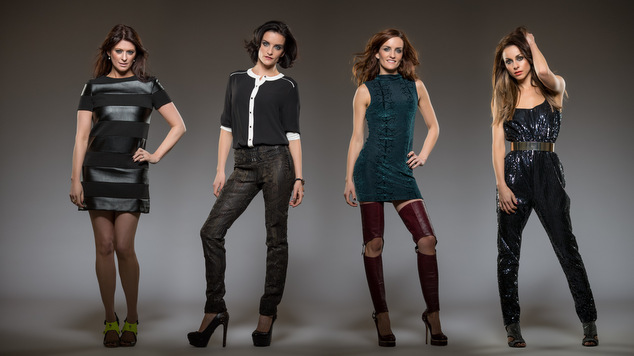 Irish girl group B*witched zoomed to the top of the charts with Cest La Vie in the late '90s and kept on scoring hits with two albums of energetic pop tunes.
The band comprised twin sisters Edele and Keavy Lynch, Lindsay Armaou, and Sinéad O'Carroll. Edele and Keavy weren't the only members of their family with a pop career, older brother Shane was in Boyzone.
This week the band are in Australia for a tour that kicks off with a show at Metro City, before working their way around the country. Alongside B*witched are East 17, S Club 3, Atomic Kitten and Liberty X.
Keavy Lynch chatted to Graeme Watson about what life was like when the band was at the top of the charts, and how she adjusted to finding a whole new career after the band broke up.
Nineteen years after B*witched released your debut single C'est La Vie I'm still hearing it at least once a week, that's some longevity.
Where do you hear it?
In our local gay club, they have a night dedicated to shameless pop music.
Fabulous. It's one of those songs that anyone who is playing chart music and going a bit light-hearted, it tends to be in the mix somewhere.
When your recording songs do you have a feel for which ones are going to be hits and have longevity, or is the whole process just a 'stab in the dark'?
That's such a good question, I think when you write things you kind of know it. You get a kind of energy and everyone says 'This is good'. I think you do kind of feel the message and say 'I think we're onto something here'.
It's funny because when that happens it makes it more nerve wracking and scary to finish the song because you're like 'Oh My God, I don't want to ruin it!' You can't wait to get to the end but it's like 'careful…careful.. We're doing it really well.'
What was it like growing up in the Lynch family, was it a musical household?
You'd think so wouldn't you.  
Well I ask because my research tells me that your Dad was a mechanic, there's nothing to say your parents were in show business.
No, my Mum and Dad weren't in show business. My granddad was a fiddle player, but that's about as far as it went. My Mum was a ballerina when she was younger.
My Dad always wanted to be a musician, he wanted to be a guitarist. My Nana told him that he couldn't do it, she said he 'shouldn't be the type of person that played a guitar' So unfortunately for my Dad he missed out that.  
I think in our house when we started saying thing like we wanted to be singers and dancers, My Mum and Dad were like 'Alright, go and do it, absolutely go for your life."
There probably was a lot music played in our house, we went to dance classes and singing lessons and put on a lot of shows, and even made up our own shows a Christmas.
What was life like for you in the late '90s when B*witched were at their peak.
Life was probably lots of different things, some of it was just crazy. We were so busy, working sixteen, seventeen hours every single day. I think we had a day off about once every three months.
It was intense, and crazy, we lived and breathed everything B*witched from the moment we woke up.
It was fantastic to travel the world and luckily we had some really good successes. So it was exciting and surpassed any expectations of what we thought might happen to us.
It was exciting and busy, but at times it was also lonely. You spend so much time away from your family and friends and the only socialisation you have outside the band via the telephone. Back then that was really expensive because we didn't have things like Skype and Facetime.
We used to spend an extortionate amount of money on our mobiles, I can remember my bill being about £2,500 a month. I was a good customer for phone companies, you wouldn't be able to run up a bill like that nowadays.
Is being on the US soap opera General Hospital one of the surrealist things that happened during B*witched's run?
You know, that's actually not true, it never happened.
That's what I get for using Wikipedia, it catches out so many times.
It's really funny because you're not the first person to ask that question in the interviews we've being doing recently. The funniest bit is, that's there's a moment when I start to question myself and wonder if it happened and I've just completely forgotten about it. I'm pretty sure we never did, I don't remember doing that. I really don't think it's true.
I've been caught out before, it said the singer Hazell Dean had come out as a lesbian in 2010 and when I asked her about it she assured me she hadn't made any statement at all.
That's hilarious, it's great for information, but it can be so inaccurate as well. I went through a phase where someone kept changing my Wikipedia page and saying really horrible things about me.
When B*witched got back together the reality TV show The Big Reunion was there some trepidation? Reality TV only works if there's drama and conflict.
Absolutely, I was bagging it. It took me eight months to say to doing the show, and there was quite a few reasons.
I was studying at the time, I'd gone back to college to become a counselor and I thought about how I could balance those two things at the same time, and I was unsure about how much of my new life that I'd started to make would change, and if I wanted that happen.
I took me while to come around, and I was nervous about reality TV, we'd never done that before. It can be nasty, the editor has to create drama, that's what people want to watch.
We were thinking that it is a risk, because we don't get to see the edit, we only get to see them once they're on the tele, just like everyone else does.
We were worried about them just wanting to make us look like fools, but thankfully they weren't, they wanted to make a really good show.
Most of it was really good, they did use some dramatic parts, There was a part where a four hour long conversation was edited into about four minutes, and unfortunately that made some members of the band appear in a different light that was different to the whole conversation.
Some of it was out of context, which is a bit of a shame, but overall I think the bands got away with it.
What's it like making a life outside of music, what made you choose the degree you did and a life as a counselor?
I absolutely love it. The deep answer is; 'because it changed my life'. I got to a place in my life probably in my mid 20's, following the band ending.
I think towards the end of the band's run I got really lost as a person. In the band it's very hard to find time to process what's going on because you never had an off day. So if I was feeling a bit down or I need a break, we never got one.
I think the amount of suppression I did just eventually got a hold of me and I had a few years where I just really struggled, and didn't really kind of want to live the life that I was feeling.
I thought 'this is horrible', it felt horrible to wake up everyday, it was a real struggle. So I went to counselling, a lot later than I should have, because there's stigma that comes with it.
That's changing now, which is great, but I listened to that stigma and I didn't want to tell anyone that I was struggling. I think I struggled silently for much longer that I should have.
Going to counselling changed my life, it empowered me to get my life back and figure it all out. Ever since that, which is when I was about 26, I've wanted to pay that gift forward. It was amazing for me.
I was 31 when I went back to college and became a counselor. I have a private practice, I see clients every week and absolutely love it.
Somehow the music fits around it, and I'm able to do both, which is something I'm very grateful for
Tell me about your work with the charity Stand Down who help returned service personnel.
Stand Down is something that I got involved in because it makes sense because of my new career in counselling.
It came about from volunteering for another charity here called Crisis, who tackle homelessness and do Crisis Christmas.
I did that one year, and I was really surprised at how many servicemen and women were there. They'd just got really lost after their stint in the army or the navy, or whatever they were in.
I just thought, 'Wow! These people have served the country that I now live in and where are their lives now.
When they approached me about getting involved I was absolutely on board because it's something I really care about. They're amazing, they offer online counselling to service personnel and their families.
It's a really important gap that they fill. Not everyone can leave their home, for lots of different reasons. It might be that they're disabled from an injury or they might be mentally disabled because mentally their struggling and just don't know how to leave the house and reach out and find the help they need.
We're about to run out of time, last question, what's it like going on tour with all the people you used to compete against in the charts?
It's going to be so much fun, we haven't done it for about three years now.
What's nice about it is that 'back in the day' we used to all cross each other's paths, we see each other in studios and running on and off stage at radio roadshows, but there was never much time to hang out with each other. Everyone was always off to another interview or photo-shoot.
When we get on these tours, we finally get to know these people that you've spent a lot of time around but never had time to hang out with.
We all know a fair about about each other because we're in the public eye, we all read the magazines, but it's great to get to know these distant colleagues.
We've already toured with Atomic Kitten and Liberty X – so that's going to be familiar, but I'm looking forward to getting to know that S Club 7 crew and East 17.
B*witched will be playing all their hits alongside East 17, Atomic Kitten, Liberty X and S Club at Metro City on Tuesday February 7th, before touring around Australia.
Graeme Watson