Kellie-Jay Keen spotted flying out of New Zealand abandoning tour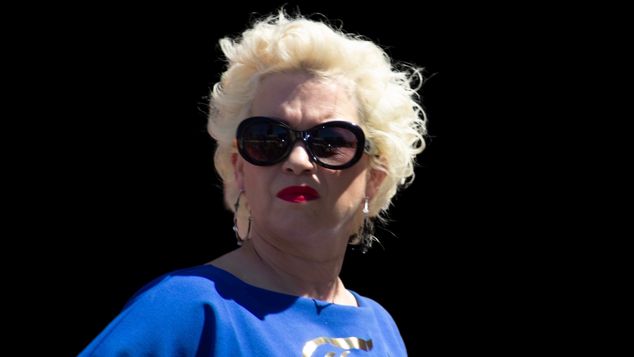 Kellie-Jay Keen has been spotted leaving New Zealand following a disastrous outing of her 'Let Women Speak' open mic event in Auckland.
Warning: This story has details of violence and anti-transgender views which might be distressing to some readers. For 24-hour crisis support and suicide prevention call Lifeline on 13 11 14. For Australia-wide LGBTQI peer support call QLife on 1800 184 527 or webchat.
Earlier in the day protesters overran her event in Auckland's Albert Park forcing Parker to flee the scene under the protection of her private security and the police.
As she arrived at the event a protester poured a container of tomato juice over the activist who campaigns against transgender rights. Within minutes of her arrival she was surrounded by protesters and there are reports that some of her supporters were assaulted.
Media reports suggest that there around 2,000 counter protesters at the event, while only a handful of supporters turned out to hear Keen speak or take part in her speaker's corner stlye event.
Posting to Twitter Keen said she had feared for her life, later sharing that police had suggested she leave the country.
"I genuinely thought if I fell to the floor I would never get up again, my children would lose their mother and my husband would lose his wife," she said.
Organisers of the New Zealand leg of her tour have confirmed that he planned appearance in Wellington scheduled for Sunday would not take place. Hours later Keen was spotted leaving the country.
Keen said she had been a victim of a long campaign to assassinate her character, which she says was begun by "jealous women" in the UK, and then picked up by a range of other members of society.
"A load of lies slurped up by ravenous porn sick men and their transmaidens, but consistently legitimatised by women 'on my side'. The lies were finally spewed by politicians in power in Australia and New Zealand, boosted by a corrupt media populated by vile dishonest unskilled cult members." Keen posted to social media.
Her departure follows an Australian tour that took in seven cities where she was constantly outnumbered by protesters. At her Melbourne event a large number of protesters turned out, while a neo-Nazi group also appeared adjacent to her event.
Keen, who appears online using the moniker Posie Parker, has previously argued that transgender people should not be allowed in single-sex spaces, and that transgender youth should not be able to access medical treatments. Keen has previously been accused of being transphobic and having links to far-right groups.
Kellie-Jay Keen, who describes herself as a women's rights campaign, says describing her as "anti-trans" is defamatory. At her Adelaide event she declared "trans doesn't mean anything".
OIP Staff, image has been digitally created. 
---
Do you need some support?
If you are struggling with anxiety or depression, support and counselling are available from:
QLife: 1800 184 527 / qlife.org.au (Webchat 3pm – midnight)
QLife are a counselling and referral service for LGBTQIA+ people.
DISCHARGED: [email protected] / discharged.org.au
Discharged is a trans-led support service with peer support groups for trans and gender diverse folks.
Lifeline: 13 11 14 / lifeline.org.au
Beyondblue: 1300 22 4636 / www.beyondblue.org.au
---

You can support our work by subscribing to our Patreon
or contributing to our GoFundMe campaign.