Kylie Minogue makes a early morning call to mix94.5's 'The Big Breakfast'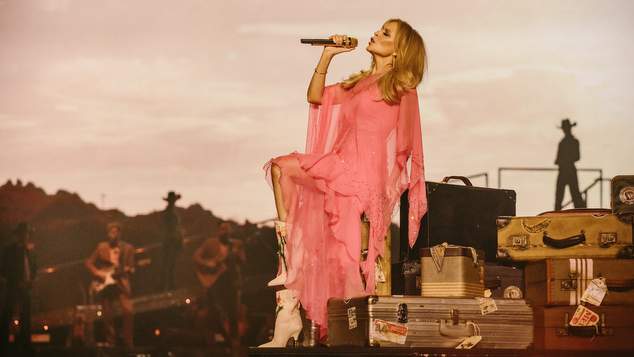 Ahead of her Australian tour Kylie Minogue spoke to The Big Breakfast with Clairsy, Matt & Kymba in an Aussie radio exclusive.  Kylie told Perth's mix94.5 that she "can't wait to come home" with her Golden Tour next month.
Kylie chatted to the trio about her favourite cheese and wine, and her recent experience of meeting Dolly Parton, and what TV series has recently been inspiring her.
She also spoke about her reunion with Jason Donovan at a concert Hyde Park last year.
Opening up about her recent show in the UK, which saw her surprise fans with a Jason Donovan duet, Kylie revealed his attendance at her concert, let alone the collaboration, wasn't even confirmed until hours before!
"He said it's been a big week and he'd let me know," she said.
Luckily, her fellow Aussie decided to ride his bike over to Hyde Park, and Kylie asked him to join her on stage.
"You could see him thinking it through," she said. "A bit of panic going on."
Regardless of any initial apprehension from Donovan, the duo's 'Especially For You' performance was an undeniable hit with concert goers.
"The place erupted," she said.
Take a listen to the whole chat, Kylie's going to be in Perth playing a show on the South Perth foreshore for A Day on the Green on Saturday 9th March.     
Source: Media Release
---